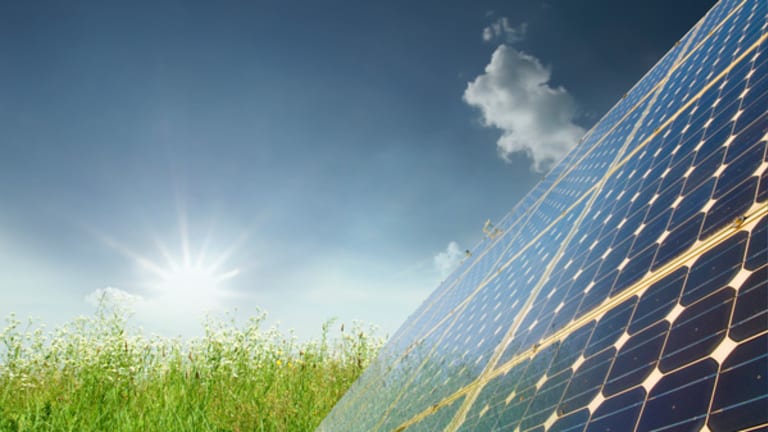 U.S. Solar Firm Revenues Up, Profits Drop
U.S. solar equipment maker Spire reports a year-over-year decline in profits, while revenues increase in the most recent quarter.
(Spire story updated for trading in solar and alternative energy shares)
BEDFORD, Mass. (
) -- Solar equipment maker
Spire
(SPIR)
reported fourth-quarter revenues of $19.7 million after the market close on Wednesday, an increase of 4.9% from $18.8 million in the fourth-quarter 2008.
Net income for the quarter was $4.3 million, or 52 cents per share, a drop from Spire's fourth quarter 2008 level of $5.1 million in net income and 61 cents earnings per share.
Spire also recorded a net loss from continuing operations of $0.7 million in the fourth-quarter, compared to net income from continuing operations of $5.4 million in the fourth-quarter of 2008.
Relatively thinly traded Spire shares were up mid-morning Thursday by 6.6%, or 26 cents, to $4.19. Spire had eclipsed its average daily volume of shares traded -- 103,000- by mid-morning Thursday.
Buried within the fourth-quarter and annual earnings report was news related to Spire's CFO and a client that hasn't been paying its bills.
On March 26, Spire CFO and treasurer Christian Dufresne resigned "so that he can pursue other opportunities," the Spire annual report stated. Dufresne will remain on with Spire to effect a smooth transition.
Spire's previously announced sale of a 60 megawatt solar cell production line and a 50 MW solar module production line to South Korea's Uni-CHEM continues to be hurt by Uni-CHEM's inability to find financing. The Spire $45.5 million business win was announced at the end of August 2009, and Uni-CHEM was expected to make a $2 million down-payment.
Spire said in its annual report that Uni-Chem paid $1 million of a $2 million non-refundable deposit, which gave Uni-CHEM until Nov. 20, 2009, to complete the deposit, but as of March 19, Uni-CHEM had failed to pay the remaining $1 million, citing "difficulty in obtaining financing for the collective projects," the Spire annual report stated. Spire suspended work on the project at the end of 2009, though it has not terminated the contract.
Roger Little, Spire CEO and Chairman, said in the earnings release, "We were, of course, disappointed in our operational loss. This loss was mostly driven by several equipment and line orders being canceled or delayed during the year due to a slowdown in our customers' expansion plans. This resulted in underutilization in our manufacturing capacity eroding gross margins."
Spire, which sold its medical device business in 2009, was focused on its concentration in the solar market for 2010. "With our restructuring efforts, we do see sales of our solar products and services to account for more than 90% of our revenue-base in 2010, when factoring in our solar-cell development programs at our Spire Semiconductor operations," Little said.
Spire also indicated an increased focus on the U.S. solar market. Spire's business has been primarily split between the U.S. and Asia. "With the rapid growth of the PV market in the U.S., we are focusing our efforts locally, while continuing to maintain our international position," Little said.
The solar demand outlook for 2010 recently received
a big boost from a Credit Suisse forecast of solar demand at the level of 12.7 GW in 2010, well beyond most industry demand forecasts pegged between 8 GW and 9 GW in 2010.
It's been a rough week in alternative energy earnings. Solar companies, in particular, came into earnings season with high hopes for a stellar set of earnings numbers. Indeed, there were stellar solar earnings among the sector reports, but the overall earnings guidance for 2010 was mixed, and investors have not reacted with bullish conviction to the earnings outlook.
Most recently,
LDK Solar
disappointed in its fourth-quarter earnings on Tuesday, and its shares dropped by close to 8%. LDK's gross margins were half the level that they had been in the third quarter 2009. LDK Solar set a gross margin improvement of 15% to 16% in 2010, but analysts and investors on the earnings conference call were struggling to muster confidence for LDK's conviction.
LDK Solar's ramp-up of its polysilicon plant and its debt-laden balance sheet continue to be the biggest overhangs on its share price.
On Wednesday, the alternative energy earnings disappointments continued, with Chinese alternative energy company
A-Power Energy Generation Systems
( APWR) issuing revenue guidance for 2010 that was $200 million below Street forecasts.
A-Power shares dropped more than 10% on Wednesday and it will take a significant improvement in 2010 for A-Power to meet its net-income goal of $45 million on revenues much lower than expected.
A-Power's Wednesday slide picked up right where it left off on Thursday morning. A-Power was down another 6.5% and had already surpassed its average daily volume of shares traded by mid-morning on Thursday, with more than 2 million shares traded.
A-Power's early losses on Thursday morning were equal to 67 cents, bringing shares down to $10.03. The two-day loss for A-Power shares was $2, with A-Power shares having closed at $12.04 on the day before its announced earnings.
-- Reported by Eric Rosenbaum in New York.
RELATED STORIES:
>>What's Your Solar Demand Outlook?
>>Solar Bears: Who's Shorting Who?
>>BP Shuttering U.S. Solar Plant
>>SunPower: Buy (Even Though Bears See Day of $15)
Follow TheStreet.com on
and become a fan on
Copyright 2009 TheStreet.com Inc. All rights reserved. This material may not be published, broadcast, rewritten, or redistributed.