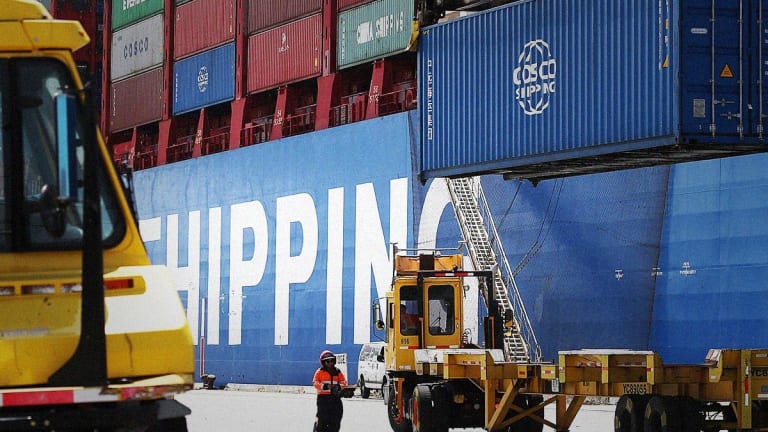 US Retail Stocks Under Pressure as Trump Threatens New China Tariffs
President Donald Trump's threat to apply fresh tariffs on $300 billion worth of China made goods hammered retail stocks Thursday and could add further downward pressure on a key sector of the U.S. economy in the months ahead.
President Donald Trump's threat to apply fresh tariffs on $300 billion worth of China made goods hammered retail stocks Thursday and could add further downward pressure on a key sector of the U.S. economy in the months ahead.
Trump told a rally in Cincinnati last night that he would "tax the hell out of China" until Beijing agreed to a trade deal that would satisfy U.S. interests, a statement that echoed his previous assertions that tariffs are paid by export nations. However, while the U.S. Customs and Border Protection has collected nearly $34 billion in tariff revenue so far this year, the vast majority of that tally is paid by U.S. importers, who then pass the increased costs onto American consumers. 
More than 40% of all clothing -- and nearly 70% of all footwear -- purchased in the United States is made in China, according to the American Apparel & Footwear Association.
The National Retail Federation said it was disappointed that the Trump administration is "doubling-down on a flawed tariff strategy tat is already slowing U.S. economic growth, creating uncertainty and discouraging investment," while the  Retail Industry Leaders Association lobby said the move would cause "a direct hit on consumer products and family budgets."
The SPDR S&P Retail ETF, one of the most active funds focused on the U.S. retail sector, fell 3.24% Thursday to close at the lowest level since early June, before extending that decline by another 0.53% Friday.
Big-ticket stocks such as Best Buy (BBY) - Get Best Buy Co. Inc. Report and Bed Bath & Beyond (BBBY) - Get Bed Bath & Beyond Inc. Report falling 10.8% and 7.31% respectively. Macy's (M) - Get Macy's, Inc. Report slumped 6.7% yesterday, and was marked 1% lower in pre-market trading at $21.00 per share, while Kohl's (KSS) - Get Kohl's Corporation Report looks to extends yesterday's 7.82% decline at the opening bell.
"The 10% tariffs on $300 billion goods will hurt some US tech product companies, which have so far been shielded from the tariffs," said ING's China economist Iris Pang. "US companies could conceivably shift value chains away from China in an attempt to limit the blow of tariffs on their margins."
"Over the medium term, this is certainly possible, but in the short-run, this is unlikely to be practical given the highly specialized nature of some of these products," she added.
Nike (NKE) - Get Nike Inc. Report shares were marked 1.5% lower Friday at $81.90 as investors worried the world's biggest sports apparel company could be caught on both sides of the U.S.-China trade dispute.
Earlier this spring, Nike lead a group of athletic apparel and shoe companies in calling the proposed China levies a "catastrophic" move that will cost U.S. consumers $7 billion a year. 
Nike joined Under Armour (UA) - Get Under Armour Inc. Class C Report , Foot Locker (FL) - Get Foot Locker Inc. Report , JCPenney (JCP) - Get J. C. Penney Company, Inc. Report and a host of U.S. footwear and apparel retailers in letter to Trump and senior members of his economic team that argued the tariffs would add $7 billion in additional costs to retailers that will have to be passed onto consumers, and argued they falling "disproportionately" on working class families, who already bear the brunt of rising duties on consumer products.
"There should be no misunderstanding that U.S. consumers pay for tariffs on products that are imported," the letter read. "As an industry that faces a $3 billion duty bill every year, we can assure you that any increase in the cost of importing shoes has a direct impact on the American footwear consumer."
"It is an unavoidable fact that as prices go up at the border due to transportation costs, labor rate increases, or additional duties, the consumer pays more for the product," the letter continued. "This significant tax increase, in the form of tariffs, would impact every type of shoe and every single segment of our society."
Nike shares fell 3.38% and look set to extend declines Friday even as it attempts to wean itself away from an over-reliance on China factories by switching production to South Asia neighbors such as Vietnam, Indonesia and Cambodia.
But while the group has reduced its manufacturing presence in China from 32% in 2012 to 27% in 2017, it and the other signatories argued further moves will be both costly and time-consuming.
Nike may also be concerned about the prospect of reprisal tariffs from China, where it saw revenues grow 24% last quarter, to $1.588 billion, and where it's locked in a battle with European rival Adidas AG (ADDYY) for a share of the world's biggest sports apparel market.