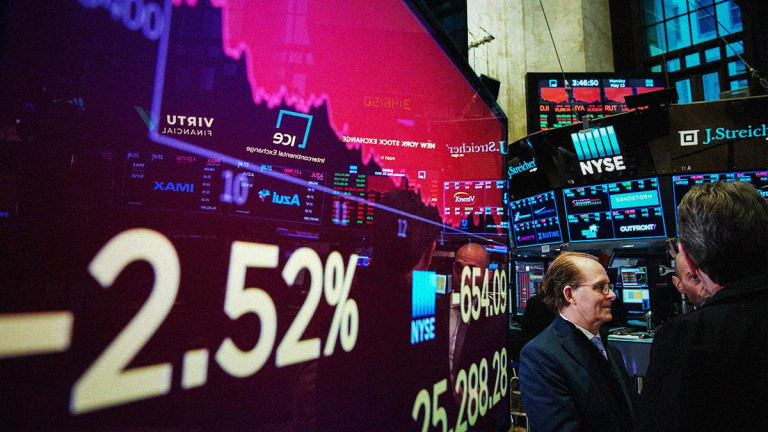 US Earnings, China GDP, Boeing, Prime Day and Wimbledon - 5 Things You Must Know
U.S. equity futures are pointing to a flat open on Wall Street; Boeing's 737 MAX woes continue, China GDP slumps, Prime Day pumps and Novak Djokovic jumps after winning his fifth Wimbledon singles title.
U.S. equity futures are pointing to a flat open on Wall Street Monday as investors both prep for the start of the second quarter earnings season. With markets also keying on data releases that will gauge the strength of the consumer economy, here are five things you need to know before the start of trading on Monday July 15.
1. -- Rise & Grind
With stocks at record highs and the Federal Reserve guiding markets to further monetary support in the coming months, the larger investors concerns between now and the end of the summer are likely to focus on both the strength of U.S. corporate earnings, their outlook for the second half of the year and the impact of President Donald Trump's myriad trade disputes on consumer spending and confidence in the world's largest economy.
Citigroup (C) kicks off the first of those concerns later this morning when it reports second quarter earnings prior to the start of trading, with rivals JPMorgan (JPM) , Goldman Sachs (GS) , Wells Fargo (WFC) , Morgan Stanley (MS) and Bank of America (BAC) expected to follow over the next two days.
Netflix (NFLX) will also post quarterly earnings and subscriber numbers after the bell Wednesday, firing the starter pistol for FAANG profits and near-term forecasts, as analysts predict the collective bottom line of S&P 500 companies will fall 3% from the same period last year, according to FactSet projections, a figure that would mark the first back-to-back quarterly decline in at least three years.
2. -- We Should All Be So Sluggish
China's economic growth slowed to its weakest pace in nearly three decades last quarter, according to official data published Monday, as sagging domestic demand and slumping exports offset some big tax cuts and easier monetary policy from Beijing.
China's second quarter GDP growth rate was pegged at 6.2%, officials said, that's down from the 6.4% rate recorded over the first three months of the year and slowest rate of expansion since the first quarter of 1992. However, solid June readings for retail sales, which rose 9.8%, as well as fixed investment and industrial output suggest Beijing's strategy of supporting growth with significant tax cuts has allowed the world's second largest economy to at least partially weather the ongoing storm of its trade dispute with the United States.
In fact, China's trade surplus with the United States hit a fresh record high over the first half of the year, official data indicated Friday, even as overall activity slowed amid the ongoing tariff disputes between the world's two biggest economies.
China's General Administration of Customs said the yuan-denominated U.S. trade surplus rose 12% over the six months ending in June to 954.81 billion despite the impact of tariffs on around $250 billion in China-made goods put in place by the White House. In U.S. dollar terms, the first half surplus was pegged at $140.48 billion, up 5% from the same period last year and nearly 20% higher from the first half of 2017.
3. -- Boeing Tests Investor Patience to the (737) MAX
Boeing Co. (BA) shares extended their recent slump, while its European rival Airbus SE (EADSY) soared to an all-time high, as investors reacted to news that American Airlines (AAL) has extended cancellations of the grounded 737 MAX for a fourth time, taking the troubled aircraft out of commission until at least November.
The biggest U.S. carrier said it would extend its 115 daily cancellations of the grounded 737 MAX until November 2, two months longer than its previous forecast, following similar moves by rivals such as Southwest Airlines (LUV) and United Airlines (UAL) . American has 24 737 MAX aircraft in its fleet, the second-largest in the U.S. market behind Southwest. A Wall Street Journal report from Sunday, meanwhile, suggested the 737 MAX groundings could stretch into early next year.
"American Airlines remains confident that impending software updates to the Boeing 737 MAX, along with the new training elements Boeing is developing in coordination with our union partners, will lead to recertification of the aircraft this year," American said in a weekend statement.
4. -- Prime the Amazon Pumps
Amazon Inc. (AMZN) shares edged higher in pre-market trading Monday as the world's biggest online retailer kicks-offs it annual Prime Day shopping event, a 48-hour sale of more than a million products that rivals Black Friday and Cyber Monday for U.S. retail influence.
Amazon's fifth Prime event, which was extended to 48 hours and 18 countries this years, began at midnight Pacific time and runs through until Tuesday evening, offering cross-promotional sales from Whole Foods, which the group purchased in 2017, as well as endorsements from celebrities such as Mark Wahlberg, Jaden Smith, Kristen Bell, Hillary Duff and Kobe Bryant.
Amazon will also heavily market its own services beyond Echos or other devices: Promoted deals include Prime Video movie rentals, Amazon Music trials, and various "Prime-exclusive" offerings, such as a $10 Amazon credit if you install Amazon Assistant, a suite of software designed to help identify the best online shopping deals.
Analysts estimate the two-day spending spree could generate more than $6.1 billion in total sales -- a 46% increase from last year -- a figure that would fall just shy of the $6.22 billion tally recorded from last year's Black Friday sales by Adobe Analytics.  
5. -- No Djoker: Novak Tops Fed in Epic Wimbledon Final
Novak Djokovic needed nearly five hours, a seemingly inexhaustible will, a match point miracle and the first fifth-set tiebreak under new All England Tennis Club rules in order to beat his legendary rival, Roger Federer, in the longest men's final in Wimbledon history Sunday to take his fifth title on the grass in SW19.
Djokovic faced match point on Federer's serve when the Swiss player was leading 8-7 in a back-and-fourth fifth set that saw both men digging as deep as possible into their mental and physical reserves, but the Serbian manged to claw his way back into the contest, leveling the match at 8 games a pieces before remaining deadlocked at 12-12 as the new tiebreak rule kicked in.
Djokovic ultimately prevailed 7-3 in the tiebreak, a format established by Wimbledon officials in 2012, and collected not only his fifth All England championship but also his 16th Grand Slam singles title, a figure that puts him level with Sweden's Bjorn Borg, two behind Spain's Rafael Nadal and four behind the man he beat Sunday evening in Southwest London.
"I think this was the most exciting and thrilling final I have ever been part of," Djokovic said afterwards. "I'm just obviously thrilled and overjoyed to be sitting here as a winner. I was one shot away from losing the match. This match had everything. It could have gone easily (Federer's) way."