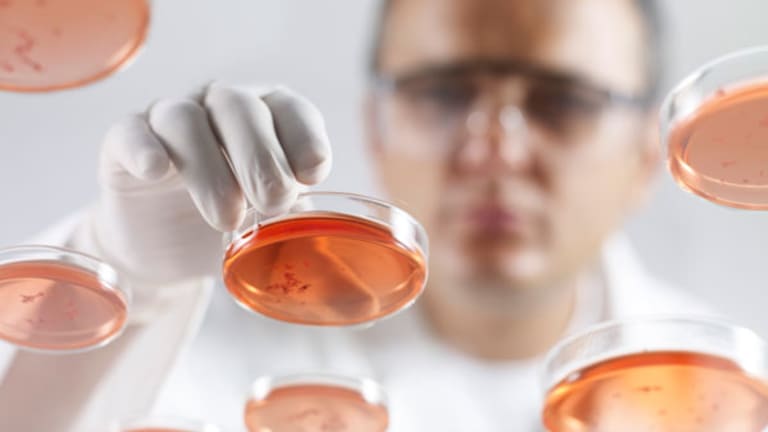 U.S. Army Medical Researchers to Hemispherx: We're Really Not That Into You
A spokeswoman for the U.S. Army Medical Research Institute says its testing of Alferon and Ampligen drugs for ebola is complete and the relationship has ended.
PHILADELPHIA, Pa. (TheStreet) -- A medical-research branch of the U.S. Army is denying claims made by Hemispherx BioPharma (HEB) touting a research collaboration to study two of the company's drugs against the Ebola virus.
In September, Hemispherx contracted with the U.S. Army Medical Research Institute of Infectious Diseases (USAMRIID) to conduct laboratory and animal studies of two drugs, Alferon and Ampligen, against the Ebola virus and other pathogens. The testing was completed in January and no further relationship between the company and the Army's infectious disease researchers exists, according to USAMRIID spokeswoman Teresa Vander Linden.
But that hasn't stopped Hemispherx from embellishing the contractual relationship with USAMRIID to make it appear as if U.S. Army medical researchers are actively working to develop Alferon and Ampligen as potentially effective ebola treatments.
On Sept. 8, Hemispherx issued a press release with the headline: "Hemispherx Biopharma and United States Army Medical Research Institute of Infectious Diseases (USAMRIID) Agree to Collaborate in Studying Alferon and Ampligen Against the Ebola Virus."
Another eight press releases touting Hemispherx's Ebola treatment efforts followed, many citing the USAMRIID "collaboration."
"There is no collaboration with them," Vander Linden said. "As you can imagine, we've been asked to test a lot of compounds against the ebola virus. This is not the first time someone makes a bigger deal out of something than it was."
Asked to respond to the USAMRIID statements, Hemispherx instead sent a pre-emptive cease-and-desist letter accusing TheStreet of libel and threatening "civil remedies" and a "criminal investigation" if this story was published.
Hemispherx has previously put a rosy face on its drug pipeline. In 2012, Hemispherx executives kept regulatory concerns raised by the U.S. Food and Drug Administration about Ampligen hidden from investors and the Securities and Exchange Commission. The FDA later rejected Hemispherx's application seeking Ampligen's approval as a treatment for chronic fatigue syndrome.
Hemispherx and its executives are defendants in a federal lawsuit filed by shareholders alleging the company made "material misrepresentations and omissions" about Ampligen and the FDA in 2012 in order to raise money through a public sale of company stock, according to the company's SEC filings.
During the past three decades, Hemispherx has promoted Ampligen as a treatment or cure for pandemic diseases in the media spotlight -- HIV, SARS, MERS, Avian flu, swine flu and now, Ebola. Clinical trials of the drug have never yielded positive results sufficient to allow the company to seeking regulatory approvals. Neither Ampligen nor Alferon is included in any of the international efforts to conduct human clinical trials of vaccines or new treatments against the Ebola virus. Clinical data necessary to establish the efficacy of Alferon and Ampligen in Ebola patients do not exist, Hemispherx discloses at the bottom of its ebola-related press releases.
Hemispherx and USAMRIID entered into a Material Transfer Agreement (MTA), Vander Linden said. The "material" was Alferon and Ampligen, which was transferred from Hemispherx to USAMRIID labs for testing at the request of the company.
In vitro, or laboratory, testing was completed in November 2014. In vitro studies involving mice were completed in January. The results of the studies were sent back to Hemispherx, ending the arrangement with USAMRIID, Vander Linden said. In one study, Hemispherx claims Ampligen produced a 100% survival rate in mice infected with Ebola. The USAMRIID wouldn't verify or comment on results from the study, Vander Linden said. 
"The project is done and we have no plans to do any other work with them," Vander Linden added.
Adam Feuerstein writes regularly for TheStreet. In keeping with company editorial policy, he doesn't own or short individual stocks, although he owns stock in TheStreet. He also doesn't invest in hedge funds or other private investment partnerships. Feuerstein appreciates your feedback; click here to send him an email.