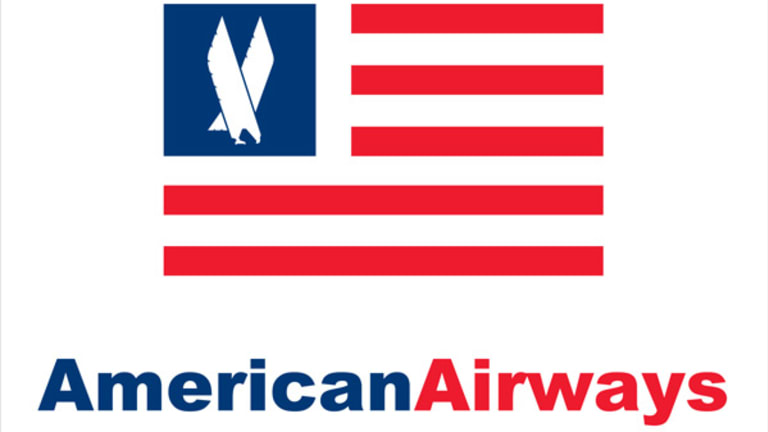 Tough Questions Surface at USAirways/AMR Merger Hearing
US Airways and American aren't yet ready to answer tough questions about the future of the Pittsburgh operations center and the Raleigh/Durham to London flight.
CHARLOTTE, N.C. (
) -- The first congressional hearing on the proposed merger between
US Airways
(LCC)
and
American
undefined
seemed generally favorable, as expected, for the carriers.
But some tough questions surfaced, involving such decisions as the futures of US Airways' Pittsburgh operations center and of American's flight from Raleigh/Durham, N.C., to London. Additionally, consumer advocates suggested that fares will rise as a result of the merger.
Few congressmen opposed the merger, and U.S. Rep. Spencer Bachus, R.-Ala., chairman of the House Judiciary Subcommittee on Regulatory Reform, Commercial and Antitrust Law, said he backs it.
"This is one of the most persuasive arguments, from everything I've read, for a merger," Bachus said, in closing remarks. "As with any merger, there is the chance there will be price increases, but I guarantee there will be price increases in either respect."
Officially, Congress has no role to play in the Justice Department's antitrust review, but congressional hearings on airline mergers typically provide a good early indication of public sentiment.
Bachus suggested the recent trend of major airline mergers began with the 2008 combination of
Delta
(DAL) - Get Free Report
and
Northwest
. Once that happened, he said, "You created other airlines with a distinct advantage if you don't let these airlines merge." Additionally, he said, "I've never seen more favorable support from an airline's employees," an indication that US Airways' strategy of gaining union support for its bid to merge with American continues to pay dividends, even beyond its impact on American's bankruptcy creditors, who pushed for the deal that was announced on Feb. 14.
Rep. Keith Rothus, R.-Pa., questioned the future of the Pittsburgh operations center, which employs 600 people. US Airways signed a 20-year lease when the facility opened in 2008, but airlines typically operate just one operations center, and American has one in Dallas. US Airways said it has not yet made any operational decisions, a position that Executive Vice President Steve Johnson reiterated at the hearing.
Meanwhile, Rep.George Holding, R.-N.C., questioned the prospects for American's Raleigh/Durham to London flight. US Airways serves London from nearby Charlotte, the country's fourth-largest single airline hub with 602 daily departures. Gary Kennedy, American senior vice president, responded: "We have a lot of London service. I would hope that service continues."
Several witnesses suggested fares will rise. "Last year, there were 15 proposed fare hikes, and eight were rejected by one or two carriers," said Kevin Mitchell, chairman of the Business Travel Coalition. "The probability that they will be rejected goes way down." Holding said it costs less to fly from Raleigh-Durham to Washington Reagan National Airport than it does to fly from Charlotte to National.
"Do you anticipate that fares would go up significantly in the future on Raleigh-Durham to Washington?" Holding asked Johnson, who responded that the airlines have not yet developed new fares. Raleigh/Durham to National is one of just 12 routes, out of the combined 900 they serve, where American and US Airways offer competing service
Johnson insisted the industry will remain competitive. "There will be four big airlines, each with 25% market share, each with a national network, all competing with each other," he said. The merger benefits US Airways employees, already promised annual wage improvements of $400 million because they will work for an airline serving more lucrative routes. "By merging, we can pay our employees more," Johnson said. As for customers, "they don't talk to us about prices," he said. "They talk to us about finding ways to grow the hubs, to create more destinations."
While Rothus decried the de-hubbing of Pittsburgh, which once had 500 daily US Airways departures but now has 41, Rep. Steve Cohen, D.-Tenn., blasted the downsizing of Delta's Memphis hub.
"The unions have expressed strong support for this merger, and that's encouraging, but the Delta/Northwest merger negatively shaped my view of airline mergers," Cohen said. He referred to Delta CEO Richard Anderson's 2008 assertion to the subcommittee that Memphis International Airport would benefit from the merger. Instead, Cohen said, Delta's daily Memphis departures fell to 96 flights today from 244 earlier. Anderson "testified there would be no hub closures, said Memphis-Amsterdam would be maintained and Memphis-Paris was going to happen," he said, noting that all three statements proved false.
"Any comments that were made were related to the effect of the merger, not to the economic environment going forward," said Delta spokesman Anthony Black, in an interview. He said Delta's fuel costs have grown by $3 billion annually since 2009, even though the airline uses less fuel. "The decisions were based on the need to right-size markets, particularly hubs," he said. "That included in a lot of cases targeting routes that were underperforming." Memphis was vulnerable because much of Northwest had served the city with relatively inefficient regional jets.
The merger faces a second congressional hearing on March 19 before a Senate Judiciary subcommittee. Bachus told Johnson and Kennedy: "Hopefully this will prepare you for that, particularly if there's a senator from Pittsburgh or Memphis waiting on you over there."
-- Written by Ted Reed in Charlotte, N.C.
>To contact the writer of this article, click here: