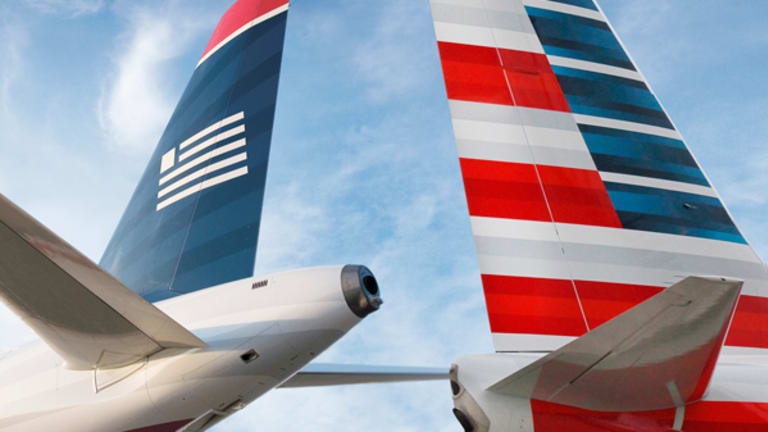 US Airways/AMR Merger Means a Labor Union Must Exit
The merger of US Airways and American likely will mean that one of two flight attendant unions must go, and the American union is twice as big as the US Airways union.
CHARLOTTE (TheStreet) -- The illusion of labor harmony in the merger of US Airways (LCC) and American, approved 10 days ago, has shattered, with two unions battling to represent flight attendants once the merger is completed.

The Association of Professional Flight Attendants represents about 16,000 American flight attendants, while the Association of Flight Attendants represents about 8,000 US Airways flight attendants. Over six months during the spring and summer, leaders of the two unions periodically negotiated, finally reaching an understanding that would, over time, have seen the AFA depart after representing US Airways flight attendants for 65 years. But now the two sides disagree on whether that understanding was a preliminary one or a near-final deal.
Without a deal, a representation election is likely. With twice as many members, APFA would be favored. But the outcome would be far from certain.  The wild card is that APFA signed a bankruptcy contract, albeit a bankruptcy contract far better than the one American initially proposed. Now, APFA leaders say some AFA members are already circulating representation cards, in advance of requesting the National Mediation Board to hold an election.
"We are very concerned because this is a critical part of the merger," said Lenny Aurigemma, a 34-year flight attendant based at John F. Kennedy International Airport and a member of the APFA executive committee. "We know a representation dispute will create discord for years to come. And we would love to not have that happen."
APFA President Laura Glading emerged as the leading labor advocate for the merger. She was part of a trio of union leaders who won support from creditors in American's bankruptcy case. Then she oversaw negotiations for a bridge agreement with US Airways, a template for a post-merger flight attendant contract. Later, she was a leader in rallying opposition to a Justice Department lawsuit that sought to block the merger. She may be among this century's most important labor leaders.
But labor politics are tricky. Dave Bates and Jim Little, who led the Allied Pilots Association and the Transport Workers Union, are both gone, defeated by the impossible logistics facing a union president in a bankruptcy case, even though both, like Glading, were key enablers of a merger that benefited not only their members but also US Airways workers. In a representation election, Glading's leadership would be a key issue.
US Airways flight attendants are led by Roger Holmin, a 24-year flight attendant and long-time union activist who has been union president since 2012. He was elected to a three-year term in October. His first job was to convince members to approve a pre-merger contract agreement. After succeeding, he joined Glading to challenge the Justice Department lawsuit.
In the talks between the AFA and the APFA, "We worked to try to reach a consensual agreement," Holmin said. "What happened in the summer was that there was some draft language passed back and forth between us. It was eight points to discuss, in order to get to a final place.
"But in the fall, we hit the reset button, because (the understanding) didn't defend the US Airways flight attendants," he said. "Our master executive council, board of directors and executive board all had to approve, and it didn't even pass muster with the MEC. They said it wasn't going to fly and we had to do something different, because it showed nothing but contempt for AFA."
APFA's Aurigemma also participated in the talks. "We knew they were coming from a difficult position and we tried to deal with them sensitively," he said. "I empathized with them. I understand wanting to hold on to what you have. But we have the numbers, we had that from the beginning, and we're not interested in an affiliation (with the Communications Workers of America, which includes AFA).
"We tried to mitigate their concerns," Aurigemma said. "We had agreements in principle throughout the process, and we continued to make adjustments. Then we briefed all of our (local) leaders. Their structure is different, but (AFA National President Veda Shook) was there, their highest union leadership, and Roger Holmin. We had three people from APFA working with half a dozen of them." After the talks, some AFA members questioned Shook's leadership. 
The understanding would have the unions create a joint negotiating team. It would seek to retain the best parts of the two contracts. The bridge agreement specifies arbitration after 60 days of negotiations, but Holmin wants to extend the period; Aurigemma said that is possible but the intent is not to draw out negotiations. AFA would collect dues until a joint contract is signed, but after that dues would fall by $7 to month to APFA's level of $41 a month. Also, AFA grievance officials would remain on the job until grievances are settled.
APFA has charged that AFA is seeking to raid its members. but Holmin said Glading "started a raid when she signed that (bridge) agreement, and they didn't even need cards. There is a grass roots effort by American flight attendants unhappy with their representation, but I promised her that I am not running a campaign and she refuses to believe me."
Holmin said the solution is to merge the two unions into a new union with a different name, ensuring that "US Airways flight attendants are taken care of (because) I refuse to let the American bankruptcy define the US Airways flight attendant contract." He said he wants more talks with Glading.
The problem he faces is that APFA thought it already had a deal and it believes it can win an election.
Written by Ted Reed in Charlotte, N.C.
To contact this writer, click here.