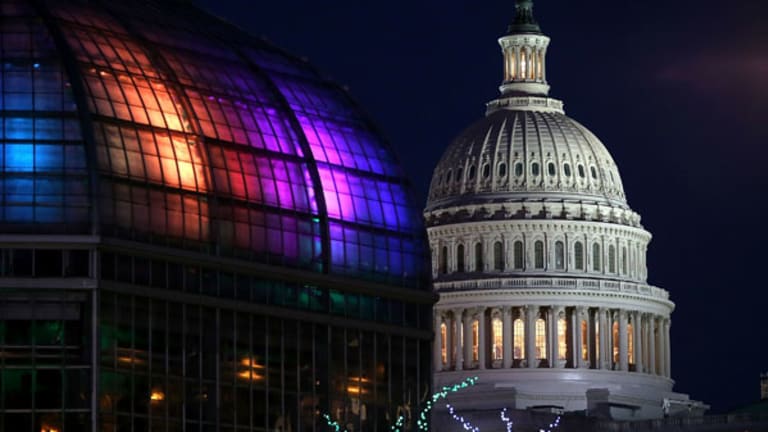 US Airways/American Workers' Merger Blitz Is Unique, Expert Says
US Airways and American workers blitzed Washington on Tuesday and Wednesday, hoping to gain political support for a planned merger.
WASHINGTON (
) -- Employees of
US Airways
(LCC)
and
American
( AAMRQ) blitzed Washington in support of a planned merger, which a veteran antitrust attorney said is unprecedented.
"Antitrust attorneys are always fond of saying that political pressure is never effective when it comes to mergers and antitrust, and that sometimes it can backfire," said John Briggs, a veteran Washington antitrust attorney, in an interview. Briggs is co-chair of Axinn Veltrop & Harkrider's Antitrust Group and managing partner of the firm's Washington, D.C. office.
"I've been doing this for four decades," Briggs said. "I've never seen the parties to a deal put together a rally on Capitol Hill. I've never heard of such a thing. They've got unions, companies, Democrats, Republicans -- it's bizarre.
"Will it make a difference? Maybe it could. It's got to make the Department of Justice uncomfortable. They're right down the street. The attorney general will know about it," he added.
James Ray, spokesman for the US Airline Pilots Association, said he was part of a group of union leaders that met with an undersecretary of labor. Laura Glading, president of the Association of Professional Flight Attendants, was part of a group that met with Bill Baer, who heads the Justice Department's antitrust division. The department announced Aug. 13 that it will oppose the merger in a U.S. District Court case, now slated to be heard beginning Nov. 25.
On Wednesday afternoon, about 350 employees gathered for a rally outside the U.S. Capitol building. Five members of Congress from North Carolina, Pennsylvania and Texas spoke in support of the merger, as did a half-dozen union leaders. "It was a beautiful day with perfect blue skies and all of us from two companies coming together with one goal in mind: Let us compete together," said US Airways spokeswoman Michelle Mohr. "We were just getting our voices out there."
At the rally, Glading described a 45-minute meeting between union leaders, Baer, and a deputy attorney general. "We talked about why this merger makes sense for us. How invested these employees are. How for the first time we felt hope, and now this hope can be dashed," Glading said. "They were very very attentive, they asked a lot of questions, and I think it was a great opportunity for us to get our stories out, because it's our story that got us here today."
Besides the rally, employees called on members of Congress and the Senate. The goal was to call on every member. Ray said he was part of a four-member team that called on about 15 members of Congress over two days. Most meetings involved congressional staff, but U.S. Rep. Richard Hudson, R.-North Carolina, met with the group. "He is on board," Ray said.
Briggs said the labor involvement may have an impact, given that labor backed President Obama in two elections. "It took a lot of union negotiations to make this (merger) happen," Briggs said. "The CEO of US Airways is using some unorthodox strategies."
Briggs said he was surprised that the Justice Department opposed the merger. It wasn't just the airline industry that was caught napping. "The antitrust was leading the charge saying this is going to happen -- that was the unanimous view," he said.
In its surprise announcement that it would oppose the merger, the Justice Department "seemed to be looking mournfully at their own past approval of (similar) deals" involving
Delta
(DAL) - Get Report
and
United
(UAL) - Get Report
, Briggs said. "But (both sides) have their stories to tell.
"The government is right that the airline industry is a mess; competition is not what it could be," he said. "The airlines are right that (DOJ) is changing the game here. Every other deal has been looked at through different eyeglasses. But there's always one deal too many. There's always a deal that can't get done."
Asked about the possibility of a settlement, Briggs said that raising the unusual issue of competition on one-stop routes in the DOJ's complaint appears to preclude one, since a deal is difficult to imagine, but he noted that Judge Colleen Kollar-Kotelly apparently wants one. "Judges who set things for Thanksgiving and Christmas and New Year's always want to settle," he said.
-- Written by Ted Reed in Charlotte, N.C.
>To contact the writer of this article, click here:
Ted Reed