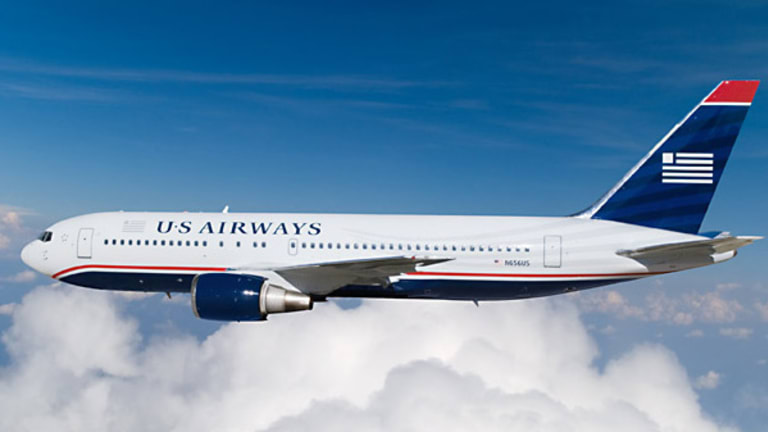 US Airways Pilots: It's High Time to Talk Contract
US Airways pilots say a recent federal court ruling in Phoenix paves the way for renewed contract talks.
CHARLOTTE, N.C. -- (
) -- Pilots at
US Airways
(LCC)
said they are eager to begin contract negotiations with the carrier after a recent court ruling appears to have cleared a key obstacle from their path.
"The airline no longer has an excuse not to negotiate a new contract with its pilots," said USAPA president Gary Hummel, in an interview. "For far too long, we've been working under a bankruptcy-era contract while US Airways continues to make record profits. We intend to immediately pursue contract negotiations with US Airways over a standalone contract."
Hummel said he has asked the National Mediation Board to restart the talks; the board has the request on the agenda for its meeting this week.
The Oct. 11
said the U.S. Airline Pilots Association is free to negotiate a contract with the airline without regard to a controversial 2007 arbitrator's ruling on pilot seniority integration, although it continues to face the possibility of a lawsuit afterwards. The arbitrator's ruling, which followed the 2005 merger between US Airways and America West, divided the two pilot groups and led to a breakaway from the Air Line Pilots Association, the creation of USAPA and a series of lawsuits.
The Phoenix ruling was a response to the airline's request for clarity as to its future liability to disadvantaged pilots in regard to the seniority ruling, but the ruling did not appear to provide any particular clarity. "In the end, the court cannot provide as much guidance as it had hoped," Judge Roslyn Silver wrote.
Both pilot groups continue to work under contracts signed in 2004, which has given US Airways a labor cost advantage over its competitors. The NMB recessed pilot contract talks after 43 months in January 2012. Since then, Hummel has taken over as USAPA president, replacing more confrontational leaders.
US Airways spokeswoman Michele Mohr said, "US Airways has only one interest in the (Phoenix) case -- Ensuring that we negotiate a collective bargaining agreement with our pilots' union that is consistent with our legal obligations." She declined to discuss a schedule for contract talks.
US Airways contract negotiations have also been clouded by the carrier's pursuit of a merger with bankrupt
American
(AAMRQ.PK)
. The carrier has, in fact, signed conceptual contract agreements with the three principal unions at American but it has open contracts with all three of its own principal unions.
"Our members deserve contracts," said Joe Tiberi, spokesman for the International Association of Machinists, which represents US Airways mechanics and fleet service workers. "If US Airways can make commitments to American's employees, they can commit to a contract for their own employees."
Meanwhile, members of the Association of Flight Attendants have rejected two tentative contract agreements, but the second rejection was by just 49 votes. The union is taking a strike vote before it resumes negotiations.
"Why are we taking a strike vote?" union leaders asked last month, in a message to members: "The reason is simple. To go back to the bargaining table and demand an improved offer, we need to demonstrate the support of the entire membership."
Hummel said American is currently negotiating a contract with the Allied Pilots Association, which represents its pilots, and "there is nothing preventing US Airways from negotiating with USAPA," he said.
As for the continuing seniority dispute, Hummel said that if there is a merger under the now applicable McCaskill-Bond statute "the pilots of APA would negotiate a joint contract with USAPA. The seniority issue would be the last step in that process. If APA and USAPA are able to negotiate a seniority proposal, there would be no need for arbitration." But he foresees that the issue would likely go to arbitration under the process proscribed by McCaskill-Bond. "Our responsibility as a union is to ensure that our seniority integration proposal is not arbitrary, discriminatory or in bad faith," he said.
Mark Burman, a spokesman for former America West pilots, said USAPA's position in favor of a date of hire seniority list is unlikely to be backed in arbitration. He said that seniority integration following mergers at both
Delta
(DAL) - Get Delta Air Lines Inc. Report
and
United
(UAL) - Get United Airlines Holdings Inc. Report
slotted pilots according to relative seniority, not date of hire. In the event of a US Airways/American merger, he said. "The (2007) list would be used along with the American list and merged accordingly."
-- Written by Ted Reed in Charlotte, N.C.
>To contact the writer of this article, click here:
Ted Reed