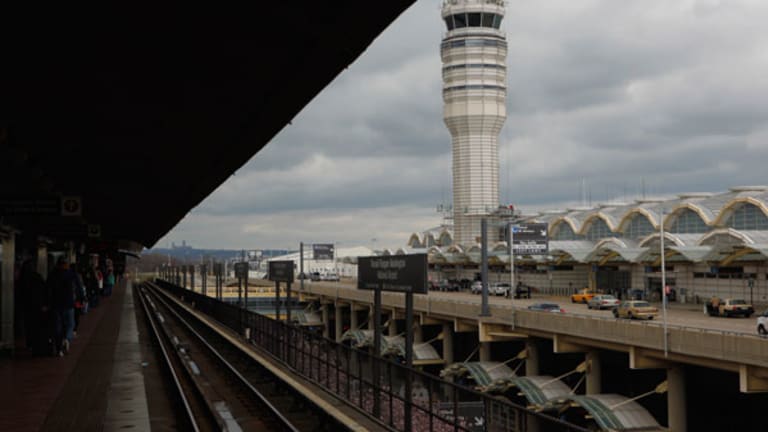 US Airways Declares National Airport a Hub at Senate Hearing
US Airways CEO Doug Parker publicly proclaims Washington National to be a hub. DCA has 220 daily departures to 69 destinations.
CHARLOTTE (
) -- Facing a Senate subcommittee that posed questions about whether
US Airways
(LCC)
might divest slots at Washington Reagan National Airport, CEO Doug Parker revealed for the first time that the carrier now views its National operation as a hub.
In introductory remarks Tuesday morning to the Senate Judiciary Committee's subcommittee on antitrust, competition policy and consumer rights, Parker referred to National as a hub that "serves smaller cities." Later, he made the case that the smaller cities can be served only because the hub operation augments local traffic with connecting traffic, so divestiture would likely turn over slots to airlines that would trim service to the smaller cities.
US Airways began to refer to its National operation as a hub at the end of February, said spokeswoman Michelle Mohr. The carrier offers 220 daily departures to 69 destinations from National, with 75% of the flights operated by US Airways Express, compared with 66% at Philadelphia, 58% at Charlotte and 32% at Phoenix. On the carrier's most recent fact sheet, dated Jan. 1, Washington is designated a "focus city."
Parker and
American
(AAMRQ.PK)
CEO Tom Horton offered testimony as the subcommittee considered the competitive impact of the two carriers' planned merger. While the Justice Department's antitrust division can make recommendations, possibly including divestitures, regarding the merger, the Senate has no official role, although its hearings can provide an indication of what Washington is thinking.
It is conceivable that the planned merger will lead the antitrust division to conclude that the combined carriers have too much heft at National and to require it to divest "slots," which are assigned takeoff and landing times that are assigned at congested airports.
Parker said the combined carrier would have about two-thirds of the slots at National, but just 50% of the seats, because it allocates many slots to serving small cities. If other airlines were given the slots, they would likely fly to larger cities, he said.
"We couldn't serve those markets if we didn't have a hub to connect passengers over," Parker said. "We wouldn't be able to serve them without connections. .. Any (other) airline promising it would serve those routes won't be profitable and won't be there long." When Sen. Amy Klobuchar, D-Minn., the subcommittee chairwoman, suggested a mandate to divest slots, Parker responded: "Any mandate would be very difficult to honor over time, because (another carrier) wouldn't have the connections that the new American Airlines would have."
Moreover, if US Airways had to divest National slots, it would likely "divest those that are least lucrative to the airline, those to small and midsized communities," he said.
In 2011,
Delta
(DAL) - Get Delta Air Lines, Inc. Report
traded US Airways 42 slot pairs at National in exchange for 132 slot pairs at New York LaGuardia. About 30% of Delta LGA passengers connect, said spokeswoman Leslie Scott. As part of the slot trade, regulators required the airlines to sell eight slot pairs at National and 16 at LaGuardia. The National slots were auctioned to
JetBlue
(JBLU) - Get JetBlue Airways Corporation Report
, which uses them to fly to Tampa, Orlando and San Juan, which are "very large communities," Parker said. "That's where additional (divested) slots would likely go."
Parker and Horton argued that the merger would be good for consumers because it would enable connections between more cities. For instance, they said, American serves Dubuque, Sioux City and Waterloo, Iowa, and Rochester, Minn., while US Airways does not. But US Airways serves Albany, Binghamton, Elmira, Ithaca, Long Island-McArthur and Newburgh, N.Y., as well as Flagstaff and Yuma, Ariz., while American does not. A merger would bring the combined airline new customers because it could connect such cities which, by the way, are all in the home states of senators who participated in the hearing.
Besides local service issues raised by various senators, anti-trust concerns were the second key topic at the hearing, given that a merger would remove a competitor in 12 non-stop markets and many one-stop markets. In introductory remarks, Klobuchar said: "Consumers can't help but wonder if an added competitor would be willing to fight a little bit harder to get my business at a lower price." Diana Moss, vice president of the American Antitrust Institute, testified that "there are definitely routes where competition will be significantly eliminated (and) at a national systems level, with very few large systems, airlines will follow each other on capacity decisions, keeping capacity tight.
"Broader perspective is important," Moss said. "We are expanding globally to compete in a global (environment). Fair enough. But we have to find a way not to sacrifice domestic service on the altar of global competition."
-- Written by Ted Reed in Charlotte, N.C.
>To contact the writer of this article, click here:
Ted Reed