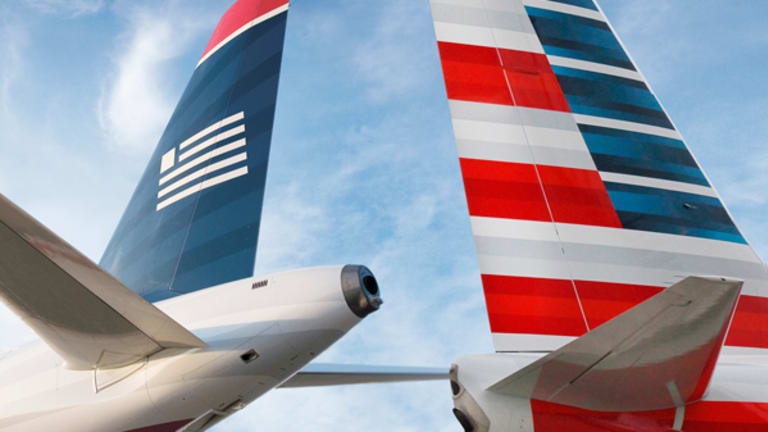 US Airways Can Find $1B in Revenue Gains at AMR, Analyst Says
When the America West management team took over US Airways in 2005, it cut capacity and boosted unit revenue. A veteran analyst says the team can do the same thing at American.
When the America West management team took over US Airways in 2005, it cut capacity and boosted unit revenue. A veteran analyst says the team can do the same thing at American.
CHARLOTTE, N.C. (TheStreet) -- AmericanAirlines has cut costs by $1 billion in bankruptcy, and now the USAirways (LCC)  management team is likely to find another $1 billion in financial gains from cutting unprofitable routes and better matching aircraft to routes, a veteran airline analyst said. 
"This transaction is as much about fixing AMR as it is about normal merger integration," Imperial Capital analyst Bob McAdoo wrote in a recent report. McAdoo said he sees "well over $1 billion in opportunities to improve AMR's revenue generation potential and financial profitability, simply by shifting priorities and assets.
"AMR Corp. has been a chronic underachiever, particularly in generating revenue," he wrote. "AMR has struggled to generate revenue despite having its hubs arguably in some of the largest and most attractive U.S. cities and also having the largest U.S. carrier presence at London's Heathrow Airport, arguably the most important international airport in the world."
Shares in existing US Airways group and AMR Corp. are scheduled to cease trading on Friday. Dec. 6. On Monday, Dec. 9, AAL shares will begin trading. Existing LCC shares will be converted on a one-for-one basis to AAL shares. LCC shares closed Friday at $23.48, up 74% year to date. McAdoo has an outperform rating on the shares and a $36 target price.
In his report, McAdoo listed three key areas where he believes revenue per available seat mile (RASM) gains can be easily achieved.
On JFK-LAX, the largest U.S. market in terms of revenue, American loses $70 million annually, McAdoo estimated. While its competitors all operate narrow-body aircraft, American flies three-class Boeing 767 nine times a day. Those 767s have fewer seats than competitive aircraft, meaning higher costs per seat mile -- 44% higher costs per seat mile to generate only 7% more revenue than Virgin American, McAdoo wrote. The solution? American already plans to replace the 767s with Airbus A321s.
On JFK-Heathrow, American suffers from "its quantity of slots and its ego-driven tendency to virtually always fly each London flight with its largest B777 aircraft, (and) finds itself unable to always profitably operate to each of its hubs." Furthermore, American's hub in Chicago competes with its hub in Dallas and Los Angeles for London traffic, with the Chicago one-stop undercutting the non-stops. The solution? Cut flights.
On various domestic routes, for instance Chicago-La Crosse, Wis., American uses uneconomic 44-seat aircraft to fly four to five times daily, with the flights only two-thirds full. By contrast, McAdoo wrote, Delta (DAL) - Get Report flies Minneapolis-La Crosse three times a day with a 48-seat aircraft and generates far higher RASM.
In a 2005 merger, the America West management team led by Doug Parker took over at US Airways following a bankruptcy. In the first quarter as a merged company, revenue per available seat mile on the US Airways routes improved by 27.7%. Much of the improvement reflected capacity reductions. McAdoo said he believes the America West management team, little changed from 2005, will make similar improvements at American.
"Arriving from the much smaller America West Airlines in 2005, the (team) promptly delivered industry-leading margins at then bankrupt US Airways, a company three times the size of America West," McAdoo wrote. "The team, then and we assume now, has a determination to eliminate flying that could not be made profitable.
"We believe history will repeat itself," he said.
Written by Ted Reed in Charlotte, N.C.
To contact this writer, click here.