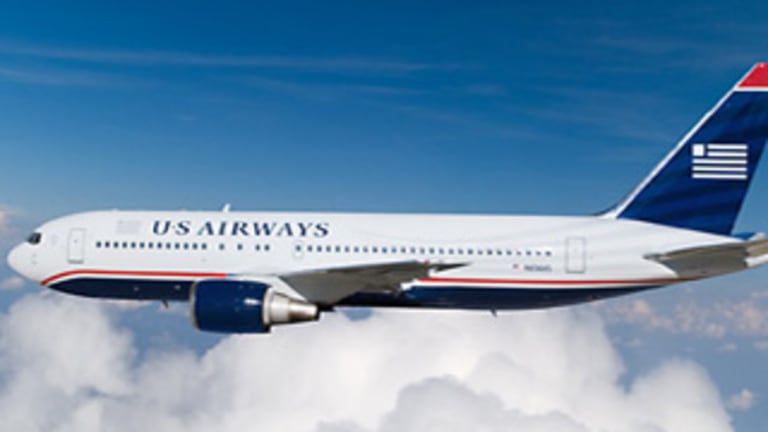 US Airways Adds Europe Flights at Charlotte, World's Fourth-Biggest Hub
US Airways says it will add four new seasonal European destinations at its Charlotte hub, making 10 Charlotte-Europe routes this summer.
CHARLOTTE, N.C. (
) --
US Airways
(LCC)
will move this summer to buttress its Charlotte hub, which in terms of peak summer departures is already the fourth-largest single airline hub in the world.
Even though the City of Charlotte's
of the airport could provoke questions going forward, for now US Airways' Charlotte hub continues to grow. The carrier said Monday it will add four new non-stop European seasonal destinations this summer.
The addition of Barcelona, Brussels, Lisbon and Manchester will bring the total of Charlotte's European destinations to 10, also including year-round service to Frankfurt and London Heathrow, and seasonal service to Paris, Rome, Madrid and Dublin. The increase has been dramatic since April 2009, when Frankfurt and London were the only European destinations.
Delta's
(DAL)
Atlanta hub, with approximately 1,000 daily departures, is the world's-largest single carrier hub, in terms of peak daily departures during summer 2013. (Summer is the peak travel season).
American
( AAMRQ) in Dallas ranked second,
United
(UAL)
in Chicago was third and Charlotte, with 655 daily departures, was fourth. In terms of capacity, measured by number of available seats, Charlotte was fifth, behind United's Houston hub.
"Charlotte is a very good situation geographically, very similar to Atlanta," said Jason Reisinger, US Airways director of route planning, in an interview. "It has a lot of connectivity to the east, to the west and to Florida." Under the winter schedule now in effect, Charlotte has 613 daily departures to 128 destinations, including 108 domestic destinations. Most major airline schedules typically diminish in the winter.
Only about 25% of US Airways Charlotte traffic originates in Charlotte, a relatively low number, but the connections are strong and airport costs, under former longtime airport director Jerry Orr, have been kept at the lowest level of any major U.S. airport.
Barcelona will be served with an
Airbus
A330-200 jet seating 258 passengers including 20 in suites. US Airways is taking delivery of five A330s this year, with two already delivered and one on the way. US Airways currently serves Barcelona from Philadelphia. "We've been doing well in Barcelona for a while," Reisinger said. "A lot of tourists go there, we haven't seen any falloff in traffic due to the Spanish economy, and we wanted to add Charlotte."
In general, Reisinger said, US Airways' approach has been to initiate European service from Philadelphia and then to add Charlotte if traffic warrants. "We tend not to see cannibalization," he said. Philadelphia serves a heavy concentration of East Coast traffic, while Charlotte has unique southeastern and western destinations. Additionally, Charlotte makes an attractive destination for passengers who originate in Europe because of the broad range of domestic destinations, some of which are served from only two eastern U.S. hubs, Charlotte and Atlanta.
Lisbon and Manchester will be served with Boeing 757s, while Brussels will have a 767. Charlotte service to Brussels will begin June 6, while service to the three other cities will begin May 22. Brussels service ends Sept. 1, Lisbon and Manchester end Sept. 28, and Barcelona ends Oct. 24.
Reisinger declined to say where the airplanes will come from, but in the summer airlines typically reduce some flying to winter destinations and also have the option to reduce flying in underperforming destinations, although they do not typically issue formal announcements of service reductions.
Reisinger said the potential for a merger with American was not a factor in making the decisions on European destinations. "This is generally what we would have done anyway," he said. "It works as US Airways builds a better foundation. If there is a merger, you are in Oneworld with American, and you would have better time-of-day coverage over the hubs."
US Airways is scheduled to report third-quarter earnings on Wednesday. Analysts surveyed by
Thomson Reuters
are expecting earnings of $1.12 a share, up 14% from a year earlier. Analysts will be hoping that CEO Doug Parker will be willing to provide some guidance on the airline's effort to merge with American, despite the opposition of the U.S. Justice Department, which has filed a suit to block the merger. US Airways shares closed Monday at $21.22, up 57% for the year.
-- Written by Ted Reed in Charlotte, N.C.
>To contact the writer of this article, click here: