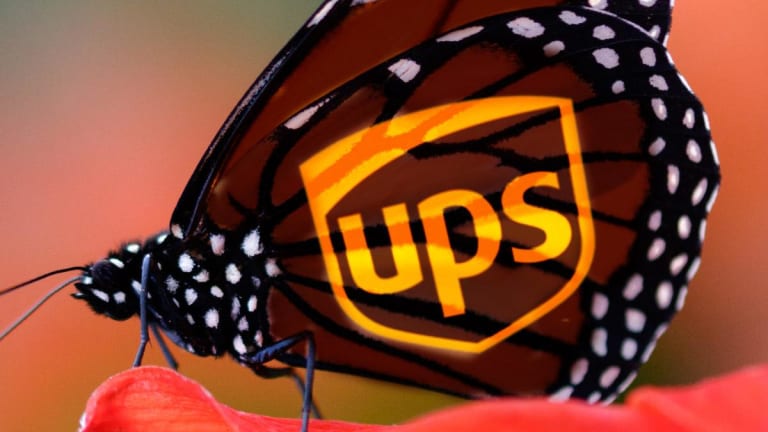 UPS to Add 6,000 Natural-Gas-Powered Vehicles for $450 Million
UPS has invested $1 billion on planet-friendly fuels and technologies over the past 10 years. Now, it is spending close to half that amount in three years.
UPS (UPS) - Get United Parcel Service, Inc. Class B Report shares were gently higher Wednesday after the transportation company said it would buy more than 6,000 natural gas-powered trucks from 2020 to 2022, continuing to build its alternative-fuel fleet.
Within those three years, the company will spend $450 million on the fleet and supportive fuel systems. The company said it has invested $1 billion on planet-friendly fuels and technologies since it committed to this effort 10 years ago.
This alternative-fuel fleet will reduce its reliance on diesel. UPS's goal is to reduce its greenhouse gas emissions by 12% by 2025.
Aside from helping the planet, UPS's carbon-footprint-reduction plans will benefit Agility Fuel Solutions, who has provided natural-gas-fuel storage and delivery systems to more than 1,700 UPS trucks since 2016.
A spokeswoman for the Atlanta package-delivery and logistics giant said the 6,000 new vehicles will be built with several current UPS body and chassis manufacturers.
Agility Fuel Solutions is the Costa Mesa, Calif., subsidiary of Hexagon Composites ASA, (HXGCF) the Alesund, Norway, supplier of clean-energy technology.
Agility will equip the vehicles with compressed natural gas fuel systems. CNG systems can use both renewable and conventional natural gas. RNG is produced from landfills, dairy farms and other biosources.
RNG reduces life-cycle greenhouse gas emissions some 90% compared with conventional diesel, the company said. 
UPS is "creating a highly flexible, data-driven, and sustainable network," said Juan Perez, chief information and engineering officer, in a statement. UPS aims to have a quarter of its vehicles purchased in 2020 running on alternative fuels, he said.
Shares of UPS were trading up 0.9% at $113.70.