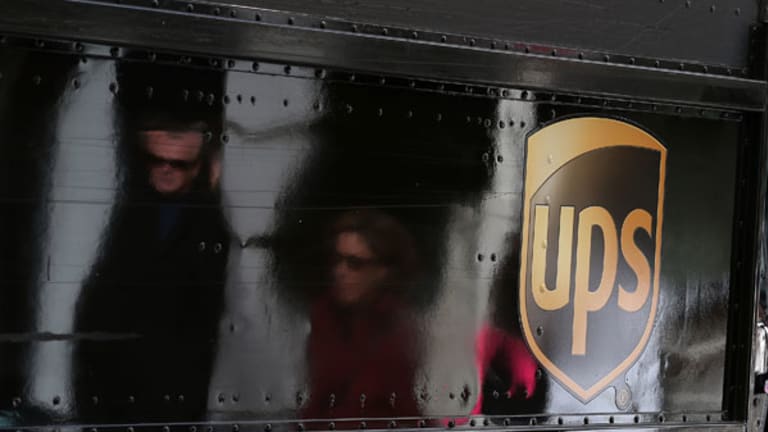 UPS Reports In-Line Results, Sees Higher Online Holiday Shopping
UPS beats quarterly earnings estimates by a penny as net income rises 9.4%.
ATLANTA (
) --
UPS
(UPS)
posted a 9.4% earnings increase in the third quarter and narrowly beat estimates as international profits fell.
The overnight package company said it earned $1.16 a share. Analysts surveyed by Thomson Reuters had estimated $1.15. Third-quarter revenue rose 3.4% to $13.5 billion. Analysts had estimated $13.6 billion.
"Third-quarter results were strong and in-line with our expectations," said Chief Financial Officer Kurt Kuehn, in a prepared statement. "Looking to the fourth quarter, although some major retailers have expressed caution about holiday spending, they still expect robust online sales."
"The late Thanksgiving creates a compressed peak season, which presents some operating challenges," Kuehn continued. "Nonetheless, we are confident in UPS's ability to successfully deliver the holidays."
Kuehn reiterated full-year guidance for earnings per share between $4.65 and $4.85, a 3% to 7% increase over 2012.
UPS peak season daily volume is expected to increase by 8% this year as the trend toward global e-commerce continues to drive higher demand for holiday shipping. "We have seen year-over-year how e-commerce and the growing trend of mobile commerce continues to shape how consumers shop," said Alan Gershenhorn, UPS chief sales and marketing officer.
The company said its peak Christmas global shipping day will be Dec. 16, when it expects to pick up more than 34 million packages. The number of shopping days between Thanksgiving and Christmas totals 26, six fewer than last year, making it the most compressed holiday season since 2002. The National Retail Federation is predicting a 3.9% increase in U.S. holiday sales.
During the quarter, U.S. domestic third-quarter operating profit at UPS rose nearly 16% to $1.2 billion, while operating margin expanded by 140 basis points to 14.4%. Revenue increased 5% to $8.3 billion. Volume growth, cost reductions, safety improvements, as well as the benefit of one additional operating day, contributed to the improvement.
International package operating profit fell by $32 million to $417 million, reflecting a $75 million negative impact from currency and fuel. Operating margin was 13.8%. International revenue rose 2.5% to $3.0 billion on daily package volume improvement of 6.5%.
Daily export shipments were 6.7% higher, with European exports up nearly 10%, while growth out of Asia was flat. Non-U.S. domestic volume was up 6.3%, driven by strong growth across Europe and Canada.
In supply chain & freight, operating profit rose 7% to $201 million and operating margin rose by 60 basis points to 8.9%. Revenue declined slightly to 2.25 billion, as growth in UPS freight was offset by declines in the forwarding business.
For the three months ended Sept. 30, UPS delivered more than 1 billion packages worldwide, an increase of 4.6% from the prior-year period.
-- Written by Ted Reed in Charlotte, N.C.
>To contact the writer of this article, click here: