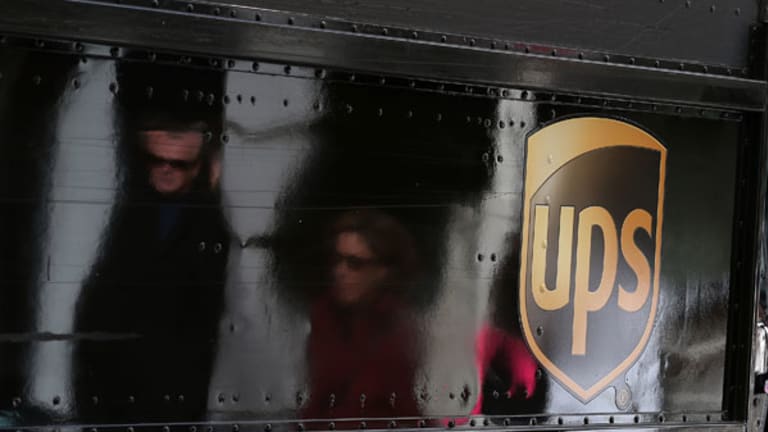 UPS Reiterates Its Holiday Woes and Promises to Be Good This Year
UPS restates weaker-than-expected fourth-quarter earnings.
ATLANTA (TheStreet) -- UPS (UPS) - Get United Parcel Service, Inc. Class B Report reaffirmed the fourth-quarter earnings it pre-reported two weeks ago, reiterating that higher-than-expected volume and winter storms boosted operating costs and reduced net income.
The overnight package company said excluding items it earned $1.17 billion, or $1.25 a share. Before UPS pre-reported, analysts had estimated earnings of $1.43 a share. Revenue rose 2.8% to $15 billion. Analysts were estimating $15.2 billion. In the same quarter a year earlier, UPS earned $1.32 a share.
"As the retail market shifts to a direct-to-consumer model, more and more companies are leveraging UPS solutions," said CEO Scott Davis, in a prepared statement. "As a result, we experienced an unprecedented increase in volume, exceeding even our most optimistic plans.
"The increased volume put a strain on our network, causing delays. In response, UPS deployed additional people and equipment, placing a greater emphasis on service than cost," Davis said. "UPS will make the necessary investments and operational improvements to ensure we meet the needs of the marketplace."
Looking ahead, the company expects 2014 earnings per share to be within a range of $5.05 to $5.30, an increase of 11% to 16% over 2013 adjusted results. Analysts forecast earnings of $5.31 a share.
"While the year ended on a challenging note, we are confident in our ability to adapt and we expect much better results in 2014," said Chief Financial Officer Kurt Kuehn, UPS chief financial officer. "UPS expects balanced profitability growth across all segments in a slightly better economic environment."
During the holiday period, global daily deliveries exceeded expectations by surpassing 29 million packages on five days, with peak volume exceeding 31 million on Dec. 23. Also during this period, UPS experienced 10 days with delivery volume that exceeded the company's previous high.
For the quarter, U.S. domestic revenue improved 4.2% to $9.3 billion. But total revenue per package declined 1.3% due to lower fuel surcharges, changes in product and customer mix, as well as higher service refunds. Operating profit declined $178 million to $1.2 billion as UPS exceeded seasonal hiring targets by more than 30,000, deploying a total of 85,000 temporary employees. The company also experienced significantly higher purchased transportation expenses.
International revenue increased 5.3% to $3.4 billion, operating profit improved 7.6% to $537 million and operating margin expanded 30 basis points to 15.9%. In supply chain and freight, revenue fell 5.8% to $2.3 billion, due to freight forwarding declines.
UPS said it will repurchase $2.7 billion of shares during 2014.
Written by Ted Reed in Charlotte, N.C.
To contact this writer, click here.