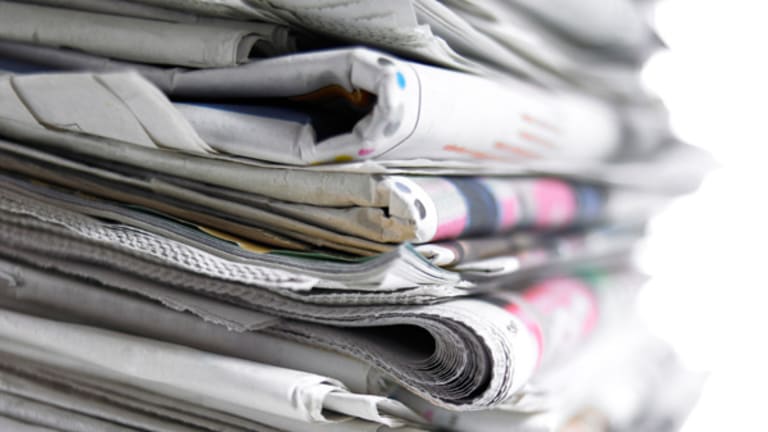 UPS Profit Beats Expectations: Ahead of the Ticker
UPS reports first-quarter profit that beats analysts' expectations on strong ground and export shipments in the post-holiday season.
NEW YORK (
) --
United Parcel Service
(UPS)
reported first-quarter profit that beat analysts' expectations on strong ground and export shipments in the post-holiday season.
UPS reported net income that rose to $1.04 billion, or $1.08 a share, in the first quarter, from $970 million, or $1 per share, in the same quarter a year ago. Excluding items, UPS earned $1.04 a share, beating analysts' expectations of earnings of $1.01, according to Thomson Reuters.
Also see: The Consumer Staples Bubble Is Popping
UPS said daily package volume in the U.S. grew 4.4%, helping to drive a 2.3% increase in sales. The company also said customers returning holiday gifts through the UPS Returns services aided growth.
The company reaffirmed its guidance for full-year adjusted earnings of $4.80 to $5.06 a share.
UPS also announced it will buy Hungarian pharmaceuticals-delivery company
Cemelog Zrt
for an undisclosed amount. The acquisition is expected to close in the second quarter.
Verizon Communications
(VZ)
is said to be considering a $100 billion bid for
Vodafone's
(VOD)
stake in
Verizon Wireless
.
Verizon, which already own 55% of the company, would assume full ownership if the deal goes through. The company has not made a formal bid at this point, but
Reuters
cited sources that say Verizon has hired banking and legal advisers to explore a potential bid. The sources said Verizon plans to raise about $50 billion of bank financing and pay for the remainder of the deal with its own shares.
According to the sources, Verizon is expected to discuss details of the potential deal at a meeting next week.
Also see: Top Ten Traders to Follow on Twitter
Verizon is the biggest U.S. wireless carrier. The company's shares have climbed about 20% this year on strength in its wireless business.
Google
(GOOG)
has offered to make changes to its search display in Europe to appease antitrust regulators.
Google said it would make changes including labeling its promoted content more clearly and displaying links to competitors for five years. The move comes as the company tries to settle a nearly three-year antitrust investigation by the European Union. The EU has been concerned that Google is abusing its dominant position in the market and favoring its own search results over those of its competitors.
The EU said it will begin market testing for one month and a a final settlement could be reached after the summer.
If Google's offer is accepted, the company would avoid a fine of up to 10% of its global annual sales. It could face having to pay that fine if it does not hold up its end of the deal.
Also see: 10 Major League Towns Where Baseball Doesn't Cost a Bundle
The chatter on Main Street (a.k.a. Google, Yahoo! and other search sites) is always of interest to investors on Wall Street. Thus, each day, TheStreet compiles the stories that are trending on the Web, and highlights the news that could make stocks move.
-- Written by Brittany Umar
.
Brittany joined TheStreet.com TV in November 2006 after completing a degree in Journalism and Media Studies at Rutgers College. Previously, Brittany interned at the local ABC affiliate in New York City WABC-TV 7 where she helped research and produce On Your Side, a popular consumer advocacy segment.