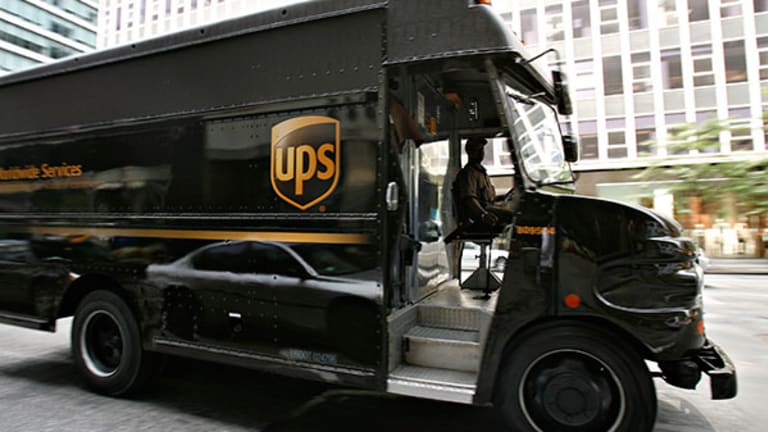 United Parcel Service (UPS) - Get United Parcel Service, Inc. Class B Report delivered disappointment to Wall Street on Tuesday, announcing fourth quarter and full year results that came in below expectations and offering a cautious outlook for 2017.
Atlanta-based UPS reported a fourth quarter loss of $239 million, or 27 cents per share, including a one-time pension charge. Excluding that non-cash charge the company earned $1.63 per share on sales of $16.93 billion, compared to analyst expectations of a $1.69 per share quarter on sales of $16.995 billion.
For the year the company earned $5.75 per share on sales of $60.9 billion. Analysts were expecting earnings of $5.82 per share on $61.04 billion in revenue, according to FactSet.
Shares of UPS closed down 6.75%, or $7.90, on Tuesday to $109.13.
UPS said a combination of a "significant shift" towards its lower-revenue offerings and its continued investment in new technologies ate into results, noting that its shipments to residential addresses from 11.5% in the fourth quarter compared to a year prior and that a record 63% of deliveries in December were to homes.
The rise of e-commerce has been both a positive and a negative to UPS and other delivery companies, as it has both provided a flood of new volume and new revenue but typically at lower margins than business-to-business deliveries. The seasonality of the business - specifically the increased demand around Christmas - has caused logistics firms headaches trying to staff up enough to make deadlines but not so much that they are unable to turn a profit on the quarter.
Management said that its investment in technology will help make those residential deliveries, particularly e-commerce deliveries, more profitable over time, and highlighted the company's opportunities internationally and in particular in emerging markets.
"The international segment delivered another extraordinary performance, while the U.S. managed through considerable changes in product mix," company chairman and CEO David Abney said. "Our strategies and initiatives are creating long-term value for both UPS customers and shareowners."
But the near-term does not appear as rosy. The company forecasted 2017 earnings per share in a range of $5.80 to $6.10, impacted by as much as 30 cents per share by a strong U.S. dollar. Analysts had been expecting earnings of $6.15 per share this year.
Weighing against sentiment towards UPS is what can be viewed as the Trump Administration's rhetoric against free trade, including the White House's decision to withdraw from the Trans-Pacific Partnership and threats to rework the North American Free Trade Agreement and impose border taxes on Mexico.
But Abney said "we don't think the world is falling off a cliff," when asked about the administration's moves, saying UPS is eager to work with the administration and Congress to push towards new bilateral and multilateral deals.
"We believe a key to continued global economic growth is the expansion of free trade," Abney said during a conference call with analysts. He said that UPS typically sees volume increases to a country of upwards of 20% after a country reaches a trade deal with the U.S., saying "we think there will be trade agreements" under a Trump White House.
Abney also noted that UPS's large and sophisticated custom brokerage operation is a competitive advantage in times of uncertainty, offering corporate customers expertise to help navigate any changes in trade deals.
"I think it is a great American company, but the change in the landscape of e-commerce is happening at lightning speed," said Jim Cramer portfolio manager of the Action Alerts PLUS Charitable portfolio.