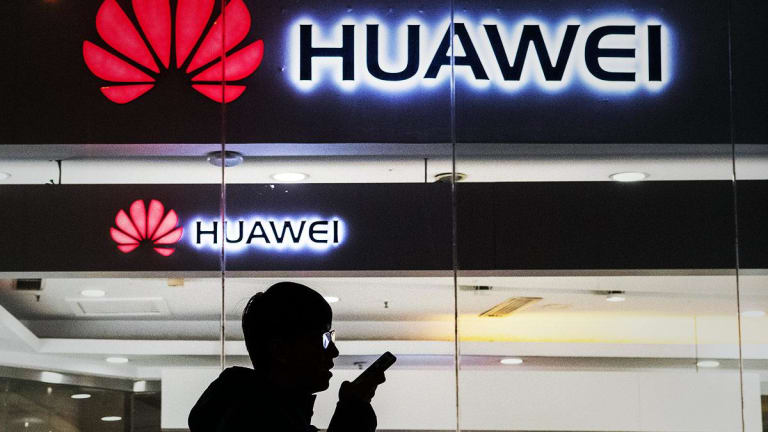 U.S. Stance on Huawei Still Unclear, But It May Not Matter Much for Chipmakers
The bigger issue appears to be global, long-term supply and demand issues.
President Trump recently said he was easing a ban on U.S. companies doing business with Huawei, lifting many U.S. semiconductor stocks that supply the giant Chinese telecommunications company. And while the issue remains far from resolved, according to policy and tech experts, that fact might not be as important to U.S. chipmakers' fortunes as investors might think. 
Early in 2019, President Trump enacted the ban on Huawei, the largest smartphone and telecommunications equipment company in the world. Speculation on whether the ban would be lifted has created volatility in U.S. semiconductor stocks.
In June, Trump met with Chinese leader Xi Jinping at the G20 summit in Osaka, Japan and agreed to lift the Huawei ban in exchange for Chinese companies buying U.S. agricultural products once again.
Chip stocks have swung dramatically on all the news. 
The Philadelphia Semiconductor Index (SOX) fell 5.9% after it was reported on January 3 that the White House intended to enact a Huawei ban. The index then fell 7.4% between May 15 and May 20, after Trump signed his executive order for the ban. Since May 20, the index is up 11.7%, as investors have priced in optimism on a Huawei and broader trade resolution. And since Trump's agreement with Xi the weekend before Monday July 1, the index is up 3%, bringing its year-to-date gain to 29%.
Huawei Ban Unresolved
"We're pretty unclear about what the policy is at the current time," Craig Allen, president of the U.S.-China Business Council, told The Street. "The President's words and the Secretary of Commerce's words are quite different." While Trump said that he's agreed to allow Huawei to continue selling to and buying from American firms, U.S. Secretary of Commerce Wilbur Ross reiterated on Tuesday July 9 that Huawei remains on the U.S.'s official entities list of companies that are a threat to U.S. national security. "That doesn't seem to gibe with what the President said," Allen noted.
Ross said Tuesday the U.S. will issue licenses to its own chip companies to sell to Huawei, but said this will only apply to manufacturers supplying products that don't pose a security threat to the U.S. He declined to mention which companies were included, however.
Others agree that the issue is far from decided. "Trump is spouting his mouth off," Stacy Rasgon semiconductor analyst at Alliance Bernstein told The Street. "All he said was U.S. companies can sell to Huawei again. Huawei is still on the entity list -- every company still has to apply to the Commerce Department for licenses." 
Impact on Chip Stocks 
"The direct impact from Huawei is not fun [for the chip makers]," Rasgon said. "But it is manageable because it is not as big in the grand scheme of things." Rasgon estimates Huawei spends roughly $16 billion on U.S-made chips annually. Data aggregated by Statista shows that Huawei spent $14.4 billion on U.S. chipsin 2017, and $21.1 billion in 2018.
Many U.S. chip makers derive at least a portion of their revenue from Huawei. Broadcom (AVGO) , one of the U.S.'s largest chip makers by market cap ($109 billion) gets roughly 4.1% of its revenue from Huawei, or $900 million of $20.84 billion in 2018, according to one of Rasgon's recent notes (Broadcom also recently agreed to acquire Symantec (SYMC) , which has also impacted Broadcom's share price).
Qualcomm (QCOM) gets 2.5% of its revenue from Huawei, leading Goldman Sachs analyst Rod Hall to write in a May note that "Huawei [resolution] could drive 27%-34% upside or $1.55-$1.99 to our calendar year 2020 EPS" for Qualcomm. But Rasgon noted that Hall's estimates reflect not just direct chip sales to Huawei, but to other licensing revenue Qualcomm receives from Huawei.
While a Huawei resolution may not be terribly impactful to Broadcom shares, it may impact Qualcomm stock, as Hall noted that maintaining his 12.5 2020 earnings multiple and adding $1.55 of EPS could bring the stock up to $92. That represents 24.8% upside from its current level.
Two smaller chip makers, Qorvo (QRVO) and Skyworks Solutions (SWKS)  each get roughly 15% of their revenue from Huawei. Qorvo shares fell 16.4% on the day in May that Trump signed the executive order blacklisting Huawei. They moved up 5.1% in July the day after Trump said the blacklist would be lifted. Meanwhile, Skyworks fell 13.6% in the four days after the May order, and rose 6% after Trump's positive comments. 
What Really Matters For Chip Stocks 
In the end, the factors influencing the performance of chip stocks are likely to be bigger than what happens with Huawei. 
Over supply has rocked the global semiconductor industry since the fourth quarter of 2018, and pricing has plummeted. Rasgon mentioned analysts were predicting a pricing recovery for the second half of 2019, but as the pricing trough has remained in place indefinitely, "[a pricing recovery] is still in the consensus estimates. I think there is risk."
"I'm nervous about the sector," Rasgon said. "I tend not to make broad cycle calls. I guarantee none of the companies know [when a recovery will occur], either," he added. "Semi companies are flying blind -- they're in the back of the supply chain." 
Sean O'Hara, president of Pacer ETFs told The Street that "we view the chip makers more as part of a longer major macro trend that has to do with the necessary build out in computing power that is going to be required for us to continue to develop five key technologies."
He listed artificial intelligence, autonomous vehicles, streaming, e-commerce and 5G as those key technologies. While some chip players will steal market share from others, the whole sector will likely benefit from these long-term trends.
He mentioned this trend is mostly useful to longer-term investors. "I think you are going to see earnings go up as a result of this massive spending that is going to go up."
Save 45% with our Prime Time Sale. Join Jim Cramer's Investment Club, Action Alerts PLUS, to become a smarter investor! Click here to sign up!