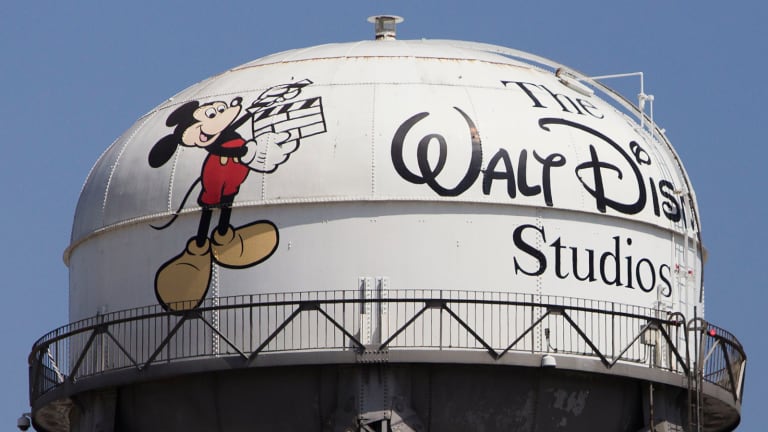 Buying strong businesses with top-quality brands is a proven way to build lasting wealth, particularly if you can do so when they're out of favor.
Case in point: Walt Disney (DIS) - Get Walt Disney Company Report . In February, it battled the world's strongest banners in Brand Finance's annual measure and came out on top, upending Lego, last year's winner.
That's not unusual for the Burbank, Calif.-based entertainment juggernaut, which is celebrating its 90th birthday this year. In that span, it's carefully constructed a stable of brands that's the envy of the entertainment world, including Lucasfilm (creator of Star Wars), the ESPN sports network, Pixar, Marvel Entertainment, ABC and specialty channels such as A&E, Lifetime and History.
But while Disney may be winning the brand wars, its stock has taken a bruising this year, declining 12%, compared with a 4% gain for the S&P 500. Disney now trades at 16.6 times its last 12 months of earnings, a discount to media rivals like Comcast, at 18.8, and Time Warner, at 17.7. Shares fell a little more than 1% in Monday trading. 
Investors are particularly worried about declining viewership at ESPN, and those fears haven't been eased by the NFL season's rough start, with TV ratings dropping double digits overall so far. You can blame some of that on the election: Going back to 1996, NFL viewership has a history of slumping 2% to 10% in years when the White House is up for grabs.
Throw in this year's matchup between Hillary Clinton and Donald Trump, with a more shocking episode coming seemingly every day (and don't forget, the first debate ran head-to-head with ESPN's Monday Night Football), and you get some of the explanation for the shortfall.
But that's not the whole story: Disney's TV networks are battling for eyeballs with myriad other distractions, the most potent being streaming services such as Netflix, which are prompting many households to drop cable TV entirely.
That's a big shift, to be sure, but investors are overlooking Disney's long history of skillfully navigating changes in the media business. Today, part of its strategy revolves around finding new ways to leverage the ESPN brand.
For example, in August, Disney said it would spend $1 billion for a one-third stake in Major League Baseball's BamTech streaming service, with an option to buy full control. BamTech and Disney are now working on a standalone ESPN-branded subscription streaming service that will show MLB games, as well as football, basketball and college sports.
As well, after originally being counted out as a potential buyer of Twitter, Disney is rumored to be interested again. Twitter's struggles are well documented, but a deal would give Disney access to the social network's 317 million users, as well as its valuable online audience-building expertise.
Meanwhile, Disney's other businesses continue to perform well. In the company's latest quarter, its studio division reported a 40% revenue increase and a 62% jump in operating income. The company has another Star Wars film, Rogue One, slated to hit theaters in December, and can look forward to more annual installments for years to come.
Sales at the theme parks division also rose 6% on higher in-park spending, while operating income gained 8%. Looking ahead, the company's recently opened Shanghai Disneyland resort puts it in a great position to tap into China's surging theme park business, which will become the world's largest by 2020.
Analysts give Disney an average 12-month price target of $108, implying 17% upside from today's level.
The bottom line? Disney has the brands, resources and know-how to overcome its challenges and generate rising profits for years to come. That makes it a great stock to buy now and tuck away for the long haul.
---
Disney is a strong company with a long history of rewarding shareholders, but if you'd rather avoid stocks altogether, consider the system we've developed. It generates consistent profits no matter what the economy does. One trader used it to turn $50,000 into a $5-million fortune, and now he's guaranteeing you at least $67,548 per year in profitable trades if you follow in his footsteps. Click here to see how easy it is to start your own $67,000 income stream now.
This article is commentary by an independent contributor. At the time of publication, the author held no positions in the stocks mentioned.