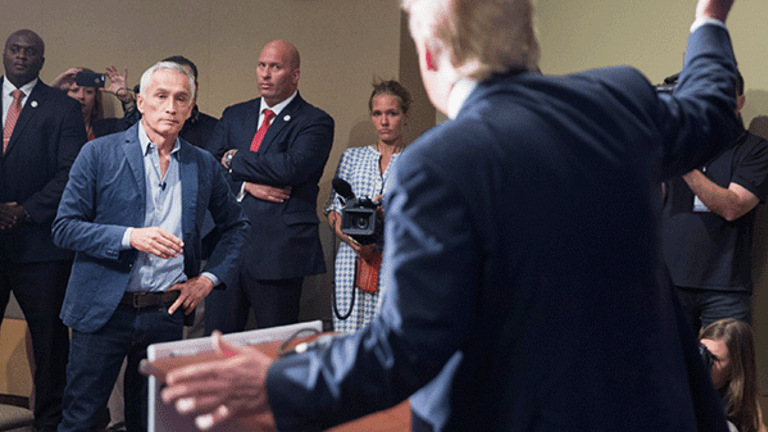 Publish date:
Univision Makes Moves for IPO as Trump Berates 'The Media'
The Spanish-language media company is preparing for a much-awaited market debut just as the incoming administration steps up an ongoing war with the press.
The Spanish-language media company is preparing for a much-awaited market debut just as the incoming administration steps up an ongoing war with the press.
The market for stock offerings is hot. But the mood around media companies is decidedly cool.
On the eve of the Trump inauguration, there's rising speculation that Univision Holdings, the country's largest Spanish-language media company, may be getting closer to setting a date for its much-awaited initial public offering.
As investors know full well, the market has been sizzling. The S&P 500 index has surged nearly 6% since election day, a run that lifted the benchmark to a 9.5% gain for 2016.
Univision's private equity owners -- Madison Dearborn Partners, Providence Equity Partners, TPG Capital, Thomas H. Lee Partners and Israeli billionaire Haim Saban -- would like nothing more than an IPO that might allow them to begin recouping their investment. (Univision and TPG Capital declined comment for this story. Madison Dearborn, Providence Equity and Thomas H. Lee did not immediately return requests for comment.)
A successful offering could erase much of the debt financing costs that continue to burden the company. Univision's long-term debt was $9.06 billion at the end of September, down from $9.31 billion at the end of 2015, yet it remains high, a product of being taken private in March 2007 in a $13.7 billion deal that had the unfortunate luck of taking place just before markets tumbled in the mortgage-backed securities crisis of 2008.
But these are strange times for media companies.
Media properties including Time Warner's (TWX) CNN, Comcast's (CMCSA) - Get Report NBC News and, more recently, privately held BuzzFeed News, are under broad attack from the incoming administration. Print publications Vanity Fair and The New York Times (NYT) - Get Report also have drawn fire from the president-elect.
While politicians and journalists have long sparred, President-elect Donald Trump has made it clear that given a reason, he'll strike back. Holding his first press conference since the election, Trump on Wednesday called BuzzFeed a "failing pile of garbage" for publishing a 35-page dossier of uncorroborated allegations of information said to have been gathered by the Russian government. He added that BuzzFeed "will suffer the consequences."
Trump also took a swipe at Time Warner's CNN, which didn't publish the dossier but instead broke the news that Trump last week received a summary of its contents from U.S. intelligence officials. Though dozens of news organizations matched CNN, Trump lashed out at the network's Jim Acosta at the press conference, exclaiming that "your organization is terrible. ... You're fake news."
Further afield, Trump was said to have misgivings last week about Time Warner's proposed $85.4 billion sale to AT&T, a transaction that needs antitrust approval. Additionally, the president-elect is still said to be peeved at NBC News for its leak of the now infamous Access Hollywood tape with Billy Bush. Conversely, Fox News, the crown jewel of 21st Century Fox (FOXA) - Get Report , appeared to be the beneficiary of Trump's general war reporters as illustrated in a tweet about his renewed friendship with Fox Executive Chairman Rupert Murdoch.
So where does that leave Univision and a possible IPO?
Comcast is a holding in Jim Cramer'sAction Alerts PLUS Charitable Trust Portfolio. Want to be alerted before Cramer buys or sells CMCSA? Learn more now.
The groundwork for an offering was clearly strengthened when Univision on Jan. 4 received regulatory approval for its request to allow foreign investors to own as much as 49% of the company. The ruling by the Federal Communications Commission, on a recommendation from the Justice Department, also allows a single stakeholder, in this case giant Mexican media conglomerate Grupo Televisa (TV) - Get Report, to own as much as 40%.
At present, Televisa holds a 14.4% stake Univision, having invested about $1.2 billion in the company in 2010. For Televisa, a jump to 40% would amount to a doubling down on Univision for which it already supplies about 35% of its TV programming, according to Portada, which tracks U.S.-based Spanish-language media business. 
As is widely expected, Televisa will increase its stake to 40% in the near future, probably before shares are sold to the open market, said Josef Schuster, founder of IPOX Schuster, a Chicago IPO investment firm. "That would really decrease the expected overhang on the stock after it would become public," he said. "That would really be supportive of the share price when secondary share sales do occur down the line." 
The IPO market is also looking strong, Schuster said, forecasting that the number of offerings this year could be twice as large as 2016.
But Univision's private equity owners might also elect to remain private after Televisa increases its stake, thereby bringing debt down to more manageable levels. With less debt to finance, Portada said, Univision would have more cash to invest in the kinds of English-language programming that native born Latinos are seeking, and are increasingly finding at its chief rival Telemundo, a unit of the sprawling media conglomerate Comcast (CMCSA) - Get Report .
After years of attracting more than twice as many viewers as Telemundo, Univision's lead among U.S.-based Spanish-language television companies has become nearly even. according to Nielsen. Univision has ceded more than 45% of its prime-time audience since 2013 to Telemundo and other networks. 
Like many media companies structured largely around cable TV networks, Univision is a company in transition. For the third quarter, Univision posted a loss of $30.5 million on revenue of $734.8 million, an 8.3% decline from the same period a year earlier. The drop in sales forced CEO Randy Falco to announce the layoff of 200 to 250 editorial and business-side employees, largely from its nascent Fusion Media Group.
Fusion, the youth-focused cable TV network and website originally launched with Disney (DIS) - Get Report , is viewed as Univision's growth engine. It's headed by Isaac Lee, who holds the broad title of chief news, digital and entertainment officer. 
Earlier this week, Falco and Lee visited Trump Tower in New York to meet with the president-elect. Such meetings aren't unusual. AT&T (T) - Get Report CEO Randall Stephenson met on Thursday with Trump, no doubt to lobby in favor of its acquisition of Time Warner. Nonetheless, the Univision meeting may have been particularly important given Trump's testy confrontation in August 2015 with the broadcaster's lead anchor, Jorge Ramos. 
Ramos, a fixture in Spanish-language media in the U.S. for more than 20 years, was booted from a press conference in Dubuque, Iowa, after attempting to ask Trump about his proposal to deport some 11 million undocumented immigrants. Trump told Ramos to "sit down" because he hadn't called on him, adding that he ought to "go back to Univision." 
Concerned that Monday's meeting with Trump might look like appeasement, Univision issued the following statement: "We just had a productive meeting with President-elect Donald Trump about issues facing Hispanic and multicultural communities in America. We look forward to working with Mr. Trump and his administration to make our vibrant country even better.
"Our Univision News team will continue to cover the Trump administration with the rigor that we have brought to the coverage of every administration that preceded it. We approach this task without fear or favor and with one goal only -- to ensure our audience is well-informed. Our eyes, ears and minds are wide open."
Univision may be hoping investors feel the same way about an IPO.