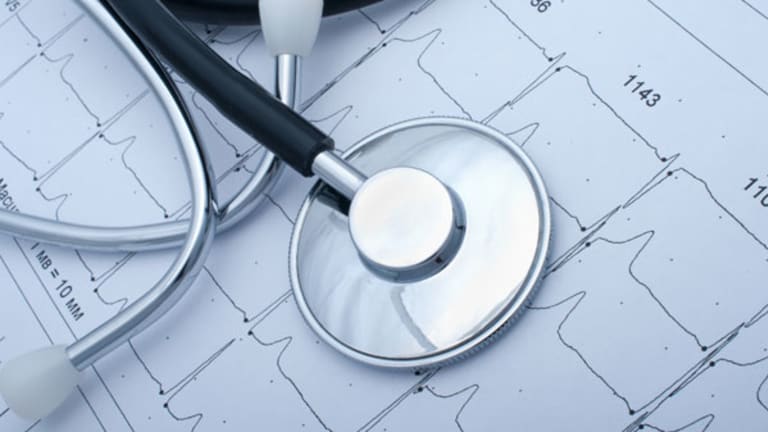 UnitedHealth's Profits Fall on Higher Costs
The health insurer struggled with rising medical costs and investment losses during the quarter.
OKLAHOMA CITY --
UnitedHealth Group
(UNH) - Get Free Report
just gave investors another reason to fret.
The giant health insurer saw its third-quarter profits plummet despite a solid uptick in membership and sales. The company's net income fell 28% to $920 million in the recent quarter as a result of rising medical costs and recent investment losses.
Thanks to a favorable adjustment for legal expenses, however, its earnings per share of 75 cents beat Wall Street expectations by 3 cents.
UnitedHealth topped sales forecasts as well, boasting customer growth across most of its business lines. Revenue climbed 8% to $20.2 billion, inching ahead of the $20 billion consensus estimate.
For the fourth quarter, UnitedHealth expects to improve its performance and post earnings of 77 cents a share to 80 cents a share. Analysts, on average, were looking for profits to fall at the low end of that range.
Going forward, analysts believe that UnitedHealth's stock could top $32 a share. The stock lost ground on Thursday, however, slipping 3% to $21.03 following the company's disappointing update.
While no longer the profit machine it once was, UnitedHealth pointed to new signs of progress in its long-awaited comeback.
"The company's solid results reflect the early benefits of a series of actions we initiated to improve our performance," CEO Stephen Hemsley stated on Thursday.
"Efforts to strengthen local market execution and improve stakeholder relationships are being well received and have strong potential for longer-term gains. Other steps, such as reducing our operating cost structure and improving the positioning of 2009 benefits for most senior product offerings, should have a continuing favorable effect" this year, he said.
UnitedHealth faces clear challenges, however. For starters, the company's medical-cost ratio continues to climb. That crucial metric, reflecting the percentage of premium dollars spent on actual care, jumped 2.2% to 81.7% in the latest quarter and caused margins to shrink noticeably.
For example, in the company's core health services division, revenue rose a solid 7% on membership gains from acquisitions and organic growth in the public and senior sector. But profits tumbled 28% due to a slide in risk-based commercially insured customers and an uptick in medical costs across multiple Medicare lines. Those trends were reflected in the company's third-quarter margins, which came in at 6.8% compared to 10% a year ago.
Within that group, UnitedHealth's Medicaid division turned in the strongest performance by far as revenue soared 43% with hundreds of thousands of new customers signing up for coverage. After inking new contracts with several states, including Florida and Arizona, the company now serves 2.3 million Medicaid customers in the country.
With cash-strapped states struggling with their budgets, however, that business could pose risks. Last month, Goldman Sachs analyst Matthew Borsch noted that 30 different states face looming budget shortfalls, including a half-dozen with shortfalls of 10% or more.
Notably, Florida and Arizona are on the list.
"The dynamics in Florida highlight what we anticipate to be broad challenges for Medicaid managed care companies in 2009 and potentially in 2010 given the economic downturn and state budget pressures," Borsch wrote in late September. "Most states cannot run a deficit or borrow to cover their operating costs, supporting our view that cuts to states' Medicaid programs are likely in the coming months."
To be sure, UnitedHealth faces less exposure than some. A few companies - such as
AmeriGroup
( AGP),
Centene
(CNC) - Get Free Report
and
Molina
( MAH) - actually rely on Medicaid for the bulk of their business.
Nonetheless Borsch remains cautious on UnitedHealth. At best, he sees the stock as a possible short-term trade that could recover some ground in coming months before stumbling again next year.
Indeed, Borsch has warned of "extreme risks on the horizon" for the sector as a whole. Last week, he mentioned the possibility of sweeping post-election reforms that might "wipe out or severely diminish" earnings for the group.
"While we continue to view a radical single-payer type healthcare reform outcome as unlikely, the risk might increase over time if commercial coverage trends continue unabated (i.e., accelerated erosion of commercial health insurance coverage coupled with a continued paring down of coverage for those lucky enough to have insurance at all)," Borsch wrote.
"We also highlight the recent massive government intervention in the financial sector (the scope of which is still not fully defined), that could set a precedent for moving in this direction."
Long bearish on the managed care sector, Borsch sees few attractive long-term investments in the group.
He likes
Humana
(HUM) - Get Free Report
because they seem less vulnerable to negative industry trends than the rest.
Meanwhile, he has warned against several names -
Aetna
(AET)
,
Coventry
( CVH) and
Health Net
(HNT)
- during the market meltdown.
Borsch, whose firm has investment banking ties to UnitedHealth, has a neutral rating on the company.
Nobody ever made a dime by panicking, says Jim Cramer. Moneymaking opportunities exist despite the market turmoil. So where's a market master like Cramer putting his money these days? Check out his personal portfolio at Action Alerts PLUS. Take a free trial now
.