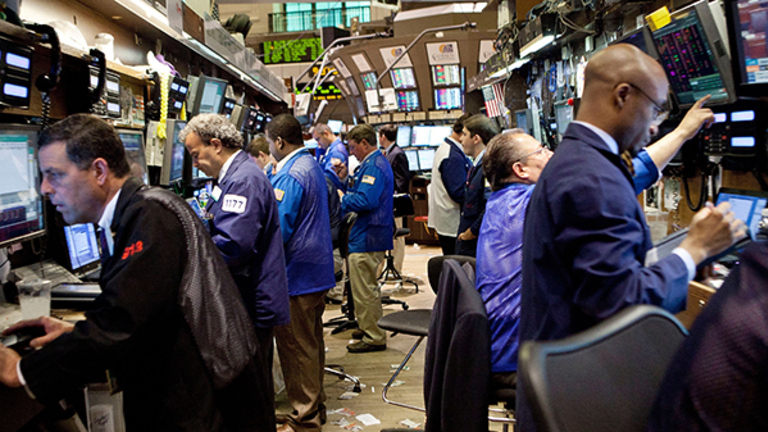 UnitedHealth, ITW, Northrop Grumman Look Rocket-Ready
These three stocks are showing short-term gain catalysts and longer-term growth potential.
Sell in May and go away doesn't seem like such a smart strategy in 2017.
While the old market adage has historically been an effective way to steer clear of the market's weakest months, that's not been the case so far this month. After all, the big S&P 500 hit new all-time highs on May 15, closing at a new high-water mark of 2,402.32. That's not just a mildly interesting one-off stat -- in the long-run, when the market makes new highs in May, it's generally an important buy signal for stocks.
Since the financial crisis of 2008, only two other years have brought on new all-time highs for the S&P 500 in May: 2013 and 2014. In both of those years, the remaining months of the calendar year have handed investors double-digit returns on a total returns basis. So, simply put, stocks look predisposed to charge higher from here.
To figure out which specific issues to focus on in the weeks ahead, we're turning to a new set of "Rocket Stocks" worth buying.
Rocket Stocks are our list of companies with short-term gain catalysts and longer-term growth potential. To find them, I run a weekly quantitative screen that seeks out stocks with a combination of analyst upgrades and positive earnings surprises to identify rising analyst expectations, a bullish signal for stocks in any market. After all, where analysts' expectations are increasing, institutional cash often follows. In the last 399 weeks, our weekly list of plays has outperformed the S&P 500's record-breaking run by 79.36%.
So, without further ado, here's a look at this week's Rocket Stocks.
UnitedHealth Group Inc.
Leading off the list is health insurance giant UnitedHealth Group Inc. (UNH) - Get UnitedHealth Group Incorporated (DE) Report. This $169 billion healthcare stock has been a strong performer in 2017, handing investors total returns of 35% in the trailing 12 months. And that breakneck momentum isn't showing any signs of slowing this month.
UnitedHealth is the biggest managed care provider in the U.S., with more than 46 million health members under its coverage. UNH also operates one of the biggest pharmacy benefit managers in the country, processing more than a billion prescriptions annually. Bigger is better in the health care business -- UnitedHealth's huge size means the firm can negotiate more attractive contracts with health care providers, keeping costs low and attracting even more members.
Despite the political uncertainty surrounding the health space right now, UnitedHealth has been thriving. Part of that has to do with the fact that UNH has been shifting away from traditional insurance and over to more back-office services, healthcare IT and the like. These trends pull some of the political risks off UNH's income statement, while aging demographics in the firm's key markets ensure that demand for the services UnitedHealth provides will remain strong.
Illinois Tool Works
Illinois Tool Works Inc. (ITW) - Get Illinois Tool Works Inc. Report has been another solid performer lately -- year-to-date this $48 billion-industrial manufacturer has charged more than 12% higher, besting the broad market by a big margin in 2017. More importantly, buyers are still in control of shares in May.
ITW is a global diversified manufacturer with approximately 85 businesses. The firm's products include brand names like Sub-Zero and Wolf appliances, Rain-X and Zip-Pak, among many others. That might sound like a lot of different units, but it's actually a much more concentrated approach to business than the firm had just a few years ago when it sported approximately 800 individual divisions. ITW's moves to shed its least profitable and most commoditized businesses should reap long-term rewards.
The firm's decentralized approach to management is a core component of its success. Managers of individual businesses are given a fair amount of leeway to run them as they see fit, only turning to the parent company to save on replicated overhead costs. From a big-picture standpoint, ITW's exposure to the industrial sector looks attractive right now. With rising analyst sentiment in shares of this stock this week, we're betting on upside in ITW.
Northrop Grumman Corp.
Rounding out our list of Rocket Stocks is $44 billion defense contractor Northrop Grumman Corp. (NOC) - Get Northrop Grumman Corporation Report. Northrop is up more than the rest of the market today, getting a boost alongside the rest of the defense industry from the $110 billion in Saudi Arabian arms deals announced over the weekend. Even though details are scant on whether Northrop will see anything from the deal, shares are breaking out to new highs nevertheless.
Northrop Grumman is one of the biggest defense firms in the world -- and the only Rocket Stock on our list that actually has anything to do with actual rockets. The firm is involved in everything from drones and bomber aircraft to IT services. Northrop's contributions to mission-critical platforms (like the new B-21 bomber win) make it somewhat immune to political budget battles.
Now, today's breakout is creating a buying opportunity in shares.
At the time of publication, author had no positions in the stocks mentioned.