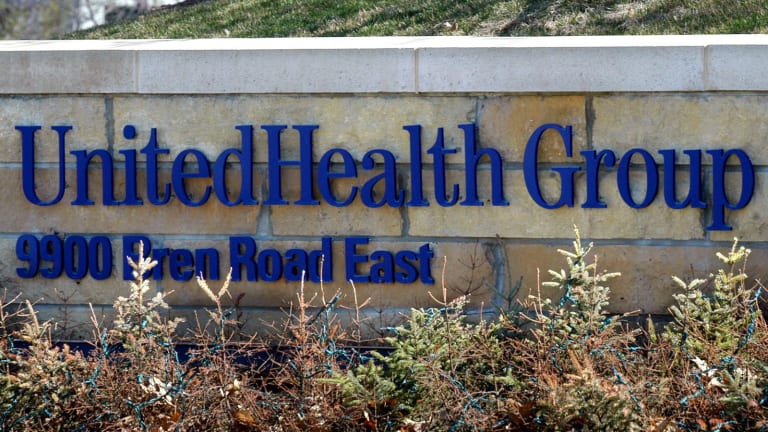 UnitedHealth Shares Jump on Fourth-Quarter Earnings Beat, Improved Guidance
The giant health insurer unveiled results that exceeded analysts' expectations and adjusted its full-year outlook to reflect the impact of the new tax law.
Shares of UnitedHealth Group Inc. (UNH) - Get Report rose on Tuesday, Jan. 16, after the health insurer unveiled fourth-quarter numbers that surpassed analysts' estimates and also raised its full-year outlook.
The stock was up 2.6% to $234.47 on Tuesday morning. UnitedHealth is up almost 45% over the past 12 months.
UnitedHealth reported adjusted earnings per share of $2.59, compared with $2.11 in the year-ago period. Revenue for the quarter was $52.1 billion, compared with $47.5 billion in the same period in 2016.
Analysts had expected, on average, adjusted EPS of $2.52 on revenue of $51.57 billion, according to Bloomberg.
For full-year 2018, the company altered its outlook to reflect the impact of the tax legislation, which President Donald Trump signed into law on Dec. 22. UnitedHealth said it now projects net earnings of $11.65 to $11.95 per share and adjusted net earnings of $12.30 to $12.60 per share. The company previously said at its investor day in November that it expected net earnings of $10 to $10.30 a share and adjusted net earnings of $10.55 to $10.85 a share.
The revised guidance for adjusted EPS marks an "upside of about ~17% compared to our expectation of ~15%, which we expect will be a positive catalyst," wrote Leerink Partners LLC analyst Ana Gupte in a Tuesday note. "Consensus has moved by ~6% post the Investor Day over the Dec and Jan time-frame from $10.83 to $11.44, which we expect is from a few sell analysts revising EPS upward for tax reform."
During the earnings call on Tuesday, chief financial officer John Rex said the company revalued its U.S. deferred tax liabilities to reflect the newly enacted federal statutory rate of 21%, which resulted in the addition of $1.2 billion in non-cash earnings in 2017.
The company said it plans to dedicate a "significant portion" of the benefits from the tax law changes to "accelerating investments in data analytics, technology and innovations to better serve consumers and care systems and to advancing new and existing business platforms."
UnitedHealth's CEO David S. Wichmann succeeded Stephen J. Hemsley in September.
In December, the firm's Optum health services business agreed to acquire DaVita Inc. (DVA) - Get Report subsidiary DaVita Medical Group for about $4.9 billion in cash. UnitedHealth's other deal activity in 2017 included Optum's definitive agreement in December to buy Chile-based healthcare provider and insurer Empresas Banmédica for $2.8 billion.
More of What's Trending on TheStreet: