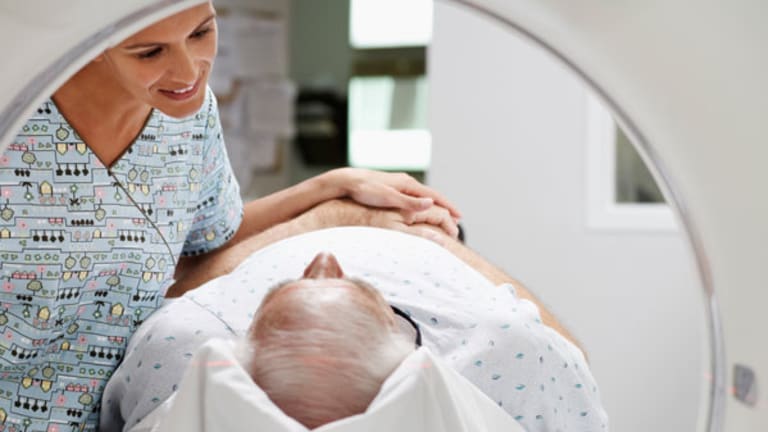 UnitedHealth Beans Quest Diagnostics
The health insurer continues to play hardball on prices.
Updated from Oct. 3
UnitedHealth
(UNH) - Get Report
sure knows how to play hardball.
Just ask
Quest Diagnostics
(DGX) - Get Report
, the largest provider of clinical lab services in the country. This week, Quest lost out on a national contract with UnitedHealth -- a company that accounts for 7% of its revenue -- because, it said, "the terms and conditions that were offered by UnitedHealth would have been irresponsible for us to accept."
Competing
LabCorp
(LH) - Get Report
felt differently and scooped up the 10-year, $3 billion contract for itself.
For Quest, which was favored by experts to land the huge deal, the news brought immediate pain. The company's shares plummeted 11% to $54.02. In comparison, LabCorp looked like a big winner with its stock up 3.5% to $67.50.
Meanwhile, UnitedHealth itself was up fractionally as the company went about doing its business of driving hard bargains and impressing Wall Street.
"UnitedHealth promised in their last investor day that they were going to get $300 million worth of medical cost savings over time," notes Sheryl Skolnick, senior vice president of CRT Capital group. "That comes from hospitals, physicians, labs -- you name it. This is just one step in that direction."
At this point, UnitedHealth seems compelled to step all over any party that tries to stand in its away. Recently, for example, UnitedHealth refused to pay higher rates to some
HCA
(HCA) - Get Report
hospitals even though those facilities have become "out-of-network" -- pushing UnitedHealth policyholders elsewhere -- as a result. Meanwhile, the company has slashed its payments to giant institutional pharmacy operator
Omnicare
(OCR)
as well.
These days, in fact, UnitedHealth seems to be cutting costs right and left. But Skolnick says the company is simply doing its job.
"I don't think it's surprising to see all of these contract renegotiations by UnitedHealth," Skolnick says. "I think it's interesting that we don't see as much of it from the other guys; maybe we should worry about them a little bit instead. ... But it's not unusual for UnitedHealth to lead the charge in everything. That's what we used to pay them a high multiple for."
UnitedHealth's stock, hammered by questions about the company's stock option grants, no longer commands as much of a premium. Skolnick currently has a "fair value" rating on the shares, which she intends to maintain until the company provides some answers about past stock option awards.
Formidable Foe
In the meantime, Skolnick believes that UnitedHealth could win a couple a legal battles with its foes.
Notably, UnitedHealth has sued HCA in an effort to maintain access to some imaging centers in the Denver market. UnitedHealth claims that HCA demanded higher rates at its Denver-area hospitals and then blocked the company's access to HCA-owned imaging centers -- which dominate the Denver market -- when it rejected the price hikes.
UnitedHealth says that HCA engaged in so-called tying, an antitrust violation, as a result. Skolnick, as a former economist for the Antitrust Division of the Department of Justice, feels that UnitedHealth might be right.
"We couldn't help but find UNH's allegations compelling," Skolnick wrote in a recent research note for her clients. "Some of the issues -- particularly the 'tying' allegation -- struck us as blindingly obvious anticompetitive behavior, if the evidence exists to prove it."
For its part, HCA claims that it has been fighting for its patients. The company says that it is committed to providing quality care -- which keeps rising in cost -- and that it should be fairly reimbursed as a result. And it points out that UnitedHealth has been raising its own rates in the meantime.
It plans to defend its position in court.
"We will vigorously oppose this lawsuit and their antitrust claims," HCA spokesman Ed Fishbough told
TheStreet.com
this week. But "let's not allow this to distract us from the real issue -- which is the need for this insurance company to agree to fair reimbursement that protects our ability to provide our patients with quality care."
Meanwhile, Skolnick suggests, the standoff has taken an ugly turn. Back in July, she says, the CEO of UnitedHealth's Colorado division wound up with "Insurance Pig" spray-painted across his house. UnitedHealth has omitted this development from its official complaint, she says, but the company has since gathered "an interesting collection of emails" in the meantime.
"We can't help but wonder whether the professionals in Nashville (HCA's headquarters) had any clue that this sort of thing was going on in Denver, as alleged by UNH of course. And if so, did they endorse it?" Skolnick ponders in her recent note. "HCA can be a very tough competitor and negotiator -- and business isn't always conducted in a gentlemanlike (or gentlewomanlike) fashion -- but this seems like something out of the Wild West to us."
Meanwhile, Skolnick feels good about UnitedHealth's chances in another antitrust lawsuit as well. In that case, UnitedHealth has been named as the defendant for allegedly fixing reimbursement payments to physicians. The Supreme Court this week allowed that case to move forward. But Skolnick, for one, questions how UnitedHealth can be guilty of price-fixing when all of its competitors -- and possible conspirators -- have apparently been dropped from that same case.
"If they want to argue that UnitedHealth used its market power to unfairly starve physicians by paying them 30% less, that's OK -- but that's a different argument," she says. "You've got to have a playmate in order to fix prices. ... This just boggles my mind."