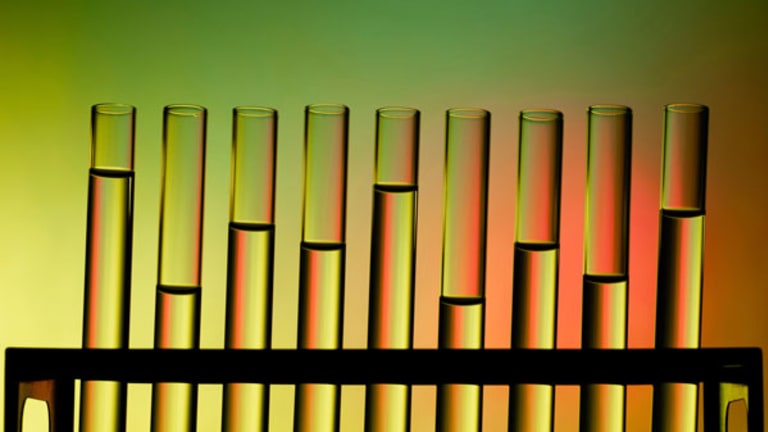 United Therapeutics Execs Profit While Stock Slides
United Therapeutics changed the terms of stock option grants to certain executives, allowing them to reap profits despite a steep plunge in the company's stock price.
United Therapeutics
(UTHR) - Get Report
has devised its own financial bailout plan -- except the only beneficiaries are the company's executives.
Last week, United Therapeutics changed the terms of stock option grants to certain executives, allowing them to reap profits despite a steep plunge in the company's stock price.
Shares of the Silver Springs, Md.-based drugmaker sank 35% on Nov. 17 after the company announced that an oral version of its lung-disease drug Remodulin failed to achieve its primary endpoint in a pivotal phase III study.
The company's stock has remained depressed ever since, closing Wednesday at $52.01 -- a 56% decline from the company's 52-week high reached at the end of July.
One week later, on Nov. 24, directors on the compensation committee of United Therapeutics approved a plan to lower the strike price on existing option grants to certain executives and employees of the company.
These options were granted originally to link the interests of executives with those of the company's shareholders and to provide a financial incentive for the executives to achieve superior performance, the company stated.
However, that link was essentially broken when the exercise price of the stock option grants was lowered. United Therapeutics shareholders lost millions of dollars when the price of their shares fell in November. Instead of sharing in that loss, company executives were rewarded with cheaper stock options.
In June and September, more than 454,000 options in total were granted to President Roger Jeffs, Executive Vice President Paul Mahon and Chief Financial Officer John Ferrari at exercise prices of $94.06 and $109.64.
On Nov. 24, the company reduced the exercise price of those options to that day's closing price of $50.63 a share.
Instantly, option grants that had been underwater, or rendered worthless, because of the failure of oral Remodulin, were transformed back into options that, today, are in the money.
In a filing to the Securities and Exchange Commission, United Therapeutics said the lowering of the exercise price of the executive option grants was "intended to provide executive officers with the opportunity to hold awards with a greater potential to increase in value over time, thereby creating long-term incentives for them to remain with the company and contribute to the attainment of its business and financial objectives."
Company spokesman Andy Fisher declined to say anything more than what's stated in the SEC filing.
The strike price of 1.4 million additional stock options granted to United Therapeutics executives, managers and employees was similarly lowered to $50.63 a share in a related move by the company's directors on Nov. 24.
As well, directors approved a plan to exchange newer, lower-priced options for 2.1 million options granted to United Therapeutics employees and executives that are currently underwater.
The repricing of underwater options has long been a tactic employed by Silicon Valley technology firms. During the dot-com bust of 2001, tech stalwarts like
Apple
(AAPL) - Get Report
allowed employees to swap out new, cheaper options for those that rendered worthless by steep declines in the value of the company's stock.
More recently, struggling chipmaker
Advanced Micro Devices
(AMD) - Get Report
said it would hold a shareholder meeting to approve a broad plan to re-price almost all of the company's employee stock options, Tech stalwarts like
Yahoo!
(YHOO)
And
Google
(GOOG) - Get Report
are also grappling with how to retain employees whose stock options are now worthless due to the steep market declines this year, according to
The Wall Street Journal
.
At the time of publication, Feuerstein's Biotech Select model portfolio was long/short XXX.
Adam Feuerstein writes regularly for TheStreet.com. In keeping with TSC's editorial policy, he doesn't own or short individual stocks, although he owns stock in TheStreet.com. He also doesn't invest in hedge funds or other private investment partnerships. Feuerstein appreciates your feedback;
to send him an email.