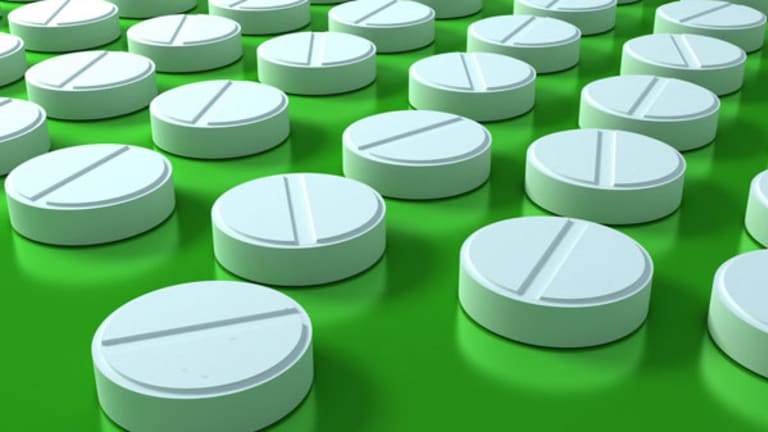 United Therapeutics Could Lose The Battle For PAH Therapies
An FDA decision expected this week could easily go against United Therapeutics.
NEW YORK (
) -- I see big risks ahead for
United Therapeutics
(UTHR) - Get United Therapeutics Corporation Report
. An FDA drug approval decision expected at the end of the week could easily go against the company and competitors, including generic competition, are getting stronger.
Before I explain the bear case against United Therapeutics in more detail, let's talk briefly about the other side of the argument. Bulls contend that a $2.3 billion enterprise value is too low for a company with three marketed drugs to treat pulmonary arterial hypertension (PAH) -- Remodulin, Tyvaso and Adcirca -- that generate nearly $900 million in combined revenue.
Bulls also expect FDA to approve an oral formulation of Remodulin (known chemically as treprostinil) on Oct. 26. United Therapeutics will use its existing sales force to sell oral treprostinil, providing the company with big P&L leverage. Earnings growth will accelerate as a result and the company's price-to-earnings multiple (currently modest) will expand.
I understand the bull story on United Therapeutics (which has the stock trading near its 52-week high) but I'm not convinced. What I see instead for the company is a significant near-term regulatory risk for oral treprostinil and long-term challenges for the existing PAH franchise.
Let's dig into the details, starting with the generic threat to the company's core PAH drugs.
Pulmonary arterial hypertension (PAH) is a rare, progressive disease characterized by high blood pressure in the arteries that funnel blood from the heart to the lungs. As these pulmonary arteries narrow over time, the heart is forced work harder and blood pressure in the lungs reaches dangerous levels. As PAH worsens, patients develop heart failure and die.
In mid-2002, United Therapeutics received FDA approval for Remodulin, a synthetic analog of the vasodilator prostacyclin, administered via intravenous infusion. A subcutaneous injectable version of the drug was approved later.
Remodulin generates annual sales of $450 million for United Therapeutics despite lackluster clinical efficacy -- a 10-meter improvement in six-minute walk test (6MWT) that failed to reach statistical significance in a pivotal trial. (Make sure to remember this 10-meter walk improvement, I'll come back to it later.)
United Therapeutics' other two drugs are used to treat earlier-stage PAH patients. Tyvaso is an inhaled formulation of treprostinil generating annual sales of roughly $320 milllion. Adcirca is a phosphodiesterase type-5 (PDE-5) inhibitor that contains the same chemical entity as Eli Lilly's Cialis (the PAH dose is much higher than that used for erectile dysfunction). Adcirca sales have reached $120 million on an annualized basis.
Earlier this year, Sandoz --
Novartis'
(NVS) - Get Novartis AG Report
generics business unit -- filed a Paragraph IV-containing Abbreviated New Drug Application (ANDA) for a generic formulation of Remodulin. Sandoz believes its generic version of Remodulin either does not infringe the patents owned by United Therapeutics or that those patents are invalid. United Therapeutics sued Sandoz in response, triggering the 30-month waiting period for FDA approval mandated by Hatch-Waxman regulations.
United Therapeutics claims it has a "method of use" patent that protects the treprostinil franchise until 2029, but this type of patent is often inadequate to prevent generic entry. Nonetheless, the Hatch-Waxman waiting period buys the company a little time. Absent an earlier court ruling in Sandoz' favor, which won't happen, the earliest a generic Remodulin could reach the market is the second half of 2014. Usually, the two sides settle litigation and agree to a slightly deferred generic launch date -- 2016 seems reasonable in this case -- rather than wage a costly court case.
United Therapeutics also contends physicians will be hesitant to use generic Remodulin due to the inherent fragility of PAH patients. Even if branded sales are stickier than usual, which is possible but far from certain, I would expect a generic competitor to erode branded Remodulin sales by at least 40%.
The generic risk for Tyvaso is slightly different. The drug received FDA approval in 2009 and is still protected by Orphan Drug Exclusivity, which grants seven years of marketing exclusivity to new drugs that treat diseases affecting fewer than 200,000 patients in the U.S. Once Orphan Drug Exclusivity expires in mid-2016, United Therapeutics must rely on a "method of use" patent (expiring in 2018) to protect the franchise. That's a skimpy defense.
Remodulin and Tyvaso account for more than 85% of United Therapeutics' revenue base. Unless management can convince investors that the company's R&D efforts will yield new growth drivers, worries about the earnings "cliff" seem likely to keep the multiple under pressure near-term.
Enter oral treprostinil, also known as oral Remodulin.
United Therapeutics has completed three pivotal trials of oral treprostinil. One of these tested the drug as monotherapy (FREEDOM-M) and two examined use in the combination with other drugs (FREEDOM-C and FREEDOM-C2). The company has initiated another combination study of oral treprostinil, dubbed FREEDOM-C3. Results from this trial, which uses a different primary endpoint than the earlier combination studies, will be available in 2015.
The combination studies are easy to evaluate because both failed badly.
FREEDOM-C failed in late 2008, with drug-treated patients showing only an 11-meter improvement in six-minute walk test (6MWT) scores versus placebo after 16 weeks of treatment. 11 meters -- does that number sound familiar? Management argued that the study failed due to an excess of adverse event-related dropouts in the drug arm and patients' inability to slowly titrate to effective doses. To solve this issue, the company developed a lower dose pill and initiated the FREEDOM-C2 trial.
In mid-2011, FREEDOM-C2 also failed. Patients treated with oral treprostinil experienced only a slight improvement of 10 meters (again) -- in 6MWT scores compared to placebo after 16 weeks. Despite cautious titration, dropouts due to adverse events in the oral treprostinil arm were once again much higher than in the placebo group (11% versus 3%.)
Now let's look at the monotherapy data from the FREEDOM-M trial.
In mid-2011, United Therapeutics announced that oral treprostinil demonstrated a statistically significant 23-meter improvement in 6MWT scores compared to placebo (p = 0.0125.) Importantly, the company used an earlier time point -- 12 weeks -- in FREEDOM-M than in the combination studies, presumably in an effort to minimize toxicity-related dropouts.
The oral treprostinil data from the monotherapy trial look weak to me. The 23-meter benefit in the 6MWT is just a 7% relative improvement from baseline -- not clinically meaningful. Drug-related toxicities are clearly difficult to manage.
Ironically, the efficacy result from FREEDOM-M is similar to the 20-meter placebo-subtracted 6MWT benefit associated with inhaled Tyvaso from its pivotal study. But unlike the Tyvaso study, the pivotal study of oral treprostinil doesn't meet the FDA's statistical hurdle for regulatory approval based on a single trial (p less than 0.01.)
Biotech investors know the FDA can be unpredictable. United Therapeutics' bulls contend that the FREEDOM-M study of oral treprostinil demonstrated a statistically significant improvement in walk performance. Any concerns about the study results will be mitigated by FDA's comfort with the activity of treprostinil in PAH since two formulations of the drug have already been approved. These are fair points, but I still believe the most likely outcome on Oct. 26 will be a complete response letter with an FDA request for an additional study.
Even if oral treprostinil receives FDA approval, United Therapeutics faces a more insidious problem.
In the 15 years since United Therapeutics first licensed rights to treprostinil from Glaxo Wellcome -- now
GlaxoSmithKline
(GSK) - Get GSK plc American Depositary Shares (Each representing two) Report
-- the PAH market has changed dramatically. Multiple drugs in three different classes -- prostacyclin analogs like Remodulin, endothelin receptor antagonists (ERAs), and PDE-5 inhibitors -- have been approved for treatment of PAH. Although the long-term prognosis remains dim, physicians now have a wealth of treatment alternatives. Importantly, many of these drugs will go generic within the next few years.
New competitors are also closing in. Later this week,
Bayer
will present Phase III data for a first-in-class drug, riociguat (formerly BAY 63-2521), at a major scientific conference. Follow-on drugs, such as
Actelion's
ERA macitentan, are also in late-stage development. Finally, although Novartis' bid for regulatory approval of Gleevec in PAH encountered some safety-related difficulties, the company may yet be able to secure marketing clearance.
Physicians are also increasingly using these drugs in combination. I think that makes oral treprostinil's inability to play well with other drugs in the PAH sandbox a fatal commercial flaw. Oral treprostinil can't easily be combined with ERAs or PDE-5 inhibitors, as the failed FREEDOM combination trials clearly show, and it doesn't otherwise fit well into the treatment algorithm. Bulls might argue that single-agent oral treprostinil -- if approved -- would be used ahead of Tyvaso or Remodulin, but that seems like a Pyrrhic victory.
I'm not entirely sure what the FDA will decide this week -- risk-tolerant investors might consider a small short position -- but it's ironic that an
12-year-old comment about treprostinil by a top FDA official
still rings true: Despite the efforts at resurrection through reformulation, treprostinil, with its minimal benefit and meaningful toxicity, just isn't a very good treatment for PAH.
Long-term, that's bad news for United Therapeutics.
Sadgehi has no position in United Therapeutics.
Nathan Sadeghi-Nejad has 15 years experience as a professional health-care investor, most recently as a sector head for Highside Capital. He has worked on the sell side (with independent research boutiques Sturza's Medical Research and Avalon Research) and the buyside (at Kilkenny Capital prior to Highside). Sadeghi-Nejad is a graduate of Columbia University and lives in New York. You can follow him on Twitter @natesadeghi.