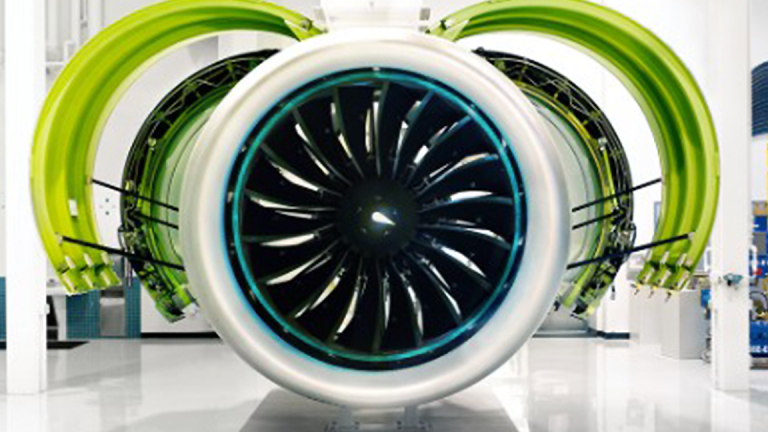 United Technologies Beats On Earnings, Revenues
Aerospace firm mum on activist investors' pressure to break up company.
United Technologies Corp., (UTX) - Get United Technologies Corporation Report under pressure from activist investors Bill Ackman and Dan Loeb to break up, on Tuesday reported better than expected earnings and revenue for the second quarter.
The aerospace, elevator and climate control company, reported adjusted earnings per share of $1.97 a share, beating the second-quarter consensus estimate of $1.86 a share, according to FactSet. United Technologies also reported sales of $16.7 billion, above a consensus estimate of $16.3 billion.
United Technologies raised its earnings guidance to a range of $7.10 to $7.25 per share, up from $6.95 to $7.15. Sales guidance increased to $63.5 to $64.5 billion, compared to its previous forecast of $63 to $64.5 billion.
Shares of United Technologies were flat in early trading. The stock had been up by as much as 1.7% before erasing gains.
The company's release did not indicate whether United Technologies would seriously consider breaking itself up or not, even though CEO Greg Hayes suggested earlier this year that the company might be worth more broken up than in one piece.
In May, Ackman, chief of embattled but possibly recovering fund Pershing Square Capital Management, suggested that a three-way break up of United Technologies would generate a "potential short-term catalyst."
"The management has put together three great businesses and built them to significant scale over the past decade or more, and we think each business would trade at a very attractive valuation and more importantly be able to operate more effectively as independent companies businesses," Ackman said on a conference call Tuesday, May 15.
Ackman, who also suggested that the company is deeply undervalued, justified his break up thesis by arguing that the company has businesses with "very different economic characteristics." He made the comments after a securities filing disclosed that his fund had recently accumulated 2 million shares, about $245 million worth in United Technologies.
The company has three segments, aerospace, which consists of Pratt & Whitney and UTC Aerospace Systems, Otis Elevators Co. and Climate Control & Security. Also, United Technologies is in the midst of completing a $23 billion acquisition of Rockwell Collins.
Hayes had said previously that any break up wouldn't occur until after UTX completes the Rockwell Collins buy. He had mentioned previously that Aerospace could be worth between $45 billion and $50 billion and Otis Elevator Co. could be worth $12 billion to $13 billion. The company's Climate Control business, which includes Carrier air conditioners, could fetch $17 billion to $18 billion.
If Ackman escalates his effort at United Technologies, he may have some help. Third Point's Dan Loeb, another prominent activist, in May disclosed that he had accumulated an $893 million position, about 7.1 million shares.
For more coverage like this,sign up for the Activist Daily.
Join influential dealmakers and investors from Qualcomm, Hill-Rom Holdings, Tenneco and GTCR at The Deal Economy Chicago conference on September 24 for a full day of discussions about the outlook for transactions in the middle market. Will large firms continue to tap the middle market and can it sustain enough transactional activity? Register here. Deal readers can unlock extra savings with promo code DEALSUB at checkout.