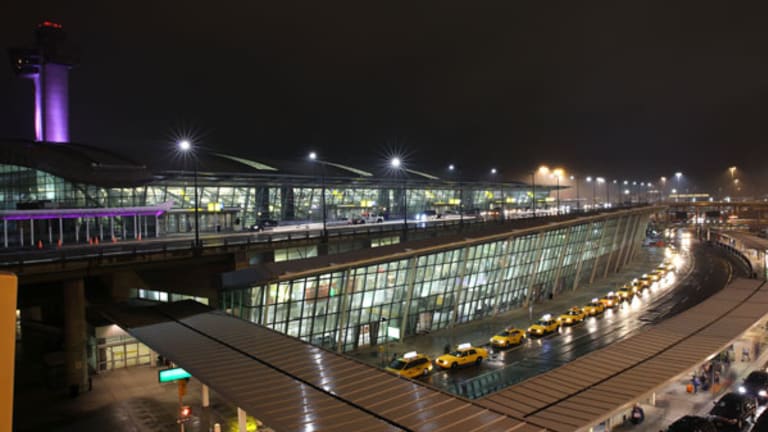 United Taunts Delta: We Lead in New York Flat-Bed Seats
Delta celebrates the opening of its new JFK terminal on Friday, but United says it is New York's home-town airline.
NEW YORK (
) --
Delta's
(DAL)
grand opening Friday of its striking new $1.4 billion JFK terminal has drawn the attention of
United
(UAL)
.
Early Friday, United issued a press release proclaiming that it is "the only U.S. carrier offering 180-degree flat-bed seats and personal on-demand entertainment in premium cabins on every scheduled, long-haul international flight from the New York area."
United said it has outfitted 182 international aircraft with flat-bed seats. Delta said it will have flat-bed seats on its entire fleet of wide-body aircraft in 2014.
All week, in anticipation of
,United has been reminding New York that it operates the metropolitan area's largest hub at Newark Airport, where it has 404 daily departures to 160 destinations including 75 international destinations.
On Tuesday, United celebrated the 25th anniversary of the opening of Newark's Terminal C, which allowed for the buildup of its hub. The terminal was originally built for United predecessor
. United said it will spend $150 million to upgrade Terminal C with redesigned check-in facilities, flight information displays and a new checked-bag screening system.
At a Newark Airport ceremony, United CEO Jeff Smisek declared: "We're not the johnny-come-latelys. We were New York/New Jersey's hometown airline way back before that was cool."
On Wednesday, in an interview, Gail Grimmett, Delta senior vice president for New York, said: "We are and should be the preferred airline out of New York. We have a great hub out of LaGuardia, which is the preferred airport for local traffic, where we serve 48 of the top 50 business markets and now we have the international hub at JFK."
Stephen Sigmund, executive director of the recently-formed Global Gateway Alliance, a coalition intended to promote improved New York air transportation, applauded the two airlines' engagement.
"Competition is a positive," Sigmund said. "Without it you have the worsening conditions of the last decades at our airports. There's lots of room for improvement -- all of the major airlines ought to make investments."
New York is the world's biggest aviation travel market, producing $14 billion in annual airline revenue. The vast majority is split between three major airports. Delta's LaGuardia hub has 271 daily departures to 63 destinations while the JFK hub has 146 daily departures to 48 destinations.
At LaGuardia, the combination of
US Airways
(LCC)
and
American
undefined
will enable more intense competition with Delta, while American and
JetBlue
(JBLU)
both operate hubs at JFK.
United said Friday that it has 450 daily departures from New York airports. Delta has 444, including 27 daily departures from Newark. Delta also has 10 daily departures from White Plains and three from Stewart.
Aviation consultant Bob Mann said United celebrated the Newark anniversary "to remind everybody that there's another side of the Hudson River. The battle for New York is being waged on both sides of the river."
-- Written by Ted Reed in Charlotte, N.C.
>To contact the writer of this article, click here: