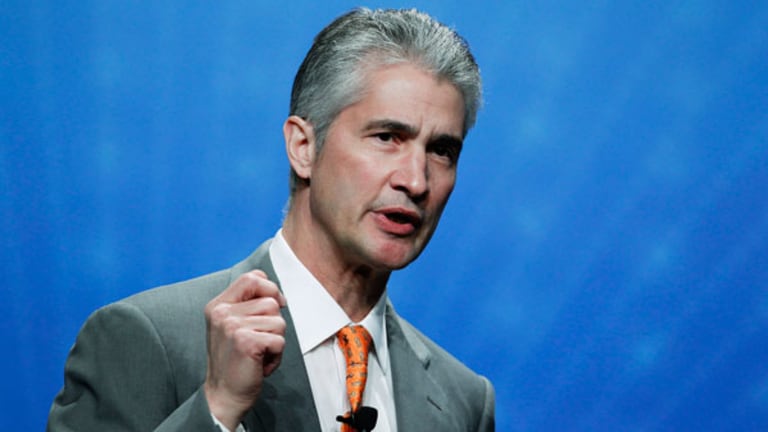 United Still Can't Convince the World That Its Merger Worked
United shares have risen 55% this year, but skepticism about the 2010 merger with Continental remains.
United shares have risen 55% this year, but skepticism about the 2010 merger with Continental remains.
CHICAGO (
) -- Three years after the 2010 merger between
United
(UAL) - Get Report
and
Continental
, investors remain deeply uncertain about the combination's success.
That confusion was evident in the performance of United shares following Thursday's announcement that second-quarter earnings
and per-share earnings matched consensus estimates. Shares opened Thursday at $35.07 and dipped as low as $33.03, down 5%, before starting a recovery that continued into Friday when shares rose 6%. The stock closed Friday at $36.25, up 5% for the week.
Among the positive signs are a year-to-date share price increase of 55% as well as a dramatic improvement this year in the airline's on-time performance, which suffered visibly in the summer of 2012. Yet doubts about United persist. In a note on Friday, JPMorgan analyst Jamie Baker reduced his third- and fourth-quarter estimates, yet raised his price target to $32.50 from $31.50.
"Lest anyone loses count, 2Q13 represents the ninth consecutive quarter of (year over year) earnings declines at United," Baker wrote. "Our concern remains that United has inadvertently stepped into the industry role once occupied by old
AMR
(AAMRQ.PK)
, that of perennial disappointment and relative underperformance.
"We do expect United to potentially step out of this role sometime next year, as reflected by our current above-consensus 2014 forecast," he said. "That said, at similar multiple targets, shares in UAL leave significantly less room for upside potential, in our view," than
Delta
(DAL) - Get Report
and
US Airways
(LCC)
.
Baker noted the US Airway/American merger team "chose to put the labor horse ahead of the merger cart as well as migrate their smaller IT platform into the larger one, the exact opposite of United-Continental." In other words, US Airways management learned from its early mistakes in the 2005 US Airways/America West merger. Perhaps that means the merger will avoid even more pitfalls as it moves forward.
Baker isn't the only analyst with a mixed impression of United. Deutsche Bank's Mike Linenberg said United's second-quarter operating margin was 8.2%, up 0.5% from a year earlier. "It was the first time since the March quarter of 2011 that the company has seen margin expansion (albeit modest,)" Linenberg wrote in a report, adding, "While we still think the company has a way to go to achieve what we would describe as strong results, this quarter clearly marks a step in the right direction." Linenberg has a buy recommendation and a $40 price target.
Meanwhile, Cowen analyst Helane Becker has an outperform rating and a price target of $39. Becker wrote late Thursday that the market "punished the stock today for guiding to weaker than expected July passenger revenue per available seat mile." The shares recovered late in the day, she said, "as investors realized there are opportunities for the third quarter PRASM to improve if bookings remain strong." The market also seemed concerned about the projected full-year increase of 5.5% to 6.5% in cost per available seat mile, partially attributed to higher costs for post-merger labor contracts.
On the operational side, United suffered
in the summer of 2012, a result of merger mess-ups. Now, the carrier appears on its way to its goal of an 81% on-time performance. In July 2012, just 64% of flights arrived on time.
In May, according to the latest statistics available from the U.S. Department of Transportation, United ranked ninth among 16 airlines, with an on-time percentage of 79.7%, slightly ahead of the industry average of 79.4%. For the 12 months ended in May, United ranked 12th at 76.2%, below the industry average of 78.5%.P/>Reviewing the merger briefly, by 2010, United CEO Glenn Tilton had spent four years desperately searching for a merger partner. He finally managed to talk Continental management into doing something it didn't want to do. Continental at the time was the best U.S. airline, known for its appeal to corporate customers, its amiable employee relations and its overall industry leadership -- the spot occupied by American in the 1990s and now by Delta.
It is easy to forget now that for nine straight years, Continental was the highest ranked U.S. airline on the
Fortune
magazine list of the world's most admired companies. One former Continental executive has told me that if Continental had a chance to do it over again, it probably wouldn't.
Nevertheless, it is clear that vast synergies resulted from combining Continental's Newark and Houston hubs, considered the first and third most profitable U.S. hubs in terms of profit margin, with what was viewed even without them as the world's best global route network.
Had no merger occurred, would organic growth have kept Continental competitive with bigger competitors? Or would the carrier be struggling to keep up and viewed as having missed the opportunity that consolidation offered?
During Thursday's earnings call, CEO Jeff Smisek declared at one point, "We have clearly turned the corner post-merger." Smisek also responded at length to JPMorgan's Baker's question about whether results met the carrier's goals. Baker asked: "Can you review for us each of the substantive steps you've taken to get results back on track, and will these initiatives actually make up for lost ground, or simply and hopefully drive improvement from here?"
Smisek said operations and financial performance are back on track, customer service has improved and customers now see things differently. "Our conversations with our corporate customers are very different than they were last year," Smisek said. "Last year was a year of apology. This year it's an opportunity for us to sell our services to our important corporate customers."
-- Written by Ted Reed in Charlotte, N.C.
>To contact the writer of this article, click here: