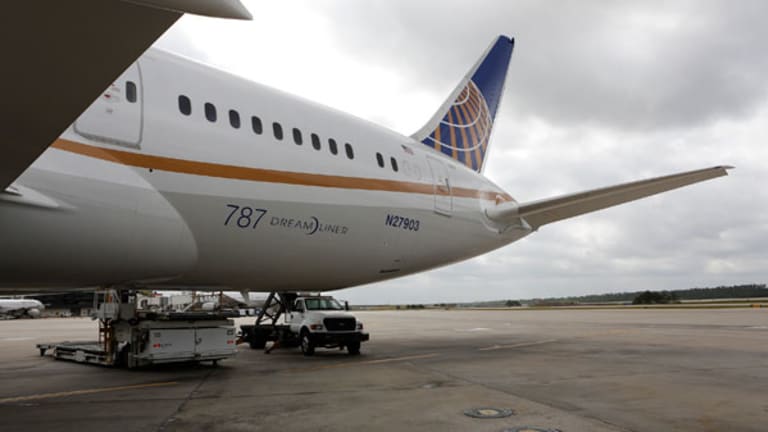 United Should Close Dulles Hub, Analyst Says, as He Cuts Rating
United Airlines, under its current plan, will need at least four years to catch up with Delta and American, a veteran analyst said Thursday.
CHICAGO (TheStreet) -- A veteran airline analyst downgraded shares of United (UAL) - Get United Airlines Holdings Inc. Report, saying it will take the carrier years to catch up with its competitors, and recommended that the Dulles hub be closed.
In a scathing report issued Thursday, Imperial Capital analyst Bob McAdoo reduced his rating for United to "in-line" from "outperform," and cut his one-year price target to $47 from $55. At the close Thursday, United shares were at $41.51, down 30 cents for the day, but still up 9.7% year to date.
"From a trading perspective, shares of UAL may continue to move upward as sector sentiment remains positive," McAdoo wrote. However, he said, "United's presentations and published plans (indicate it) will take at least four years to close $2 billion of the gap on American (AAL) - Get American Airlines Group Inc. Report and Delta (DAL) - Get Delta Air Lines Inc. Report.
"Importantly, during those four years, Delta and American will be similarly working to increase earnings," he wrote. Year-to-date, United shares are up 10%, while Delta shares are up 43% and American shares are up 76%.
McAdoo panned the presentation United executives made at a November investor day event, where they outlined a $2 billion program of cost and revenue improvements.
Read: 3 Little Known Credit Card Tips for Summer Travel
It "seemed more likely to be found in a typical operating department's annual budget presentation than in a corporate presentation as to how United's results would be lifted to record levels," he wrote, noting that adjustments such as reducing overtime "will not close the gap with Delta and American."
What United should do, McAdoo argued, is to close the Dulles hub, given its proximity to the hub in Newark, N.J. Other airlines have realized synergies by closing hubs that are close together, he said, and United has already moved to close its redundant Cleveland hub.
Moreover, local passengers to Washington generally prefer to fly to US Airways' hub at Reagan National. McAdoo estimated that at best, Dulles flights can get only 20% to 30% of local traffic to Washington.
"United would not operate two payroll departments, so we wonder why it would operate two hubs only 211 miles apart?" McAdoo asked. "Both hubs connect traffic from the eastern third of the country to Europe (and) connect north/south domestic traffic. By eliminating the smaller of the two hubs, United would see outsized savings and improved profitability across the entire United route network."
Read: Boeing Receives Multimillion Dollar Contract from Belavia Airlines
The Washington hub was created to compete with Continental's Newark hub. The two airlines merged in 2010, yet "almost four years after the merger, it is still competing," McAdoo said. "Today the Dulles hub is the smallest in the northeast, carrying fewer passengers to Europe than Newark, than Delta at JFK or American Airlines/US Airways in Philadelphia." In fact, Newark, with 32 daily departures to Europe, is the largest and strongest of the four.
Yet curiously, United flies Boeing (BA) - Get The Boeing Company Report 757s on two-thirds of its flights to Europe. "Typically a carrier would place its largest aircraft in its largest hub, especially if the hub were slot-limited," McAdoo wrote. "By upgauging these aircraft, we believe United would be able to move traffic currently connecting to Europe over IAD to EWR.
"United's cuts in Cleveland set the standard for whether to unwind the Washington Dulles hub," McAdoo noted. In Cleveland, he said, 17 markets with less than 10 local passengers per flight and 16 markets with generally 11 to 30 local passengers per flight were eliminated as of next month. Using the same metrics in Dulles, 65 spoke routes would be cut.

McAdoo said United executives have told him that they believe Dulles is profitable. But the specifics of hub profitability depend very much on the methodology of compiling data.
Data filed with the U.S. Transportation Department "suggests that if Cleveland was generating losses, than IAD is likely less profitable than was Cleveland." McAdoo said. And even if Dulles is profitable, Newark would be more profitable if Dulles did not compete with it, he said.
Another issue is that United relies more heavily on inefficient 50-seat regional jets than any other U.S. airline does. United carries 7.6% of its capacity -- measured by available seat mile -- on 50-seat jets, compared with 5.3% at American and 3.4% at Delta, and both carriers are acting quickly to reduce the number even further.
Read: Google I/O Recap: What Wall Street Thinks
At United's Chicago O'Hare hub, the average number of seats per aircraft per domestic departure is 87, while at Delta's Atlanta hub the average number of seats per domestic departure is 128. Fewer seats per departure means higher unit costs.
At United, McAdoo said, "the decision to continue to fly more regional jets, we believe, is likely driven by a desire to grow market share rather than generate higher revenues."
One result, he said, is that some connecting passengers cannot find a seat on sold-out aircraft and must be routed more circuitously through less desirable hubs. For instance, he said, passengers between Boston and Orange Country, Calif., or Portland, Ore., have been routed through San Francisco because Chicago routing was not available.
Written by Ted Reed in Charlotte, N.C.

To contact this writer, click here.
Disclosure: TheStreet's editorial policy prohibits staff editors, reporters and analysts from holding positions in any individual stocks.
Read More:
United Pilots: We Flew to Chengdu on a Boeing 787 and Loved It
United Leadsin China ButAmerican and DeltaWant Bigger Shares
Biggest US Airways Union Backs Contract Deal, Breaks Logjam at American