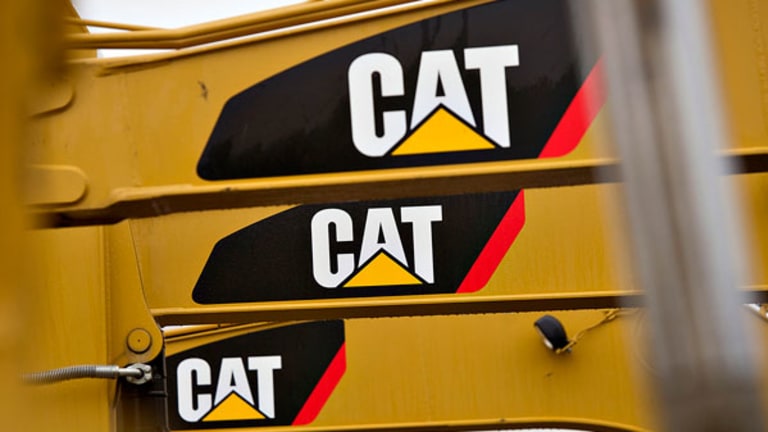 United Rentals 'Winning' in Battle Against Caterpillar: More Squawk From Jim Cramer
United Rentals is cutting into Caterpillar's market and should benefit from the construction of the two pipelines, as well as the border wall, TheStreet's Jim Cramer said.
Shares of Caterpillar (CAT) - Get Free Report were higher in mid-morning trading on Thursday, after reporting mixed 2016 fourth quarter results, with adjusted earnings above estimates, but revenue coming in below expectations. The stock is up over 66% in the past year. 
"I think they actually lowered the bar a little bit, which is perfect for the new CEO coming in," TheStreet's Jim Cramer said on CNBC's "Squawk on the Street" this morning. Jim Umpleby took over the role from Doug Oberhelman on January 1 of this year. 
The Peoria, Illinois-based company has been struggling with mining-related sales but noted that they may have bottomed, Cramer pointed out. 
Caterpillar is also being hurt by a "not great" construction environment in the U.S. because of used equipment sales, he noted. The top name in the rental sector would be United Rentals, (URI) - Get Free Report which will be "one of the biggest gainers in the market." 
The two companies are coming head to head with each other and United Rentals is winning right now, Cramer claimed. United Rentals should also be a good "Trump stock" due to President-elect Donald Trump signing off on the construction of the Dakota Access pipeline and the Keystone XL pipeline on Tuesday. 
Trump also signed off on the construction of a wall on the southern U.S. border with Mexico on Wednesday, which will benefit United Rentals more than Caterpillar, Cramer said. However, if Trump makes a ruling that says "you have to buy American to work on the wall," then Caterpillar's "mortal enemy" Komatsu (KMTUY) will benefit from the wall construction more. "They hate each other," he said. "It's not like Yale and Harvard. It's not collegial at all between those two."