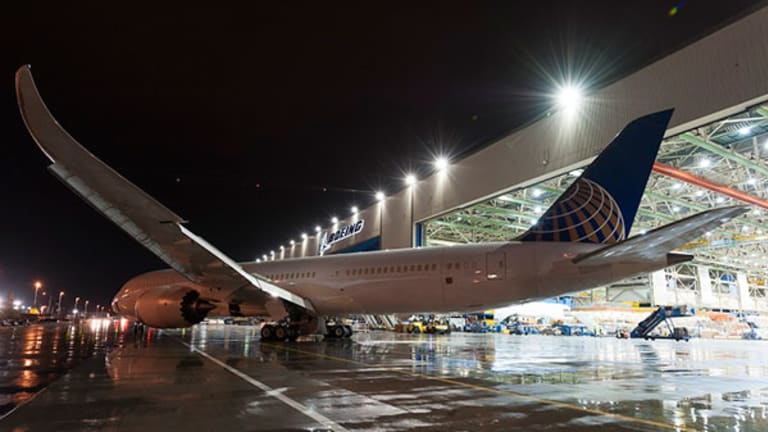 United Pilots: We Flew to Chengdu on a Boeing 787 and Loved It
As a United Boeing 787 Dreamliner made the first commercial flight ever on June 9 from North America to China's interior, the United pilots raved about the aircraft.
CHENGDU, China (TheStreet) -- Dale Harlan, a United (UAL) - Get United Airlines Holdings, Inc. Report pilot for 27 years, wanted so badly to fly the Boeing (BA) - Get Boeing Company Report 787 Dreamliner that he gave up a dream job as a high-seniority 737 captain to fly as a first officer on the new airplane.
That sacrifice got him a spot on a historic flight on June 9, when United Flight 9 became the first non-stop commercial flight ever from North America into the interior of China, perhaps the clearest indication since the 787 began flying for ANA in 2011 that the aircraft's highest and best use is to open new frontiers in air travel.
For the moment, at 6,857 miles, San Francisco/Chengdu is the longest 787 flight to operate non-stop in both directions.
"I wanted to fly this thing," said Harlan, who was a captain for 14 years, as he ticked off some of the airplane's advantages. Among them, lower cabin pressure, higher humidity and reduced noise make the 14-hour Chengdu trip far less grueling for passengers and crew, while technological improvements enable the airplane to fly higher, faster, and more efficiently than predecessor aircraft.
On the first Chengdu flight, "We got to 41,000 feet in 13 minutes," said Andy Raymer, the captain and a 31-year United pilot. "Everybody else is at 32,000, 34,000, 35,000. We're up here by ourselves for now."
That will change. Boeing has taken orders for 1,031 B787s and has delivered 151 of them. United alone has 65 orders, the third highest individual airline total, and has taken 10. The first 25 are to be flown by former Continental pilots, because Continental ordered them.
Over time, rising 787 usage could benefit shares of both Boeing and United. Boeing shares closed Monday at $132.54, down 3% year to date. They took a hit last week, declining 4% due to the primary defeat of House Majority Leader Eric Cantor. Cantor backs a deal to save the Export-Import Bank, which makes below-market loans to Boeing customers and now faces an uncertain future. But over the past few years, Boeing shares have more typically reflected the prospects for the 787.
United, meanwhile, has underperformed its peers: this year, its shares are up 12%, while American (AAL) - Get American Airlines Group, Inc. Report is up 63% and Delta (DAL) - Get Delta Air Lines, Inc. Report is up 41%. Neither competitor flies the 787, and Delta will not take its first delivery until at least 2020. Conceivably, the aircraft could make United a preferred carrier on long-haul flights.
I didn't perceive any advantage on my first 787 flight, United's Houston-Chicago service inaugural, but the benefits were striking when I flew the San Francisco/Chengdu inaugural.
The SFO-CTU flight path took the aircraft north to Alaska and over Russia before it entered Chinese airspace for several hours, an unusual experience for a U.S. crew.  Chinese airspace is almost entirely controlled by the military. Civilian ATC jurisdiction extends only about four miles on either side of the airways.
Weather deviations due to thunderstorms or turbulence are common and usually uncomplicated in the U.S, but a deviation in Chinese airspace requires coordination between civilian and military air traffic control agencies --- which provides one more thing for pilots to think about.

None of the Flight 9 pilots had ever flown into Chengdu Shuangliu International Airport, not even on a simulator. However, they studied detailed regional and airport information and engaged in briefings prior to departure and again prior to the final approach.
Raymer said specific simulator training was unnecessary because Chengdu is a typical modern airport with high quality navigational equipment and long runways. "From a pilot's perspective, it's no different than any other large, up-to-date international airport," he said.
As for the aircraft, Raymer and Harlan and the two other pilots on the first flight -- during the flight, two pilots flew while two others rested -- raved about its advantages.
The 787 is faster than predecessors. Its normal cruise speed is .85 Mach (or 85% of the speed of sound), which equates to 646 miles per hours, while the 777 cruises at .84 Mach. "What sets the B787 apart from the B777 is its ability to cruise as fast as .90 Mach," Harlan said. "On a 14-hour flight, that extra 46 mph will gain you 644 miles, or get you there almost exactly one hour earlier -- all while flying higher, above most bad weather, and using much less fuel than the 777."
Raymer said he is not worried about the 787's early problems with its lithium batteries. "The battery has proven to be extremely dependable since its upgraded design and manufacturing changes," he said. "The redesigned batteries have a stainless steel box around them; it is vented and can withstand high pressure in the very unlikely event of a battery issue."
The cockpit provides enhanced visual indicators, including a "heads up display" that enables pilots to view critical flight information such as altitude and air speed while looking straight ahead, rather than looking down at flight displays on the instrument panels. "I don't have to move my eyes back and forth while landing," Harlan said. Also, five large flat panel screens provide more display area than those in the Boeing 777-200.
Among the environmental advantages that benefit passengers as well as crew, the 787 is quieter than predecessors, so that "we can speak at a conversational level on the flight deck," Raymer said. The quieter cabin reflects the use of seamless composites in the plane's skin and seamless flight deck windows.
Also, cabin pressure is relatively high, reducing bodily stress; it is maintained at or below 6,000 feet altitude pressure, which is 1,000 to 2,000 feet lower than on comparable aircraft. Lower cabin altitude means higher cabin air pressure.
Additionally, 787 cabin air humidity is kept at 6% or 7% up from predecessors' 2%. Cabin air is supplied by four electric cabin air compressors, rather than by engine bleed air that has been heated to 800 degrees. After a 13-hour flight, "the fatigue is much less, and your ears don't ring," Raymer said.
Written by Ted Reed in Charlotte, N.C. 
To contact this writer, click here.
Disclosure: TheStreet's editorial policy prohibits staff editors, reporters and analysts from holding positions in any individual stocks.
What's Wrong with United Airlines? A Little Bit of Everything
American Air President: Don't Call Us 'Nickel and Dimers'
People Express Revival: Airline Magic or Wishful Thinking