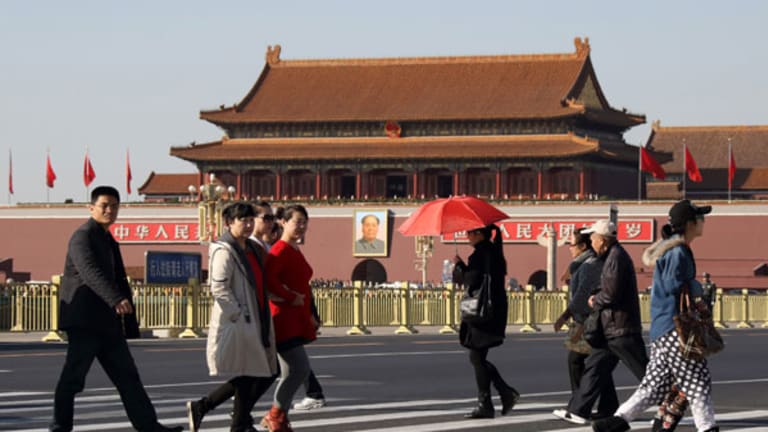 United Leads in China but American and Delta Want Bigger Shares
United Airlines has built a big lead in China since it bought Pan Am's Asian routes in 1985, but American and Delta both want more of the action.
Chengdu, China (TheStreet) -- A San Francisco/Chengdu flight, which first operated on June 9, underscored United's (UAL) - Get United Airlines Holdings, Inc. Report standing as the leading U.S. carrier to China.
But recently, being No. 1 to China hasn't been such a big advantage as it once was. For the moment, too many airlines are adding too much China service in too short a time.
Last week, as United added San Francisco-Chengdu on a Boeing (BA) - Get Boeing Company Report 787, American (AAL) - Get American Airlines Group, Inc. Report added Dallas to Hong Kong and Shanghai on a Boeing 777, and Delta (DAL) - Get Delta Air Lines, Inc. Report added Seattle-Hong Kong on an Airbus A330.
The routes and aircraft show that United is ahead, using an improved airplane and a better trans-Pacific hub to add service to a destination that appears underserved. At the same time, as the largest carrier between the U.S. and China, United has the most to lose when competitors grow.
The Chengdu flight marked the first time any commercial airline has ever flown non-stop between North America and China's interior, as well as the first non-stop flight ever from North America to a non-"tier one" city under the U.S./China bilateral aviation agreement, which Walter Dias, United's managing director for Greater China & Korea, calls "the most important bilateral relationship in the world."
The flight was made possible by two paragons of U.S. commercial aviation: United's San Francisco hub and Boeing's 787, the smallest airplane that can carry enough fuel to fly an untried 6,857-mile route. "We couldn't do the flight without the 787," Dias said. "It opens up possibilities that were not here 10 years ago." United has taken just 10 of the 65 B787s it has ordered.
The fourth-largest city in China, Chengdu is home to 14 million people. Half of the Fortune 500 companies have Chengdu offices and Ford (F) - Get Ford Motor Company Reporthas its biggest non-U.S. plant in Chongqing, 165 miles away. In October, Marriott (MAR) - Get Marriott International, Inc. Class A Report subsidiary Ritz-Carlton opened a 353-room Chengdu hotel, its tenth in China.
Chengdu Shuangliu International is China's fourth-largest airport. Western airlines arrived in 2006, when KLM began Amsterdam service. British Airways began thrice-weekly 777 service in September, then switched in May to 787 service five times a week. United is starting out with three flights a day.
Chengdu paid incentives for British Airways to start service, CEO Willie Walsh said in April. Sources said United also received a break or waiver on landing fees. United spokeswoman Mary Clark declined to comment on incentives.
Dias said the Chinese government is committed to "help the west catch up" with Beijing and Shanghai. "Investment dollars are flowing from Beijing to the west," he said. The commitment includes plans to build a new Chengdu airport within five years. "We feel very bullish about Chengdu," he said. "It is very business-oriented."
As for leisure travel, Chengdu boasts the Chengdu Research Base of Giant Panda Breeding, a world-famous panda breeding site. Aviation consultant Mike Boyd called the Chengdu flight "incredible, the start of service to interior China" and said "it will pay off like a slot machine."
Dias makes it clear he would like to see United add more Chinese destinations, but he would not prioritize them. United announced plans to fly San Francisco-Guangzhou in 2008, then postponed the launch due to a precipitous rise in oil prices. For now, Guangzhou passengers can fly to nearby Hong Kong International Airport, which is close enough that passengers can check in for flights at the Guangzhou ferry terminal.
One way to pick cities might be to look at Ritz-Carlton's Chinese properties, Besides Chengdu, they include two each in Beijing and Shanghai, with others in Guangzhou, Hong Kong, Sanya, Shenzhen and Tianjin. Ritz Carlton has said it plans to open hotels in Macau and Nanjing.
United serves 12 China routes: Chengdu from San Francisco; Beijing from Chicago, Newark, San Francisco and Washington; Shanghai from Chicago, Newark, San Francisco and Los Angeles and Hong Kong from Chicago, Newark and San Francisco.
But encroachment abounds. Capacity between the U.S. and China has increased more than 30% since 2012. In the current quarter, capacity will be 20% higher than it was a year earlier, with Chinese carriers as well as U.S. carriers. "You can't grow capacity exactly at the demand curve," Dias said.
Last week, American CEO Doug Parker told reporters that American's Asia routes are investments, not profit centers. "We've seen nice improvement, and indeed our Asia revenue per ASM [available seat mile] over the past year has grown at a rate in excess of the industry, so we feel very good about the future prospects," Parker said, according to The Dallas Morning News.
"But these, like a lot of routes at airlines, are investments and haven't yet been profitable," he said. American will start to take 787 deliveries in November.
The San Francisco hub also faces an emerging challenge from Delta's effort to build a hub in Seattle. Delta added Seattle/Beijing in 2010 and Seattle/Shanghai in 2013. Delta will not take any 787 deliveries until at least 2020.
United's first-quarter Pacific passenger revenue fell by 6.3%. As of the first quarter, United had 7% of its total capacity in China/Hong Kong markets, while America and Delta each had about 2% of capacity there, according to Deutsche Bank analyst Mike Linenberg.
"There's no doubt that competitive capacity pressures from the U.S. to Asia, particularly to China, where we are the largest U.S. airline by far, have ... pressured our unit revenue," said CEO Jeff Smisek, during United's first-quarter earnings call.
"That said, we make good money in Asia today, even with that pressure," Smisek said. "We expect to continue to make good money to Asia. We expect to not only maintain our lead there, but we would have opportunities to grow in the new markets."
Written by Ted Reed in Charlotte, N.C.
To contact this writer, click here.

What's Wrong with United Airlines? A Little Bit of Everything
American Air President: Don't Call Us 'Nickel and Dimers'
People Express Revival: Airline Magic or Wishful Thinking