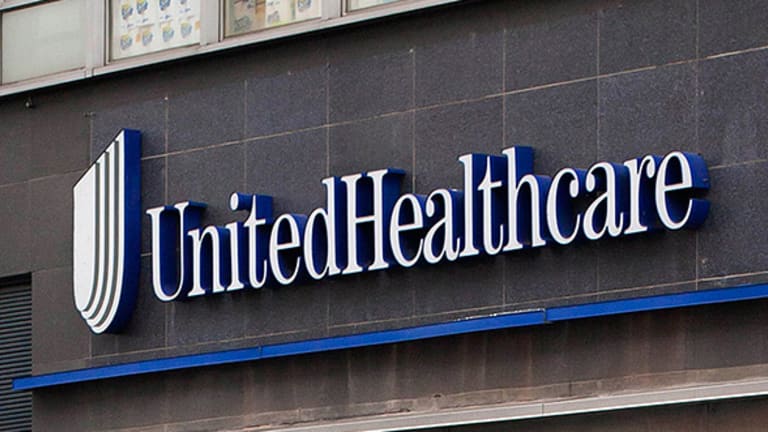 United Healthcare Whistleblower Suit Provides 'Interesting' Investment Opportunity
Analysts say the stock depression caused by a lawsuit filed by a former United Healthcare executive could be a reason to buy the stock.
The U.S. Department of Justice has joined a former UnitedHealth (UNH) - Get UnitedHealth Group Incorporated Report executive in a whistleblower lawsuit against the company alleging that it engaged in "systematic fraud" surrounding risk adjustment payments. 
As a result, the company's share price is falling, which analysts say could be reason to buy the company's stock. 
The suit was filed in the federal court in Los Angeles back in 2011, but came to light late Thursday when law firm Constatine Cannon LLP announced the Department of Justice joined the suit. Benjamin Poehling, who previously worked as an executive at the company, filed the suit, which has been kept under seal for years.  Phillips and Cohen LLP lawyers are also representing Poehling.
As a result, United's stock dropped 3.5% Friday, hitting $157.85 per share. 
According to the suit, United "engaged in a widespread scheme to knowingly submit...false claims for payment to the United States by submitting false 'risk adjustment' information to the Centers for Medicare & Medicaid Services." The suit claims that United, through its subsidiary Ingenix, "engaged in systematic fraud" by "submitting tens or hundreds of thousands of false claims for risk adjustment payments" to the federal government.
Ingenix does risk adjustment for the company. According to the suit, United has been engaging in this type of conduct for years.
A number of Medicare Fraud suits have have been filed against health insurers in recent years. Payment rates in Medicare Advantage are based on regional averages for traditional fee-for-service and adjusted according to plan members' risk scores and other variables. Plansreceive higher payments for members with more chronic conditions. The suits allege that health plans have inflated some members' scores in order to collect more funds.
The suit against United used an example of an email exchange between United's former Medicare CFO Jerry Knutson and Ingenix's Jeff Dumcum that was telling. In the email, Knutson wrote, "Lets [sic] turn on the gas!" referring to opportunities to make money on risk scoring, especially as it pertained to vascular diseases and screening.
The treatments for cancers, heart disease and diabetes especially seemed to be "upcoded" or billed for more than necessary, according to the lawsuit. Per the suit, employees were rewarded based on how much they could squeeze from risk adjustment claims. Additionally, the suit alleges that once United was aware of these mistakes, it did not correct them. 
A United Healthcare spokesman said Friday that the company rejects "these more than five-year-old claims and will contest them vigorously" and that the company is "confident we complied with the program rules."
But lawyers for Poehling say the DOJ's decision to join in on the suit is a huge endorsement for the lawsuit. 
"The federal government's decision to join this case after a 5-year investigation demonstrates the gravity of these allegations," said Mary A. Inman, a partner in Constantine Cannon's San Francisco office and co-lead counsel in a statement.
Watch More: Is Your Insurer Dropping Obamacare?
Despite the claims made in the lawsuit, analysts remain positive on United's stock.  
JP Morgan analyst Gary Taylor wrote in a note that some of the information contained in the lawsuit seems "less ominous than the headlines." However, he added that he expected there to be some pressure on United's stock Friday.
Analyst Frank Morgan of RBC Capital agreed. "The reaction you're seeing today is probably what you normally would see," Morgan said by phone. "Once investors understand better, you would see a recovery in the stock."
So is there any risk? 
"The biggest risk to shareholder value is never the settlement amount, it's always the possible impact on forward run-rate earnings power," Taylor wrote in a note.
Taylor has an overweight rating on the stock.
Morgan said the situation presents an interesting opportunity for investors. As share prices are depressed, it could be a good time to buy. Morgan has a buy rating and a $180 price target on United. 
"I think it's still the gold standard in the industry," Morgan said. "It's a great company, they have a great management team and a good operating history. I don't think any of this changes that."