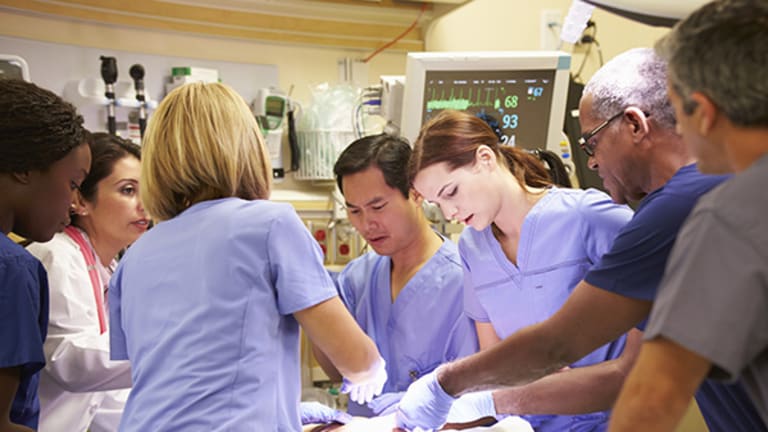 UnitedHealth Is on the Sidelines
Year to date, shares of UnitedHealth are up 39%. Can the stock continue to go higher?
Year to date, shares of UnitedHealth (UNH) - Get Report  are up 39% after the stock rallied on the back of a Trump victory.  After the election, the stock rallied sharply as investors piled into the stock anticipating the end of Obamacare and major tax reform. After the 19% post election rally, UnitedHealth is the best-performing stock in the health subsector of the S&P 500.
On Nov. 30, UnitedHealth held an investor day and laid out its plans for the new year. The company sees revenue growth of 7%, which works out to between $158 billion and $160 billion. Revenue growth would have been higher by as much as 12% if the company didn't experience a $5 billion headwind exiting from the health care exchanges.
Most of UnitedHealth's revenue growth is coming from enrollment in the Medicare Advantage program. Medicare Advantage is expected to grow by between 700,000 and 800,000 users to about 4.37 million people. Enrollment in the health care exchanges is expected to fall by 750,000 lives to about 400,000 as the company pulls out of Obamacare. The company will limit itself to three or fewer state exchanges in 2017.
The company's OptumRX business unit is one of the largest prescription benefit managers. The company filled 252 million prescriptions in the most recent quarter, up 11.5%. OptumHealth serves about 81 million members.
Analysts are expecting adjusted earnings of $8 a share in 2016 and $9.45 a share in 2017. The stock is currently trading at 17 times forward estimates of $9.45 a share. The managed care group typically trades at 16 times estimates, so the stock is trading at a slight premium to its peers.
Before the election, investors wouldn't pay over $143 for the stock. Now, investors are anticipating tax reform and the repeal of Obamacare will provide a boost to UnitedHealth.
To me, the stock looks ahead of itself. These issues could take years to work out and, as yet, we have no detailed plans. After a 19% move, I will sit on the sidelines. Speculators who fail to take profits could end up in the emergency room.
This article is commentary by an independent contributor. At the time of publication, the author held no positions in the stocks mentioned.