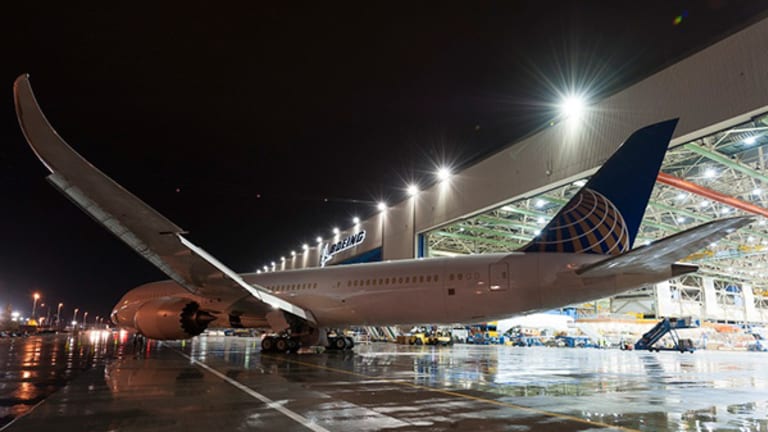 United Flies the 787, American Awaits It, Delta Thinks It Over
United Airlines now flies the longest Boeing 787 route in the world, while American awaits its first 787 and Delta might not even want one.
NEW YORK (TheStreet) -- United (UAL) - Get United Airlines Holdings, Inc. Report on Monday flew a Boeing 787-9 on the new aircraft's longest route -- Los Angeles to Melbourne, Australia -- underscoring the carrier's substantial lead among U.S. carriers in utilizing the next generation of widebody aircraft.
This week, Boeing (BA) - Get Boeing Company Report is painting American's (AAL) - Get American Airlines Group, Inc. Report first 787 in Everett, Wash., with delivery expected before the end of the year. Delta (DAL) - Get Delta Air Lines, Inc. Report said on its third-quarter earnings call that it expects to make a decision on a widebody aircraft order during the current quarter.
Clearly, the three carriers are following different widebody strategies.
United has chosen to lead. It was first to take a 787 delivery, thanks to an order placed by merger partner Continental. In fact, for the moment, only former Continental pilots can fly the United 787s. In June, they flew San Francisco-Chengdu on the first non-stop flight ever between North America and China's interior. United used a 787-8 on the 6,857-mile route.
This week, United flew its first 787-9 on the 6,882 mile LAX-Melbourne route. The 787-9 has a range of 8,550 miles, compared with 8,200 for the 787-8.
United currently flies 11 787-8s and one 787-9. It has placed orders for 65 Dreamliners. Additionally, United has ordered 35 Airbus A350s, the largest U.S. order. United will be the launch customer for the A350-1000, with first delivery scheduled for 2018.
The 787 has enabled United to fly routes that its competitors cannot fly. "If you think about the things that we're doing with the flexibility of our fleet, the 787 San Francisco to Chengdu is a perfect example of that," Jim Compton, chief revenue officer, said on the carrier's third-quarter earnings call. "We're tapping into that growth in China in ways that, quite frankly, our competitors can't as we continue to match capacity and demand."
Compton said the Chengdu route's performance has been "better than expectations."
American is moving ahead more slowly, although aviation consultant Robert Mann said the carrier "is clearly champing at the bit to go with (its 787). They've been active on social media saying the plane is ready for the paint shop."
American has inherited 22 A350 orders from US Airways, which operates the world's largest Airbus fleet. American will become the U.S. launch customer for the A350-900, with deliveries starting in 2017. Also, American has firm orders for 42 Dreamliners, with options for 58 more. The firm orders include both 787-800s and 787-900s.
As for Delta, it is following a different course.
In a column posted Monday at Leeham.com, Leeham managing director Scott Hamilton wrote that Delta could surprise everyone with its widebody decision.
Delta "is supposed to make a decision on its request for proposals for 50 widebody aircraft before the end of this year, perhaps as early as next month," Hamilton said. "The competition is hot between the Airbus A330-900, the A350-900 and the Boeing 787-9.
"But there could be another wrinkle," he said. "On Delta's third-quarter earnings call, CEO Richard Anderson made some intriguing comments that could raise another possibility: acquisition of used Boeing 777-200ERs.
"To put this in context, recall that Anderson and Delta actively seek out inexpensive used aircraft which, while hardly competitive at high fuel prices (but) provide low capital acquisition costs and low ownership costs."
On the call, Anderson declared: "We're still working diligently on evaluating both the Airbus and Boeing option. They both have very strong viable options, as do the engine manufacturers Rolls-Royce and GE. And we are in the midst of a very heated competition to see which of those will bring to the table the best economics for our owners."
Then he added: "Remarkably right now, it's an interesting development in the widebody market because there is so many orders out there the used market is really heating up and the pricing for 10 year-old widebodies is about 30% of what you'd otherwise pay. So it's going to be a very interesting process because the most important thing about this for us is not operating cost it's ownership costs."
Hamilton noted that used Boeing 777-200ERs are starting to become available in large numbers. He said the aircraft can fly long range, has good capacity and is cheap to buy.
Who doesn't love a bargain?
-- Written by Ted Reed in Charlotte, N.C.
To contact this writer, click here.
At the time of publication, the author held no positions in any of the stocks mentioned. This article is commentary by an independent contributor, separate from TheStreet's regular news coverage.