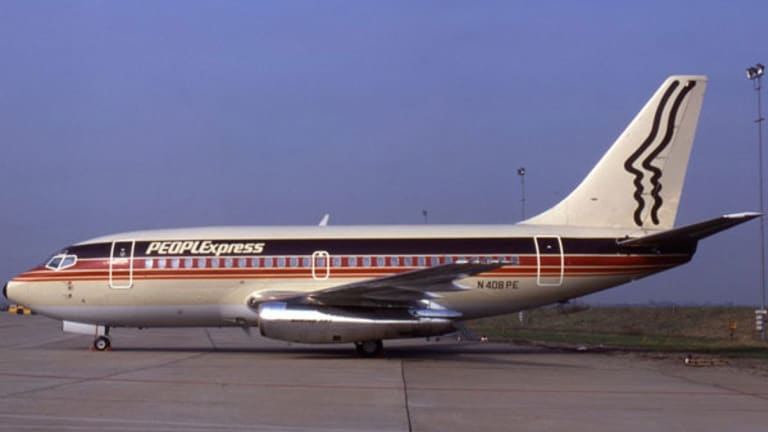 Publish date:
United Dominates Newark, Thanks to People Express
United's predecessors built a hub at Newark Airport's Terminal C, where the first flight took off 25 years ago Wednesday.
United's predecessors built a hub at Newark Airport's Terminal C, where the first flight took off 25 years ago Wednesday.
NEWARK, N.J. (
) -- Twenty-five years ago Wednesday,
Continental's
move to Terminal C at Newark Airport marked the start of a new life for an old airport, which went from being the New York region's No. 3 airport to being its biggest hub.
Today
United
(UAL) - Get Report
, which merged with Continental in 2010, offers more than 400 daily Newark departures to more than 150 destinations. United is celebrating a departure to Denver at 6:15 a.m. on May 22, 1988, the first flight from Terminal C. Aviation consultant Bob Mann said United wants to remind people of its presence before Friday, when
Delta
(DAL) - Get Report
celebrates the opening of its new $1.4 billion terminal at John F. Kennedy International Airport.
At one time, JFK was home to
Pan Am
and
TWA
and had the vast majority of New York's international flights. LaGuardia was dominated by Eastern and Newark was home to
People Express
. The balance between airports began to change with the 1988 move, which was overseen by Bruce Nobles, then senior vice president of customer service for Continental.
"The operation was much smoother in the new terminal," recalled Nobles, now a Dallas aviation consultant. "The move allowed Continental to significantly increase the size of its operation in Newark and to challenge JFK and LaGuardia as significant New York airports.
"Terminal C was a well-designed new terminal with better baggage systems, better automation for the agents' terminals, more gates and more lounge space and (much shorter) walking distances," Nobles said. "The move allowed us to build up the hub activity."
In 1986, Continental, then run by Frank Lorenzo, had acquired People Express. The acquisition meant that "all of a sudden, Continental had 200 daily departures from Newark," recalled Bob McAdoo, who was chief financial officer of People Express. People Express operated a hub, connecting 20% to 30% of its passengers, some of whom flew to Europe on Boeing 747s.
The carrier, which began in 1981 -- McAdoo was the third employee -- had been based in Newark Airport's north terminal. The airport had started work on new terminal A, B and C in the late 1960s, but abandoned work on C, after finishing the shell of the building, because of a lack of potential occupants. Then People Express "started growing like crazy," McAdoo recalled. "We were running out of space. We signed up for them to finish Terminal C, but before it was complete Continental bought People Express and when C opened it was for Continental.
"I was the guy who signed the original lease between People Express and the port authority," said McAdoo, now an analyst for Imperial Capital in Los Angeles. "I remember that well."
The story of the rise of Newark Airport is one more illustration of Lorenzo's
on today's airline industry.
Today, United's Newark operation -- which Lorenzo built -- is the most profitable single airline hub in the country,
US Airways
(LCC)
President Scott Kirby has said. Lorenzo was the first to use bankruptcy to restructure an airline; now bankruptcies represent a common industry strategy. He redesigned airline fares, introducing both low "peanuts" fares and restrictive, non-refundable fares. He also started with an insignificant western airline and built it into the world's biggest airline group, a course that
America West's
Doug Parker has retraced, generally absent the unfortunate relationship with labor.
Lorenzo asked Nobles, who was running the Pan Am shuttle, to join Continental in February 1988 in order to help spin off the Eastern shuttle as a separate company. That would have enabled Lorenzo to sell equity and debt in a viable business separate from failing Eastern. But Eastern's unions viewed the deal as an anti-labor exercise and convinced a judge to issue a restraining order. Nevertheless, Lorenzo managed to convince Nobles, who had good relations with Pan Am's unions, that he was not motivated by antipathy towards labor.
When the spinoff failed, Lorenzo asked Nobles to run Continental's customer service operation. "Frank always treated me fairly," Nobles said. "But when he tried to spin off the shuttle, he wouldn't let me talk to the press. So we could never tell our side of the story."
-- Written by Ted Reed in Charlotte, N.C.
>To contact the writer of this article, click here:
Ted Reed