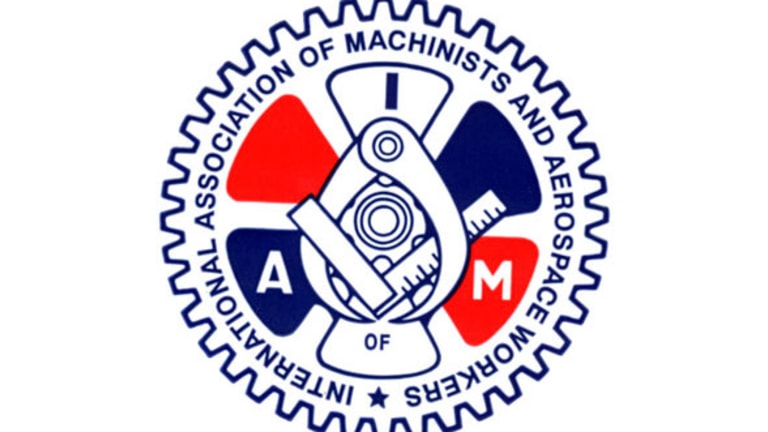 Union Says 60% of Delta Flight Attendants Sign Cards for Election
The International Association of Machinists says 60% of Delta flight attendants have signed cards seeking a union representation election.
The International Association of Machinists says 60% of Delta flight attendants have signed cards seeking a union representation election.
Updated from 12:09 p.m. with comments from Delta
NEW YORK ( TheStreet) -- Unions have been trying to organize flight attendants at  Delta (DAL) - Get Report  for years.
What's different today is that the International Association of Machinists announced it has filed for an election with 60% of the airline's 20,000 flight attendants signing cards seeking an election, after years of organizing.
"This is a historic day for these courageous flight attendants," said IAM President Tom Buffenbarger, in a prepared statement. "The IAM stands firmly behind the Delta flight attendants' effort to win a strong voice in their profession and stability in a volatile industry."
The IAM is the world's largest airline union, representing about 100,000 workers at nearly every U.S. airline. Delta has long been the exception.
The union expects the NMB to order a representation election within four to six weeks. The NMB's minimum requirement for calling an election is 50% of the prospective bargaining unit.
An election victory for Delta's flight attendants would be the largest transportation sector organizing win ever and would cap off more than two years of grassroots efforts, the union said.
In a September interview, Sito Pantoja, IAM general vice president, said a group of Delta flight attendants contacted the IAM in 2012, asking to be organized. "They came to us on their own, with several thousand signed cards," he said. "Now we have over 300 organizers."
Still, history says an election victory is far from certain.
The Association of Flight Attendants has tried three times to organize Delta flight attendants -- in 2002, 2008 and 2010. It failed each time, even after the 2010 merger brought 7,000 unionized Northwest flight attendants into the bargaining unit.
"While we respect our employees' right to decide whether unionization is best for them, Delta flight attendants have already rejected union representation three times since 2002," Allison Ausband, Delta senior vice president for inflight service, said Tuesday in a prepared statement.
"Working directly with Delta leaders, Delta flight attendants have enjoyed greater pay increases than flight attendants at other airlines since 2007 and they have a superior package of top-tier pay rates and an industry-leading profit-sharing program, along with competitive benefits and flexible work rules," Ausband said. "Quite simply, our flight attendants deserve better than the IAM.
"With membership having declined steeply it's no surprise (IAM) is eager to secure a big-business deal of potentially $12 million annually in new revenue from our flight attendants' paychecks," she said. "The IAM's poor track record at other airlines, together with its culture of divisiveness, harassment and personal attacks, would not benefit Delta flight attendants."
Following the Northwest merger, not only did the AFA fail to unionize Delta flight attendants, but also the IAM failed in efforts to unionize the carrier's customer service agents, fleet service workers and flight simulator technicians.
The union hopes for a different result this time.
In a prepared IAM statement, 35-year Delta flight attendant Gabe Perez declared, "We are the reason Delta is the world's most profitable carrier and leads the industry in almost every financial and operational measure, yet we lag the industry in wages, benefits and work rules.
"That will change once we win our election and negotiate the industry-best contract we deserve," Perez said.
-- Written by Ted Reed in Charlotte, N.C.
To contact this writer, click here.
This article is commentary by an independent contributor. At the time of publication, the author held no positions in the stocks mentioned.