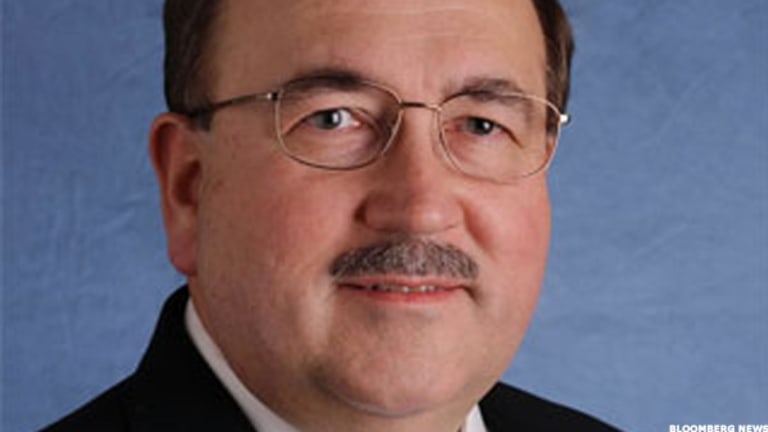 Union President's Final Act: Organize Airbus, Ramp Up Boeing 777X
Tom Buffenbarger survived a challenge to his presidency of the Machinists Union. He has18 months to organize Airbus and assure the Boeing 777X ramp-up goes smoothly.
Story has been updated with details on IAM United Airlines contract and with Boeing share price.

Chicago (TheStreet) -- Having survived an election challenge by a union dissident, the long-time president of the International Association of Machinists has about a year and a half left on the job. During that time, he hopes to make labor history.
Tom Buffenbarger, 63, has been IAM president since 1997. Given the mandatory retirement age of 65, he intends to retire Jan. 1, 2016. By then, he hopes, the IAM will have organized the planned Airbus plant in Mobile, Ala., which is scheduled to begin A320 production in 2015. Success, if it occurs, would redefine the image of the labor movement in the South.
Organizing Airbus is not the diligent Buffenbarger's only remaining goal. He will also work to assure that Boeing (BA) can successfully ramp up production of the new 777X, scheduled to begin flying in 2020; that Boeing and Lockheed Martin (LMT)  -- both IAM-represented -- win the contract to produce the next Air Force bomber; and for the 2014 election of IAM-backed candidates, particularly Mike Michaud, a member of the United Steelworkers who is in the highly-regarded IAM pension plan and is running for governor of Maine.
Looking further ahead, Buffenbarger and the union would be ardent backers of Hillary Clinton for president, should she run in 2016.
Following the United Auto Workers' failure to unionize Volkswagen's plant in Chattanooga, Tenn., all of the old concerns about labor's irrelevance in the South have resurfaced. "We certainly watched the UAW's experience in Tennessee," Buffenbarger said, in his first interview since winning re-election. "None of this is new to us. We expect a fight from the politicians.
"But no matter what kind of fight management or the politicians may put up, what's incumbent upon us is to demonstrate to the workers the value of having a good strong union behind them," Buffenbarger said, adding that a union contract would put workers "on par with those who make Boeing and Bombardier aircraft," in terms of wages and benefits.
In particular, a contract would likely enable workers to participate in the IAM's defined benefit pension plan, increasingly a rarity in a 401(k)-happy corporate retirement environment.
Additionally, Buffenbarger said, Boeing has long benefited from IAM lobbying on defense contracts, a situation that could change if the principal competitor is represented by the same union.
As for the re-election campaign, Buffenbarger said he was surprised that some observers embraced the concept that Jay Cronk was a "reform" candidate. "It made for good press," he said. "But in fact, if you read his programs, he was talking about taking the union backwards. For instance, he wanted to do away with our education center, which we consider the crown jewel of the labor movement, training and equipping our members to become better union members."

Cronk, who has protested the election results to the Department of Labor, said, "Our whole platform stands for reform" and ticked off the goals of his campaign: "End the rampant nepotism and cronyism which has infested our union. Reduce the size of our bloated executive council. Bring executive salaries in line with the size and scope of our organization. Implement an ethics policy. Bring transparency to the financial dealings of our union."
He said he didn't propose ending the education center, but rather "we spoke of finding ways to make it more affordable for smaller local lodges who currently cannot afford the lost time and travel expenses associated with sending members to class there."
In any case, in votes tabulated May 9, Buffenbarger was overwhelmingly re-elected with 23,545 votes or two-thirds of the total. Cronk garnered 11,163 votes. Only about 6% of the union's 550,000 eligible members voted in the IAM's first contested election for national officer in more than 50 years.
Cronk did post victories among some workers, including those at United Airlines (UAL) , where IAM has 28,000 members including fleet service and passenger service agents -- partially because a pay increase scheduled for January was delayed for three months due to a payroll processing computer malfunction.
United IAM members overwhelmingly ratified a new contract in 2013; they will aslo benefit from recent increases in their pension payout formula. "Through the hard work of labor and management trustees, pension payouts were upped by 40%," Buffenbarger said. Nevertheless, the IAM supports the efforts of United pilots to encourage improvements in the airline's financial performance. "If there is something we can do to support their efforts, we are happy to do it," Buffenbarger said.
Cronk also won handily in Seattle, although only about 1,700 of 33,000 eligible Local 751 members voted. The presidential vote followed an ugly dispute, involving the Boeing contract, in which the union's inner conflicts were exposed to the world. Boeing didn't originally plan to build its 777X in the Seattle area, but in the summer of 2013, "We asked Boeing for a shot at keeping it in Seattle," Buffenbarger said in a January interview.
A first round of negotiations led to an offer that workers rejected in a Nov. 13 vote by a 2-to-1 margin. A second round led to a slightly improved offer that was approved by 51% of voters. The 10-year-contract included moderate pay increases and job security, but eliminated the defined benefit pension plan. Leaders of Everett Local 751 opposed both the contract and the second vote; Buffenbarger backed both.  Boeing shares closed Tuesday at $134.17, down 2% year-to-date.
Now, Buffenbarger considers the guarantee of 777X work to Seattle to be among his crowning achievements. "It may go down as the single biggest economic news story of the year," he said. "When we gave members the facts, they chose job security over everything else and we secured jobs for 30 years."
Other highlights of Buffenbarger's career were helping Harley Davidson (HOG) restructure in the 1980s and later helping Spirit AeroSystems (SPR) to restructure: The efforts saved thousands of union jobs.
Whatever Buffenbarger has done so far, however, would be dwarfed by the success that might come at Airbus.
Written by Ted Reed in Charlotte, N.C.
To contact this writer, click here.
>>Read More: Ford and GM Attract Older Buyers But Buick Bucks the Trend 
>>Read More: American Air President: Don't Call Us 'Nickel and Dimers.'

>>Read More: Union President's Final Act: Organize Airbus, Ramp Up Boeing 777X