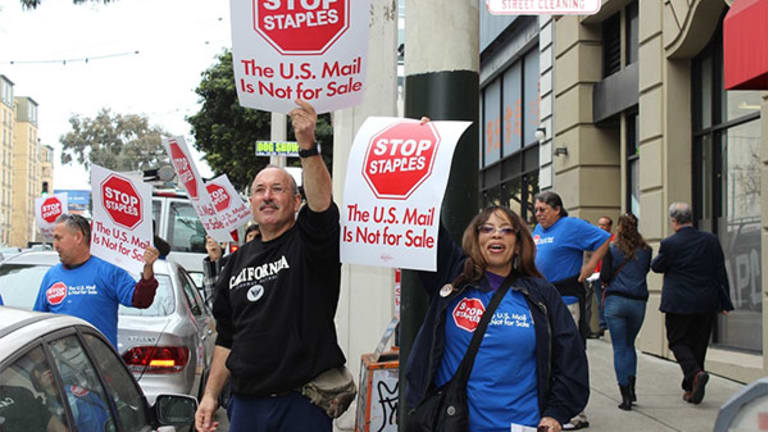 Union: Let Post Office Sell Financial Services and Staff Staples Postal Outlets
The new president of the postal workers union says Staples postal outlets are fine, if they're staffed with postal workers. He also wants USPS to sell financial services.
Washington (TheStreet) -- The way the president of the American Postal Workers Union sees it, the post office has two ways to go. One is downscale, letting Staples (SPLS) workers sell its products as its business diminishes.
The alternatives, Mark Dimondstein said, are to have post office work done by post office employees, who receive middle-class salaries, and also for the post office to offer financial services to the 68 million Americans who are generally unbanked and utilize payday lenders and other less desirable financial services. 
"We're for expanding and offering enhanced services to people, for looking at the postal service in a broader way," said Dimondstein, who took over in November as president of APWU, which represents about 200,000 primarily postal workers.
Dimondstein is taking an activist approach that starts with opposing aspects of a plan to put post offices in Staples outlets. That plan was unveiled two weeks after Dimondstein took office and gave a speech citing the past glory of the labor movement, including the UAW's sit-down strike at GM (GM) - Get Free Report in Flint, Mich., in the mid-1930s. "To succeed, postal workers must build a movement," he said.
The Staples deal would put post offices in 82 to 84 stores as pilot projects, with plans to expand to 1,500 to 1,600 stores. It is viewed as a way to make postal products more widely available to the public, and the postal service said it does not displace any employees.
"We strenuously object not to the pilot, or to extending hours, but because these (outlets) are not staffed by postal workers," Dimondstein said. "It represents a shift of living wage jobs to non-living-wage jobs, and to workers who are not well-trained, familiar with regulations or accountable to the people of this country and the security and privacy of the mail."
While U.S. Postal Service workers made between $15 and $24 an hour and have substantial benefits, Staples workers start at $8 or $9 an hour and have minimal benefits, Dimondstein said.
The APWU plans protests next week in Atlanta, one of the four locations for the pilot project, with additional demonstrations slated in central Massachusetts, Northern California and Pittsburgh. Staples is scheduled to report fiscal fourth-quarter earnings on March 6. The impact of the demonstrations "is up to investors," Dimondstein said. "We're not going to be shy about it. If Staples does not staff these stores with postal workers, we will encourage people to take their business elsewhere."
Staples and the USPS spokespeople said putting post offices in Staples stores benefits customers of both institutions.
"Staples continually tests new products and services to better meet the needs of our customers," said Staples spokeswoman Carrie McElwee. "We are currently operating a pilot program in select stores that is testing specific services and offering added convenience for our customers." She did not disclose financial details of the program or salaries.
USPS spokesman David Partenheimer said the partnership "increases access to postal products and services while broadening customer access through an increased number of locations open seven days a week. With its appeal to business customers, Staples is an attractive partner because it is a leading office supply market leader. The Postal Service is the exclusive mailing and shipping services provider for customers at these pilot stores."
That means USPS gets first shot at customers who might otherwise use UPS (UPS) - Get Free Report or FedEx (FDX) - Get Free Report. "The program is an opportunity to grow our business and part of our plan to return to long-term financial stability," Partenheimer said, adding that no postal service jobs are threatened by the program.
The postal service reported a $5 billion loss in the last fiscal year and a $354 million loss in the first quarter of the current fiscal year. The loss includes the accrual of $1.4 billion of the $5.7 billion retiree health benefits funding required of the post office, but not required of any U.S companies. USPS is seeking to enhance revenue, but Congress has placed the agency in an untenable financial position. Without legislative change, the post office will be forced to default on the $5.7 billion funding requirement by Sept. 30.
A second union goal involves the potential to enhance USPS revenue through an expansion into financial services. A report issued last month by the Office of Inspector General for the postal service said the post office would be an ideal provider of non-bank financial services for the underserved.
"Millions of Americans do not have a bank account, or use costly services like payday loans and check cashing exchanges just to make ends meet," the report said. "The postal service could greatly complement banks' offerings," especially with banks closing branches in low-income rural and inner city communities.
About 68 million adults are underserved in terms of financial services: They spent $89 billion in 2012 on interest and fees for alternative financial services including check cashing, money orders, remittances, payday lending, pawnshops, rent-to-own agreements and other similar products, the report said.
Other findings: The post office is the leader in the domestic paper money order market, with a 70% share that produced $166 million in revenue in fiscal 2012. Also, 51% of post offices are located in zip codes with either one bank branch or no bank branches. Also, 68% of survey respondents found the post office reliable and trustworthy, while only 26% assigned the same qualities to banks.
Between 1911 and 1967, the post office accepted savings deposits. In 1947, it took in $3.4 billion in deposits. But the practice was discontinued in 1967.
The report suggested that the best vehicle for post office involvement in financial services would be to issue reloadable prepaid cards. They would function in the same way as the plastic cards issued by banks and other vendors do, and could be swiped for purchases.
How could the post office easily lend money? If an employer made regular direct deposits to a cardholder's account, that would establish credit worthiness. Someone who didn't pay off their loans could have their tax refunds debited. Interest rates need not be excessive.
"It's a blockbuster report," said Dimondstein, who noted that postal banking is available in many European countries. "We're for expanding services," he said. "The post office could provide great service in a neighborhood location in a trusting atmosphere."
The banking industry does not back the concept, even though the report suggested that the post office would partner with banks in offering financial services.
"We're deeply concerned that the U.S. Postal service is trying to drive the creation of a new GSE engaged in banking services, which is not subject to the same level of regulation," said Ken Clayton, chief counsel of the American Banking Association, in a prepared statement. "This new entity could be perceived by many as a government-endorsed and preferred provider of financial products. The impact on community banks already serving these towns would be substantial."
Written by Ted Reed in Charlotte, N.C.

To contact this writer, click here.