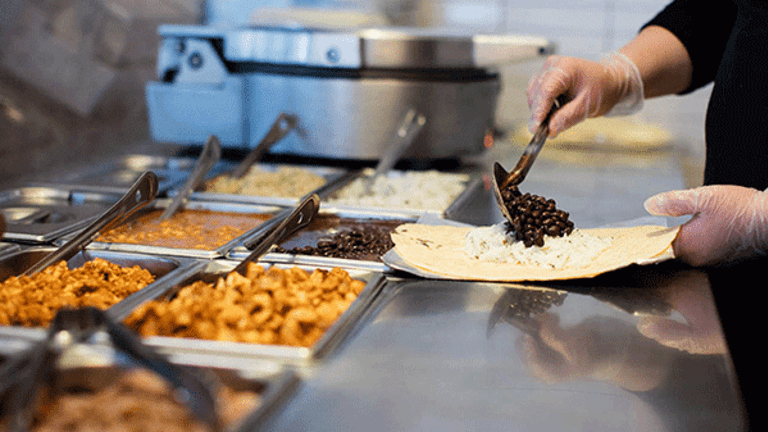 Unfortunately for Chipotle, the Price for One of Its Most Beloved Ingredients Is Soaring
This could hit the bottom line, for sure.
Just when Chipotle (CMG) - Get Chipotle Mexican Grill, Inc. Report was starting to pull itself out a seemingly endless financial funk, enter the harmless avocado to create a little bit of gloom.
Surging demand and a weak crop has caused the price for a 22-pound box of Hass avocados from the state of Michoacan, Mexico's largest producer, to more than double over the past year. At nearly $28 a case, prices are at their highest levels in some 19 years. About 93% of Hass avocados sold in the U.S. come from Mexico, according to the Hass Avocado Board. 
Chipotle's guacamole operation is no joke, which is why the surge in avocado prices could take a bite out of the company's bottom line in the second and third quarters. The company uses, on average, 97,000 pounds of avocados every day to make its guac  (which costs an extra $1.95 for customers). That  adds up to 35.4 million pounds of avocados every year. Chipotle has estimated in the past that every $10 per case price movement up or down in avocados will impact its earnings by a whopping 17 cents a share.
"Although avocados are relatively lower, we are still operating in a short supply environment for avocados," Chipotle Chief Financial Officer John Hartung said on an April 25 conference call. "This is still putting some pressure on our costs and will likely add about 40 basis points in the second quarter and even more in the third quarter."
Trending news on TheStreet:
This Is Why Amazon Is an Unstoppable Beast
Starbucks Stock Tanks As Coffee King Still Can't Solve One of Its Biggest Challenges Ever
Taking Apart Samsung's Galaxy S8 Beside an iPhone Shows How Picky Apple Is About Design