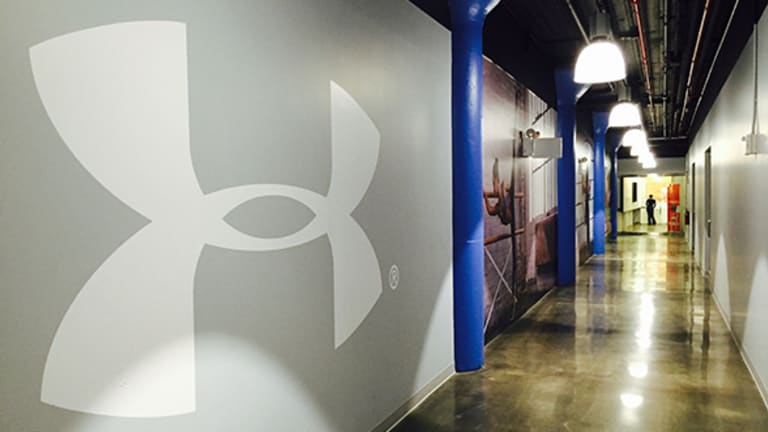 Under Armour Unveils 8 Scintillating New Styles for Next Fall
The innovative Under Armour looks to keep its sales momentum going this fall with several important new products, from a glow-in-the-dark sports bra to "swackets."
The evolution of Under Armour (UA) - Get Under Armour, Inc. Class C Report from a retailer of tight moisture-wicking shirts to a global lifestyle brand will continue this coming fall/winter.
So far in 2016, Under Armour has continued where it left off in 2015 -- creating interesting new products that address the needs of picky consumers.  The athleticwear maker, which is celebrating its 20th year in business, has debuted a suite of tech hardware designed to track wearers' health along with a steady stream of new basketball sneakers and T-shirts inspired by popular Golden State Warriors guard Stephen Curry.  
Newly signed Under Armour brand ambassador Dwayne "The Rock" Johnson has seen the first items bearing his name -- two tough-looking backpacks -- sell out over the course of two weeks. To top it off, No. 1 ranked golfer Jordan Spieth -- also part of the Under Armour stable of athletes -- brought his first signature golf shoe to an enthusiastic market. 
"We started by redefining the sports apparel industry through performance fabrics, and today we are raising the bar for what athletes expect across all of their health and fitness needs," Under Armour founder and CEO Kevin Plank said in a statement on Jan. 28.
Under Armour is banking that the barrage of innovative products will lead to another red-hot year for sales and profits.
The company expects its full-year revenues to reach $4.95 billion, up about 25% year over year. Operating profits are pegged at $503 million, representing growth of 23% over 2015.  Last year, sales and operating profits rose by 28% and 15%, respectively.  
"It is possible in this universe to like both Under Armour and Nike (NKE) - Get NIKE, Inc. Class B Report , and those who make them mutually exclusive or zero sum are wrong," said TheStreet's founder Jim Cramer. Under Armour is a health and wellness tech enterprise, and Nike is a worldwide performance company."
To see how Under Armour plans to keep the momentum going, TheStreet grabbed a sneak peak at its fall/winter 2016 product line at a gathering held in New York City on Wednesday. Here are some of the items that stood out: 
1. Swacket
If one took the soft, cozy feel of a sweater and mashed it together with the jacket's ability to thwart the outside elements, what's left would be Under Armour's "swacket."  Yes, the name combines "sweater" with "jacket." (Like a "skort," but not.)
An Under Armour spokeswoman says the swacket is one of the most important introductions for the fall.  Price: $119.99.  


2. Charged Core Training Sneakers
Under Armour was pretty tight-lipped at the event on these shoes. But what we did find out is that they are part of an effort to sell more gear to people who do Crossfit or cross-train.  The shoes are flat on the bottom to enhance stability while lifting, for instance. 
Under Armour has thrown down the gauntlet to Adidas-owned Reebok, which has dominated the Crossfit sneaker and apparel market due to its arrangement with the association. We recently caught a glimpse of Reebok's new Crossfit sneaker that will hit the market shortly -- it's a much slimmer profile than the wide-toed offerings currently on the market -- but the shoemaker asked us not to share photos just yet.


3. Expanded Stephen Curry Products
Up until now, Under Armour has mostly sold basketball sneakers, T-shirts, shorts and accessories in concert with Stephen Curry.  That will change in the fall as Under Armour seeks to cash in on Curry's surging popularity.
Pictured on the right are lightweight Curry hoodies.  The Under Armour logo will be less prominent on Curry's clothes moving forward, similar to what Nike has done with the Jordan brand. 


4. Female Golf Clothes
Goodbye boring female golf clothes bought from the pro shop. Under Armour will be making a big statement in that segment this fall with its first-ever line, all boasting the edge synonymous with the brand.
Recently, Under Armour signed 21-year old LPGA pro Alison Lee to promote ladies golf apparel. In her rookie season last year, Lee earned about $680,000, and is currently ranked 21st on the LPGA tour. 


5. Men's Golf Pants
Lost in the release of Jordan Spieth's first line of golf shoes were the innovative new golf pants from Under Armour, which have an elastic waistband on the inside to promote range of motion.  Rubber grips built into the waistband, meanwhile, help keep a golf shirt from coming untucked.
Now one can move toward the 19th hole without looking like a disheveled slob who just shot 110.


6. Media Friendly Jacket
An Under Armour spokesman says it played with hemlines for the fall, in particular with this running-friendly jacket.  The back of the jacket is slightly longer, to offer a shield from water kicked up off the pavement, and pockets are huge in order to accommodate various media devices.
There is even something called a "ninja hood" designed to cover the neck during cold morning runs. 


7. Iconic Athlete Clothing Line
"The Rock loves Muhammed Ali," said a spokesman.  Well, The Rock will soon see more Under Armour merchandise bearing the legendary boxer's name (signed a deal last year).  
And Ali won't be alone. In July, Under Armour will broaden its portfolio of clothing featuring iconic athletes, with a small collection consisting mostly of T-shirts and hoodies that boast track and field legend Jesse Owens and football icon Jim Thorpe.  The spokesman said the clothing will have an Americana theme that consists of red, white and blue colors.   


8. Glow In The Dark Sports Bra
Want to stand out at the gym? This sports bra contains reflective materials designed to glow when the lights go lower in those Soulcycle classes.
An Under Armour spokeswoman said the garment is tailored to "females that sit front row at a spin class." Rock on.