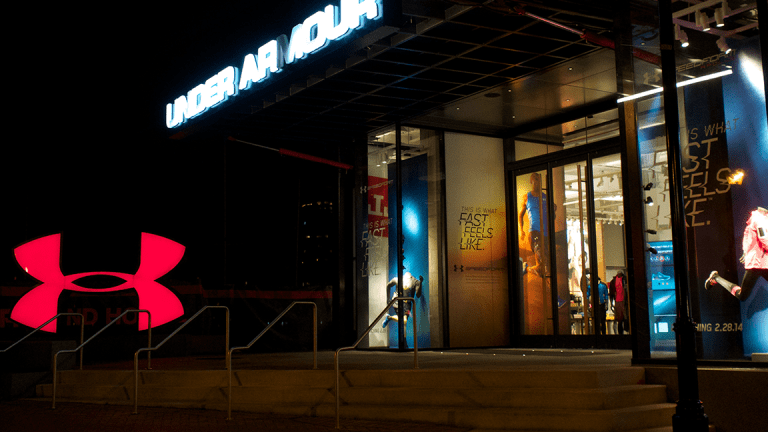 To Save Itself, Under Armour Is Going Back to Its 'Scrappy' Roots
The athletic apparel maker slashed its full-year forecast.
Under Armour Inc. (UAA)  may have underperformed this quarter, but the sports apparel retailer has a plan. 
The company posted disappointing third-quarter earnings Tuesday, Oct. 31, despite beating Wall Street's predictions on earnings per share. Citing operational challenges and low demand, CEO Kevin Plank also announced in a statement the company will lower its outlook for the remainder of 2017.
"Some of this is due to things in our control like product consumer connectivity and structural changes," Plank said in the earnings call. "And some things were out of our control, like the macro-environment shifting consumer behavior." 
He added, the "scrappy never went away and the fight has never been stronger." 
As part of its turnaround efforts, Chief Operating Officer Patrik Frisk, former CEO of Aldo, said the company is looking into privatizing "areas with the highest opportunity for growth and profitable returns." He also highlighted product innovation, including UAA's new Threadborne apparel and a new cushioning platform called Hover, which aims to achieve a "zero gravity field" for running shoes. 
To refine its global consumer target, Under Armour is also working on a consumer study that targets more than 20,000 people worldwide, Frisk added.
In the third quarter, Under Armour earned 22 cents a share, 3 cents above estimates. Revenue of $1.4 billion, however, was below expectations of $1.5 billion and were down 5% from the same time a year earlier. The stock is down about 14% Tuesday at 10 a.m., EDT. 
Under Armour reduced its projected full-year earnings to between 18 cents and 20 cents a share, well below Wall Street forecasts. It expects operating income to be between $140 million and $150 million. The company also reduced its revenue growth forecast for the full year.
"Against this difficult backdrop, our management team is working aggressively to evolve our strategy and level of execution to proactively address these challenges," Plank said.
Under Armour also said gross margin declined to 46.2%. But there were some bright spots for the Baltimore-based retailer. Declining revenue was largely in wholesale -- which fell 13% -- while direct-to-consumer revenue was up 15%. Revenue in North America was down 12%, but internationally it rose 35%.
The retailer's shares have fallen by more than 45% so far this year. The company announced a major corporate restructuring plan in late July, along with a planned 2% cut in its workforce, but there is hope yet. It recently appointed Frisk, who will lead the retailer in improving financial performance. This fall, Under Armour also released the Curry 4 basketball shoes, sponsored by NBA All-Star Steph Curry, which could lift sales, analysts said.
Last week, news broke that the athletic apparel maker was looking into shuttering its tennis and other outdoor categories.
More of What's Trending on TheStreet: