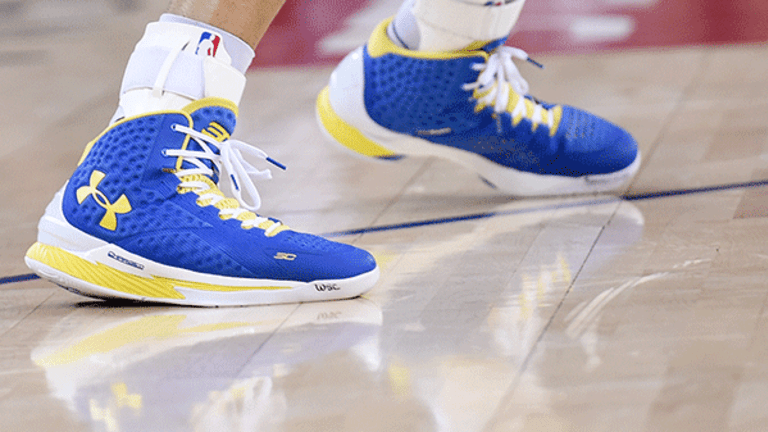 Publish date:
Under Armour's Growth Warning Is a Nail in the Coffin for Shares
Investors' expectations were dashed after Under Armour says that its growth rate going forward won't be as strong as previously expected. Expect a price correction.
Investors' expectations were dashed after Under Armour says that its growth rate going forward won't be as strong as previously expected. Expect a price correction.
Looking at a long-term price chart of Under Armour (UA) - Get Report  shows a relentless growth stock.
From mid-2011 to the middle of last year alone the stock price shot up more than 500%, an amazing gain.
Chart provided by TradingView.com
The meteoric rise makes sense from a fundamental standpoint. Take a look at any basic metric such as net income or revenue, and it shows massive growth.
Chart provided by TradingView.com
Chart provided by TradingView.com
And even the latest third-quarter earnings results looked solid.
Under Armour reported another revenue increase of 22%, the 25th-straight revenue growth of at least 20%. Total revenue came in at $1.47 billion, beating expectations of $1.45 billion.
Earnings of 29 cents a share beat expectations by 4 cents a share.
Under Armour was able to double its share of the footwear market during the recent back-to-school period, shooting up to an 8.2% market share from 4.6% a year earlier. Total apparel sales increased 18% to $1.02 billion during the quarter, while footwear sales increased 42% to $278.8 million.
The company even made strides in its online presence, increasing direct-to-consumer sales 29% from a year earlier. This was helped by the three ecommerce websites Under Armour launched during the quarter.
But despite the stellar earnings report, the stock's price dropped more than 13% because investors were only focused on the fact that growth expectations were lowered.
"While we expect to continue to significantly outpace the apparel industry, the growth rate going forward will be less than expected from our investor day in 2015," the company said.
The company said that it expects its revenue to grow in the low 20% range next year and in 2018, which though by itself is still impressive, would represent Under Armour's worst performance since 2009. Under Armour also warned that profits and margins would shrink as the company reinvests to attack new pockets of growth overseas and also new segments such as footwear to make up for the difficult retail environment in North America.
Gross margins fell to 47.5% from 48.8% a year earlier, mostly due to increased discounts and promotions.
All in all the earnings report was solid, but it wasn't perfect. And investors expect perfection when it comes to growth stocks.
A look back at Under Armour's price chart shows a nearly parabolic price series. This is what happens with growth stocks.
Investors have a certain set of expectations, the company exceeds them and the price soars. During the next round, investors increase their expectations, the company beats again and the stock flies even higher.
This process repeats in a Soros-style reflexive loop until the price diverges too far from reality.
At this point, investors can expect that the company will fail to meet expectations. And that is exactly what began to happen to Under Armour in late September 2015.
Growth concerns started to mount, and the stock price began to decline. When this happens investors can expect a large correction as the stock price readjusts to the new investor expectations.
The correction started in September 2015, and Under Armour put in an intermediate low on Jan. 21. But as shown below, the recent move has broken that low, completing a large descending triangle formation.
Chart provided by TradingView.com
This is what we like to call an inflection point, when there is a fundamental piece of news to which the stock has a big heavy reaction. It is a signal that a new trend is being formed and that now is the right time to jump in.
This is one of the best ways to combine technicals and fundamentals to increase the probability of a successful investment. Should the price hold below the levels of the lower descending triangle boundary into the end of the week, we will consider putting on a short position.
This is the nail in the coffin because this is the significant break we look for in growth stocks. Price pattern completions confirm that investors' fundamental expectations have been permanently changed, and now we expect to see an equally large adjustment in price.
Under Armour is still a good long-term play, but it would be unwise to hold the stock through this coming correction.
And those looking to establish a long-term position should allow the price to get back to reasonable levels before doing so. Investors will get a much better price if they decide to wait.
This article is commentary by an independent contributor. At the time of publication, the author held no positions in the stocks mentioned.