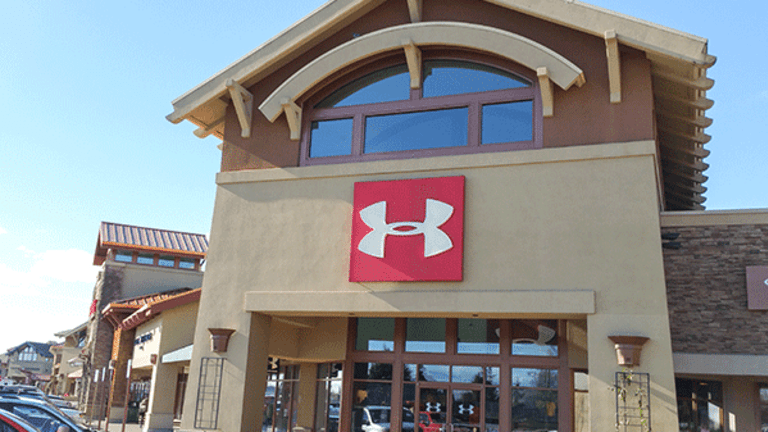 To be the best, you have to beat the best.
And in the case of Under Armour (UA) - Get Under Armour, Inc. Class C Report founder and CEO Kevin Plank's relentless pursuit of Nike-like superiority across retail and in the sports world, trying to eclipse a significantly larger and more entrenched athleticwear maker won't come easy or cheap. Plank and executives at his surging 20-year-old Baltimore-based company have finally had that epiphany, much to the dismay of Wall Street which has long viewed Under Armour as an unstoppable growth company.
"Our growth now gives us opportunities to move up in weight class, and we find ourselves well-positioned at this moment in time to compete for long-term relationships with athletes, teams and league affiliations that we previously could not justify," Plank on Tuesday told analysts, who likely were watching as Under Armour shares plunged as much as 20%. Under Armour reiterated that it sees revenue rising 20% in 2017 and 2018, but operating income is pegged to rise by a slower mid-teens rate. Overall, Under Armour continues to see sales reaching $7.5 billion by 2018, but operating profits will fall short of a $800 million target.
Moving up in weight class for Under Armour will require several big-time investments over the next two years that stand to take a bite out of profit. The investments arrive at a time in which the company's apparel sales are slowing after years of torrid growth, brick-and-mortar retailers are shuttering stores in droves thanks to the shift toward online shopping, and Adidas and Reebok (owned by Adidas) have re-emerged on the cool club scene among shoppers.
One area of investment for Under Armour, and arguably its most important, will be on the sports marketing front. Nike (NKE) - Get NIKE, Inc. (NKE) Report pioneered the use of athletes and deals with sports teams to help hawk clothing and shoes, and now Under Armour will have to disrupt the standard bearer by opening up its checkbook. 
"We've seen recently the escalation in the price and, frankly, the duration of sports marketing assets. The length of these deals has gone from standard five-year deals arrangements to now 10- to 15-year deals," Plank admitted. The prices for sports team deals have become exorbitant. Under Armour inked a 15-year, $280 million sponsorship contract in late May with UCLA, which reportedly was the most lucrative in the history of college sports. Nike set off a spending frenzy for college sponsorship deals last summer. First was a deal with Michigan at a then-record $169 million, followed by Texas at $250 million and finally Ohio State at $252 million.
More recently, Under Armour likely paid through the roof to secure its first major professional sports uniform deal. Under Armour will take over for Majestic Athletic as the official on-field uniform provider for Major League Baseball beginning with the 2020 season. Terms of the deal were not disclosed.
Meanwhile, it's not getting any cheaper to sign best-in-class athletes to pitch product across multiple platforms.
Signing athlete sponsors such as NBA star Stephen Curry isn't getting any cheaper.
Under Armour first signed Golden State Warriors star Stephen Curry in October 2013 for a reported $4 million, after Nike bungled the negotiations. In September last year, the company extended its contract with Curry to 2024 and gave him an equity stake. In January 2015, Under Armour scrapped the remaining two years of an endorsement deal with golf phenom Jordan Spieth and signed him to a new 10-year deal. Although the financial terms of the deals weren't disclosed, locking down athletes in the prime of their careers to a long-term marketing deal is likely a pretty costly endeavor.
Under Armour will need a stable of athlete sponsors in the future as it seeks to roll out expanded footwear offerings, high-end sportswear and connected fitness gear. Indeed, putting together those contracts will come at a steep cost.
Elsewhere, the upheaval in retail -- headlined by the bankruptcy this year of The Sports Authority and continued department store closures -- has placed extra importance on Under Armour establishing a more formidable store network of its own. Under Armour's North American store count at the end of the third quarter stood at 162 company-owned stores, made up of 145 outlets and 17 flagship stores in major urban markets. Nike has hundreds more stores in North America, and in total operates more than 900 retail locations globally.  
"We just have to be more thoughtful about how to capture the consumers and their dollars, including replacing [lost sales from wholesale] with our own direct-to-consumer controlled retail," Plank explained. 
Under Armour also will need product for its growing list of athletes to wear and for its new retail stores to carry to compete with Nike, Adidas and Reebok. Developing that will require investment in people, processes and infrastructure. In particular, expanding footwear -- which Under Armour sees growing to $1.7 billion in annual sales by 2018 from $678 million in 2015 -- is receiving extra attention from Plank and his team.
"We'll continue to invest meaningfully in our footwear business with a focus on talent as well as infrastructure that will help improve the profitability in our business as we scale. We believe we are at a moment in time where we can gain share in footwear and we are prepared to make investments that will drive long-term profitable growth," Plank said, acknowledging that Under Armour still only has a small team of people (six) out in its new Portland offices working on women's footwear. Nike, on the other other hand, has hundreds of people at its Portland-based headquarters working on women's footwear, Plank guessed.
Pointed out Jefferies analyst Rany Konik in a new note regarding the competitive environment in footwear currently, "Under Armour's footwear is also a concern with difficult [sales] comparisons, the re-emergence of Adidas, and retro sneakers trending, which doesn't favor Under Armour." 
Unfortunately for Under Armour, comments on long-term profit overshadowed continued momentum in its business headed into the holiday season.
Under Armour had a solid third quarter.
Under Armour's third-quarter sales surged 22% from the prior year to $1.47 billion, surpassing Wall Street estimates for $1.45 billion. Earnings came in at 29 cents a share, handily beating analysts' forecasts of 25 cents. 
Sales of apparel rose 18% on the back of interest in men's and women's training gear and golf apparel. Footwear sales spiked 42%, driven by continued interest in the latest basketball sneakers from NBA star Stephen Curry and an array of new running styles. By distribution channel, Under Armour wholesale sales -- which reflect sales to department stores and sporting goods retailers -- increased 19%. Direct to consumer sales increased 29%, reflecting strength at the company's retail stores and e-commerce operations.
The company reiterated that it sees full-year sales rising 24% from a year ago to $4.925 billion. It also continues to expect operating income of $440 million to $445 million, up about 9% from a year earlier.
"We are in this for the long haul, and the opportunity that we see is to be the best in the world. And that does require investment, and we know that people aren't going to like the way it sounds," Plank conceded.
Welcome to the big show Under Armour. Nike, you have been put on notice.