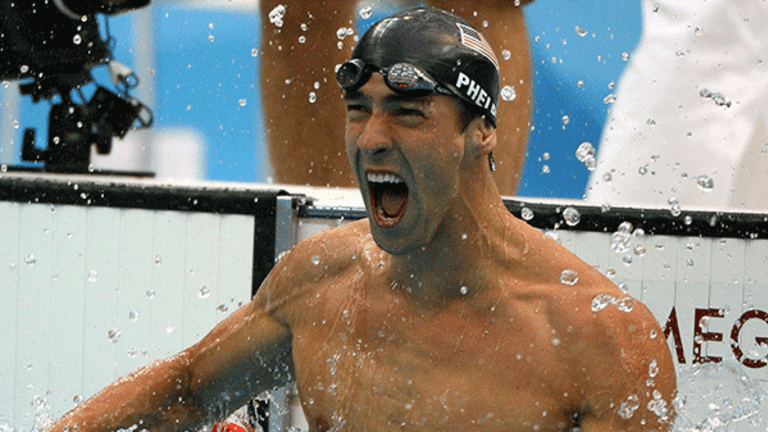 Under Armour's 3D-Printed Shoes for Olympics Hero Michael Phelps Are Just the Start
Olympics star Michael Phelps lands a pair of 3D-printed shoes from sponsor Under Armour. Others will likely do so soon, too.
Olympics great Michael Phelps will likely not be the only one rocking a pair of 3D-printed sneakers if the red-hot Under Armour (UA) - Get Under Armour, Inc. Class C Report has its way.
Under Armour this week unveiled a pair of custom sneakers for Phelps, who was chosen to lead the American athletes into Rio's Maracanã Stadium during Friday's Olympics opening ceremony. The custom shoes feature its 3D-printed midsole technology. The technology was first debuted by Under Armour earlier this year with the UA Architechs brand. As an added touch of class, the sneakers have the footprint of Phelps' infant son Boomer printed on the insole. 
Phelps' red, white and blue sneaks likely represent the start of a major 3D-printed sneaker push by Under Armour. 
The company will launch its second 3D-printed sneaker -- likely in the training category -- by the end of the summer, a source close to the matter told TheStreetin late June.
That release may be followed by several others before the end of the year.
"What you will see [this year] is an increase in the number of units, colors and styles in the Architech [Under Armour's 3D-printed shoe line] platform this year," Under Armour president of product and innovation Kevin Haley told TheStreet at the opening of UA Lighthouse, the company's new center for manufacturing and design innovation in its Baltimore, Md., backyard.
Michael Phelps' new 3D printed Under Armour sneakers. Go USA.
"The training shoe [we created] is phenomenally stable, but also cushioned, which is often hard to achieve at the same time," said Haley. "The [3D-printed] lattice structure is allowing us to create the holy grail of a super stable but also cushioned [sneaker] -- I think it has legs in lots of different end uses."
Unlike Under Armour's Stephen Curry, Michael Phelps doesn't need sneaks for his sport.
In March, Under Armour unveiled its limited-edition 3D-printed training shoe called UA Architechs. Similar to Phelps' sneakers, they featured a 3D-printed midsole as well as an upper design that enhances the fit and is lightweight. The training shoe came together after a two-year research and development process that involved the study of geometric shapes and structures leading to the midsole design, according to Under Armour.
Only 96 pairs of the UA Architechs were made. The price? A cool $300, which was light years removed from the mostly $85 running sneakers Under Armour sold when it entered the footwear space back in 2008. But consumers apparently weren't turned off by the price for a product that is lighter and fits better. Said Haley, "I think the original shoe launched in March sold out in 18 minutes, so we think the demand is there despite the $300 price point."
Under Armour's relatively new foray into high-priced 3D printed sneakers -- at a time when rivals Nike (NKE) - Get NIKE, Inc. (NKE) Report and Adidas (ADS) - Get Alliance Data Systems Corporation Reporthave no competing versions on the market-- could provide a nice boost to an already hot footwear business. Under Armour's footwear sales in the second quarter skyrocketed 58% year over year to $243 million, and were the fastest-growing business segment for the company. Footwear has made up about 25% of Under Armour's business so far this year.
One place unlikely to sell Under Armour's pricey 3D-printed sneakers anytime soon? Its new cheap-chic department store partner Kohl's (KSS) - Get Kohl's Corporation (KSS) Report . Hey, at least consumers are rumored to be getting Under Armour's first home goods collection at a department store, which is known for its deals and funky shopping baskets.