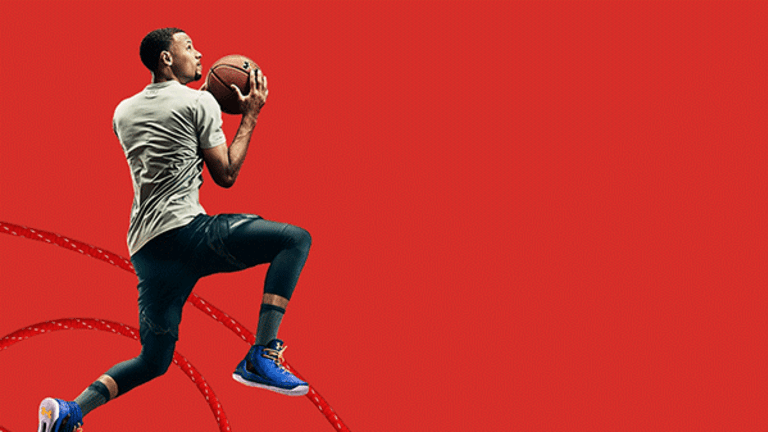 Under Armour Fourth-Quarter Figures Are 'Just Awful': More Squawk From Jim Cramer
While Under Armour posted disappointing fourth-quarter results, the fact that its CFO is leaving after just one year is worse, Jim Cramer said.
Shares of Under Armour (UA) - Get Free Report (UAA) - Get Free Report were plummeting by more than 24% in mid-morning trading on Tuesday, after the athletic retailer reported lower-than-expected results for the fourth quarter, as well as a downbeat guidance for 2017.
Under Armour's results were "just awful" and make the company look "just distinctly suboptimal," TheStreet's Jim Cramer said on CNBC's "Squawk on the Street" on Tuesday morning. 
More important than the financial figures, Cramer said, is the news that CFO Chip Molloy is leaving the company after one year for personal reasons. "When I see a CFO leave, that's often more important than pretty much anything else I follow. What that said to me is, 'OK, listen, this is distinctly in the penalty box,'" he said. 
Under Armour has had a number of executives leave in recent years, including CFO Brad Dickerson in October 2015, CMO Henry Stafford in July 2016 and CDO Robin Thurston in July 2016. 
"Turnover of that magnitude is something with a growth company you don't tend to see," Cramer noted. 
The disappointing numbers can also be linked to the bigger story about retail overall being "awful," he continued. People have to "get it through their heads" that retail is not doing well as people are opting to stay at home and order a specific list of items online, vs. going into the stores where they might pick up a few extra items. 
Under Armour notably stole Golden State Warriors star Stephen Curry from Nike (NKE) - Get Free Report in 2013, but not even he can offset the CFO leaving, Cramer said in conclusion. "Steph Curry is not as much of a factor here as the CFO leaving," he said. "I'd rather have the CFO stay and Steph Curry go."
(Under Armour is held in the Growth Seeker portfolio. See all of the holdings with afree trial.)