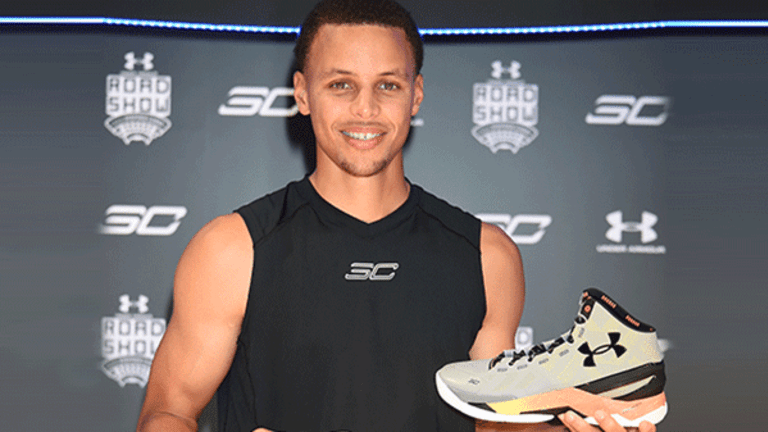 Includes updated market prices.
Investors appeared to be straight-up freaked out about how much Under Armour (UA) - Get Under Armour, Inc. Class C Report  plans to invest to support its ambitions to be an even more dominant player in the athleticwear market.
Shares of Under Armour plummeted almost 14% soon after the markets opened on Tuesday as CEO Kevin Plank told analysts on a call the company will be investing aggressively to expand its retail store footprint, compete for more athlete sponsors and lay the foundation for stronger growth in footwear. Under Armour also cautioned that the company's apparel sales will be slower moving forward than previous long-term forecasts. Revenue is seen rising 20% in 2017 and 2018, but operating income is pegged to rise by a slower mid-teens rate.  Overall, Under Armour continues to see sales reaching $7.5 billion by 2018, but operating profits will fall short of a $800 million target. 
The slower apparel outlook and investments fed concerns on Under Armour's long-term operating margins, and overshadowed a solid third quarter.  
The red-hot athleticwear maker reported that third-quarter sales surged 22% from the prior year to $1.47 billion, surpassing Wall Street estimates for $1.45 billion. Earnings came in at 29 cents a share, handily beating analyst forecasts for 25 cents a share. 
Under Armour saw strong momentum in all product categories. Sales of apparel rose 18% on the back of interest in men's and women's training gear and golf apparel. Footwear sales spiked 42%, driven by continued interest in the latest basketball sneakers from NBA star Stephen Curry and an array of new running styles. By distribution channel, Under Armour wholesale sales -- which reflect sales to department stores and sporting goods retailers -- increased 19%. Direct to consumer sales increased 29%, reflecting strength at the company's retail stores and e-commerce operations.  
The company reiterated that it sees full-year sales rising 24% from a year ago to $4.925 billion. It also continues to expect operating income of $440 million to $445 million, up about 9% from a year earlier. 
Under Armour's third-quarter results at its retail partners such as Dick's Sporting Goods (DKS) - Get Dick's Sporting Goods, Inc. Report and Macy's (M) - Get Macy's Inc Report come a day after VF Corp. (VFC) - Get V.F. Corporation Report sounded the alarm bell on the current operating backdrop in the U.S.
A combination of a warm start to fall that has major U.S. retailers buying apparel inventory cautiously and ongoing department store closures appeared to take its toll on VF Corp. Sales in the Americas at the North Face and Timberland brands each fell by mid-single-digit percentages. At jeans brands Wrangler and Lee, sales in the Americas each declined by high-single-digit percentages. Vans was the lone bright spot in the Americas, with sales up by a high-single-digit percentage.
"Retailers are buying more cautiously. Almost all of them are trying to run their business models with less inventory in the stores. We also know among sporting goods retailers, there is a hangover of cold weather inventory from last year, meaning they are going into the season already holding inventory," explained Eric Wiseman, VF Corp. chairman and CEO, in an interview with TheStreet.
Wiseman added, "Clearly, the department store sector in the U.S. has challenges right now."