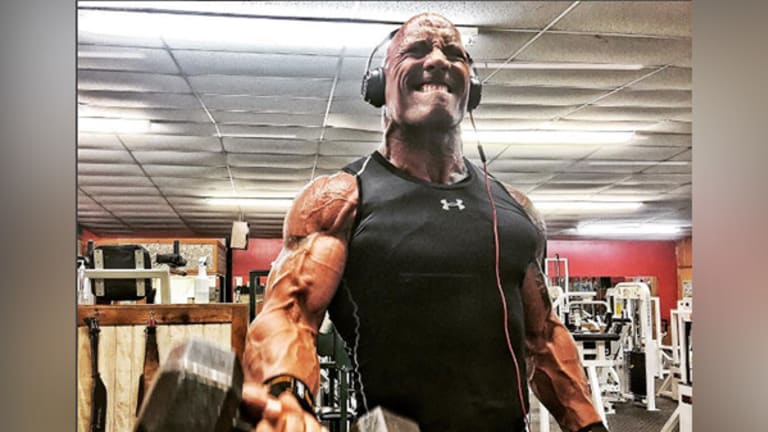 Under Armour Prepares Big Push With World's Highest-Paid Actor Dwayne 'The Rock' Johnson
The Rock is about to become a clothing mogul.
After a year of testing a few products to see how they sold, it looks like Under Armour (UA) - Get Free Report is about to make a big commitment to box office king Dwayne "The Rock" Johnson next year. 
In an Instagram post Friday evening (below), the World Wrestling Entertainment (WWE) - Get Free Report star turn Hollywood mogul, who was just voted by Forbes as the highest-paid actor last year, notified his 64 million-plus followers that he would debut a host of new swag in early 2017 backed by his sponsor Under Armour. For men, the line will include hoodies, shirts, pants, hats, bags and a training shoe loosely called "Rock Delta" that the well-documented workout fiend has been testing out for months. Also, Under Armour is betting The Rock's star power and subsequent ability to sell clothes doesn't just extend to the bros out there. Per the post, a line of women's clothes will drop, too.
"We're creating a lifestyle brand. For everyone," Johnson said.
Kudos to Johnson for actively being involved in the product development process, which isn't often the case when stars hook up with major clothing and sneaker brands. And a shout out to Under Armour for getting the busy Johnson in a room with designers long enough to kick around and approve ideas that are on brand.
The tight collaboration between the two has seemed to work out so far, likely giving the folks at Under Armour the confidence to push ahead with a more elaborate product line.
In early March, the first items in his partnership with Under Armour -- a backpack and a duffle bag -- sold out instantly, as TheStreetreported at the time. They are still sold out on Under Armour's website, but can be had on eBay (EBAY) - Get Free Report for upward of $400, or almost three times the original price. Then, a black T-shirt sporting the wrestler's iconic "Brahma bull" quickly sold out after he wore it at WWE's Wrestlemania event in April.
The actor and Under Armour inked a long-term marketing deal in January (for an undisclosed amount) under which the apparel maker will design products including footwear, apparel and accessories inspired by Johnson's current films. Johnson joined a suite of popular athletes signed by Under Armour that includes NBA champion and MVP Golden State Warriors guard Stephen Curry, golf phenom Jordan Spieth and star Carolina Panthers quarterback Cam Newton.
What a missed opportunity with all three of these guys, Nike (NKE) - Get Free Report .