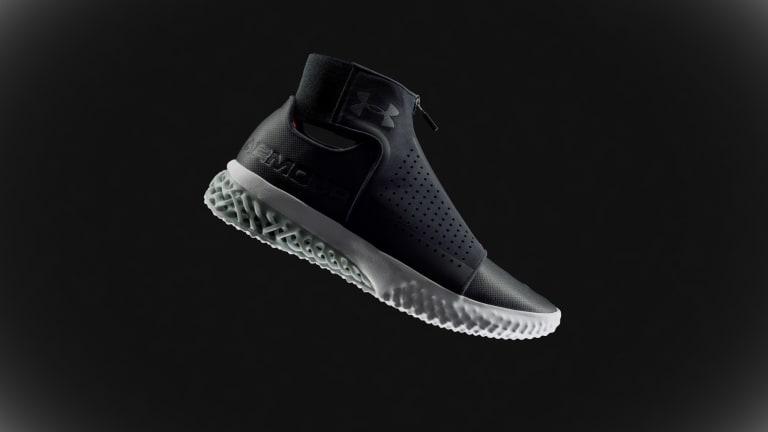 Under Armour Just Released $300 Sneakers That May Be Its Coolest Looking Ones Ever
Don't even try to knock this one from Under Armour, sneaker heads.
Don't even try to knock this one from Under Armour, sneaker heads.
Under Armour (UA) - Get Report sneakers have gotten knocked in their past for their lack of cool. But sneaker heads may be forced to pipe down when feasting their years on one upcoming launch. 
The sportswear company debuted the UA ArchiTech Futurist on Thursday for the lofty price of $300. The shoes went on sale at 6:00 p.m., according to Under Armour's website. They will be the next Under Armour line to use a 3D printed sole. Also, the sneakers will not have laces, instead using a compression system combined with a smaller zipper to keep one's foot secure (picture below). 
To be sure, Under Armour could use an innovative new product such as the UA ArchiTech Futurist to begin changing the discussion on its future.
The UA ArchiTech Futurist
Under Armour's stock has fallen about 31% this year, as retail headwinds like the closure of The Sports Authority and the subsequent liquidation sales that flooded the market with discounted items, took a toll on the company's bottom line in the fourth quarter. The company broke its own impressive streak of 26 consecutive quarters of at least 20% revenue growth, reporting growth of just 12% in the fourth quarter.
Not helping matters for Under Armour was the backlash from noted brand spokespeople NBA star Stephen Curry and actor Dwayne "The Rock" Johnson about Under Armour founder Kevin Plank's pro-Trump comments.
"Future revenue gains will likely necessitate heavy investments in direct to consumer, footwear, and international; these areas are central to Under Armour's growth story and therefore, cannot be abandoned," cautions Deutsche Bank analyst Paul Trussell. "Moreover, with the core North American apparel business slowing [for Under Armour] and initiatives to re-accelerate growth likely taking time to take hold, we believe these growth drivers have become more important than ever," he added.
Editor's Pick: Originally Published March 22.
Trending news on TheStreet:
How Amazon's Jeff Bezos Became the Second-Wealthiest Person on the Planet
Go Inside This Monstrous Six-Ton Ford Dump Truck You Don't Need a Special License to Drive
This Sears Executive Didn't Earn a Ton of Money for Landing the Worst Job in Corporate America
The 5 Best-Performing Tech Stocks of 2017's First Quarter