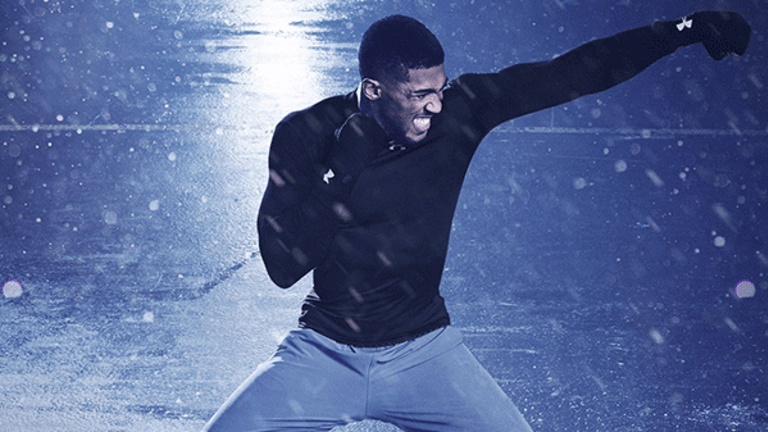 Under Armour Just Got Some More Horrifying News - People Aren't Google Searching the Brand a Lot
Not good.
When it rains, it pours as Under Armour (UA) - Get Under Armour, Inc. Class C Report continues to learn.
FBR Capital analyst Susan Anderson pointed out in a new note on Tuesday that Google search traffic trends for Under Armour have been relatively flat in the first quarter. Anderson says the past two years Under Armour saw significant search traffic growth primarily from Stephen Curry related products.
The analyst reiterated her under-perform rating on Under Armour's stock. 
Meanwhile, the athleticwear brand wasn't named among the top ten apparel or footwear brands in an influential bi-annual survey done by investment bank Piper Jaffray, which was released on Monday. The nationwide survey of 5,500 teens with an average age of 16 tries to assess their preferences in areas such as fashion, food, media and other categories.  
Preference for the Under Armour brand was flat among male teens, while no upper income female named the company as its favorite apparel brand. 
Shares of Under Armour finished Monday's session 1.3% lower at $18.20.
The results are in stark contrast to Under Armour's two largest rivals. 
Adidas (ADDYY) is the fastest growing brand among teens, the survey found. The company's apparel rose to fifth favorite from tenth place a year ago. Meanwhile, Adidas footwear preference reached an all-time high for females and a decade high for males. Piper also found that Adidas has usurped Nike as the top "new brand" worn by males.
As for Nike (NKE) - Get NIKE, Inc. (NKE) Report  it remains the top apparel and footwear brand among males and females, by a wide margin.
To be sure, this is the last thing Under Armour wants to hear right now. 
Under Armour's stock has fallen about 55% over the past year, as retail headwinds like the closure of The Sports Authority and the subsequent liquidation sales that flooded the market with discounted items, took a toll on the company's bottom line in the fourth quarter. The company broke its own impressive streak of 26 consecutive quarters of at least 20% revenue growth, reporting growth of just 12% in the fourth quarter.
Editor's Pick: Originally published April 11.
More from TheStreet:
Cramer: Americans Would Snap Up 'Make America Great Again' Bonds
Trading Strategies: 8 Stocks to Buy If the Fed Keeps Raising Rates
This Is Jim Cramer's Second Quarter Playbook
Focus on Earnings in the Second Quarter, Not Donald Trump's Policies
What will move markets this quarter and how should investors position themselves ahead of time? Jim Cramer sat down with four of TheStreet's top columnists recently to get their views. Click here to listen to his latest Trading Strategies roundtable with them and read their advice for stocks, bonds, forex, tax reform and gold.